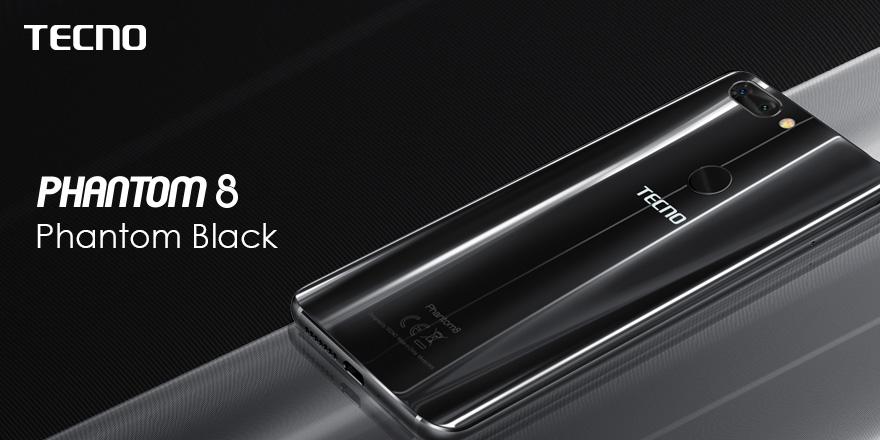 The new TECNO flagship is official. This new Phantom 8 replaces the Phantom 6 and 6 Plus launched last year. TECNO have skipped the number 7 and gone with the "trend". We've seen iPhone 8, Galaxy S8, Note 8 and others so its fair for TECNO to skip to 8 maybe. Or we can argue that the Phantom 6 Plus was the Phantom 7 and this year as it seems we are only having one device.
Going with one device is a move I personally didn't expect. But TECNO, in a bid to maybe strike a balance, have decided that the screen will be 5.7 inches. Which isn't bad. It is a Full HD display and information on whether it is OLED or usual LCD will be updated on this post.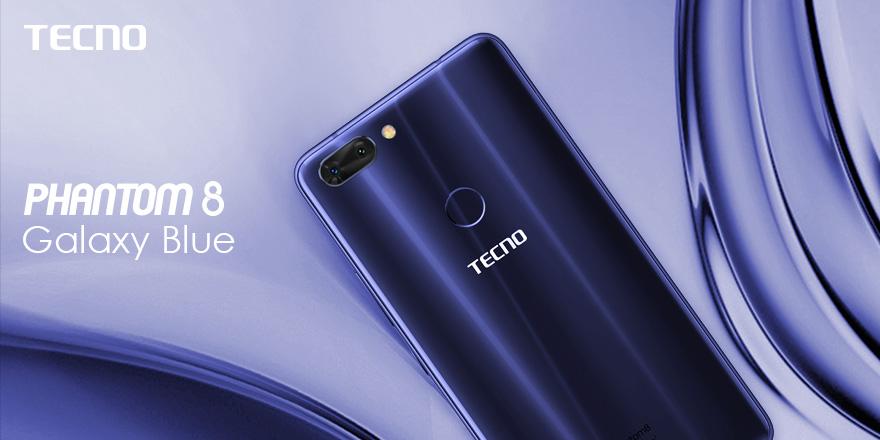 The camera is the standout feature with the Phantom 8. There are 3 cameras. A dual 12MP+13MP system at the back and a single 20MP front camera.
The main camera is 12MP (going with the trend of all recent flagships). The extra 13MP lens is the "Telephoto" lens (will update with name TECNO is calling it) to enable for the extra Zoom. TECNO brags that this phone is the best camera phone right now with 10x Zoom which albeit is 2x optical zoom then 10x software Super Zoom.
The front 20MP camera is shocking. 20MP on a front camera is just stretching it too far isn't it? And to add to it, there will be dual LED flash to enable what TECNO are calling "bright selfie".
There's a *2.6GHz Helio X30 Processor, the best right now from Mediatek, 6GB RAM and 64GB internal storage. Those are really good numbers TECNO! But that's not all. The Helio X30 supports Imagiq 2.0 Dual Camera Zoom, 4K HDR video, Bluetooth 5.0 and Deep learning!
Hopefully TECNO put to good use this processor. There would be no need for such capabilities without them being put to good use. We wait to see.
(*Take this with a pinch of salt/sugar as TECNO haven't said which processor it is)
There's a 2.6GHz MediaTek Helio P25 processor. Which isn't the best they could go with, quite a shame as last year's Phantom 6 Plus had a Helio X20. This new processor supports dual cameras and is good for ultra-thin smartphones. It has nothing good or wonderful past that. I really wish they went with the Helio X30 processor.
There's USB type-C with fast charging. The battery is just 3500mAh. Which is a drop from the Phantom 6 Plus which had a 4050mAh battery. But it is an increase from the Phantom 6 which had a 2770mAh battery.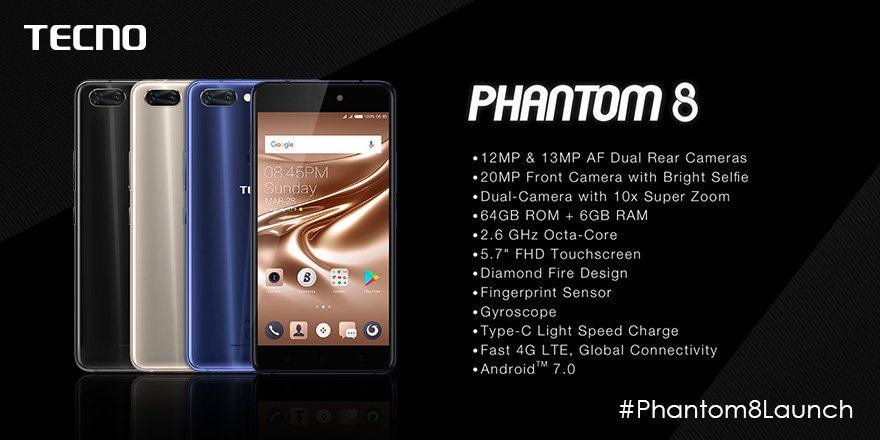 The phone comes running Android 7 Nougat. Which is a shame as we are onto Android 8 Oreo. Maybe TECNO will finally up their game and send out updates.
Price isn't as yet communicated. But I'm thinking anywhere between 35k and 40k.
TECNO have called the design of the phone "Diamond Fire". And whatever that means, we wait to see. From the first images online, things look well designed, slim and I really hope it is a metal finish.
What are you most excited for?