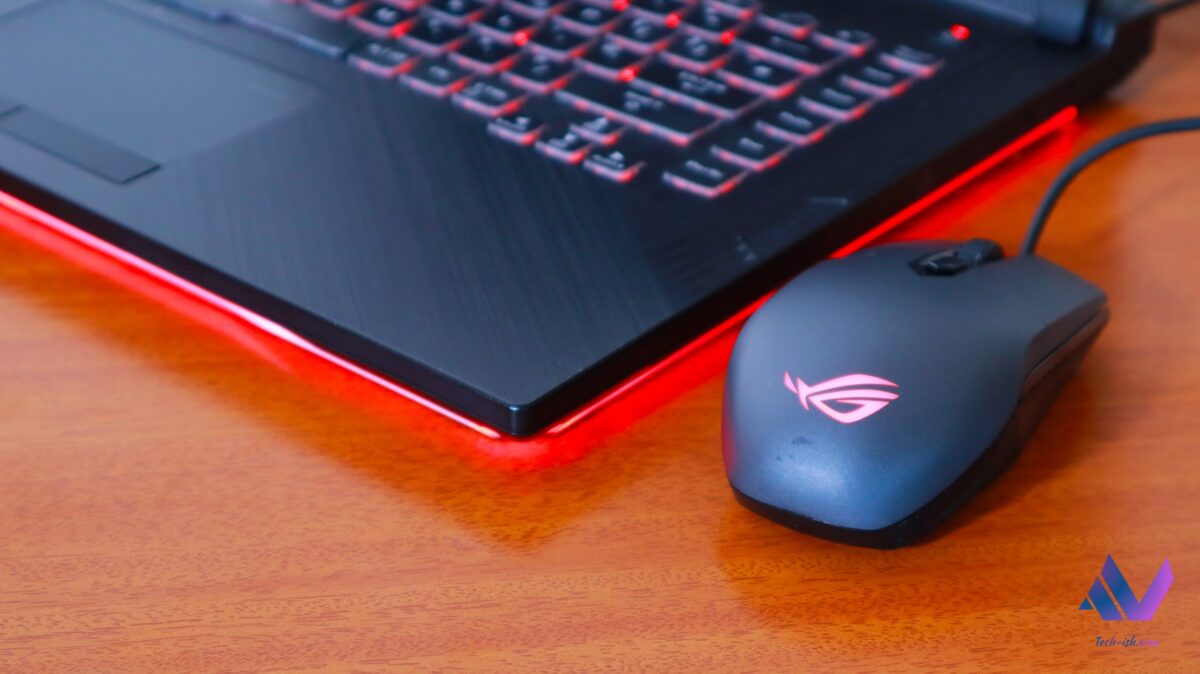 I have for the last just over two weeks been using this as my main laptop. These are my thoughts from the perspective of someone who doesn't really game at all – but someone who uses, reviews, and loves different tech products. I have traveled with it, edited videos on it, played a simple game, and used it as my main entertainment gadget for videos and music.
It is important, I believe, to be clear about me not being a gamer in the very first paragraph. I don't see it as a bad thing to not be a gamer while talking about a gaming device. For what it's worth, for good gaming -whether it be on a phone or a laptop – we already know the device needs the best of specs. As such, a gaming device is expectedly a powerful device. And a powerful device is really good for a wide range of stuff.
So yes, you needn't be a gamer to consider this laptop, or read this review. And yes, I needn't be a gamer to tell you my thoughts on whether or not this is a good laptop.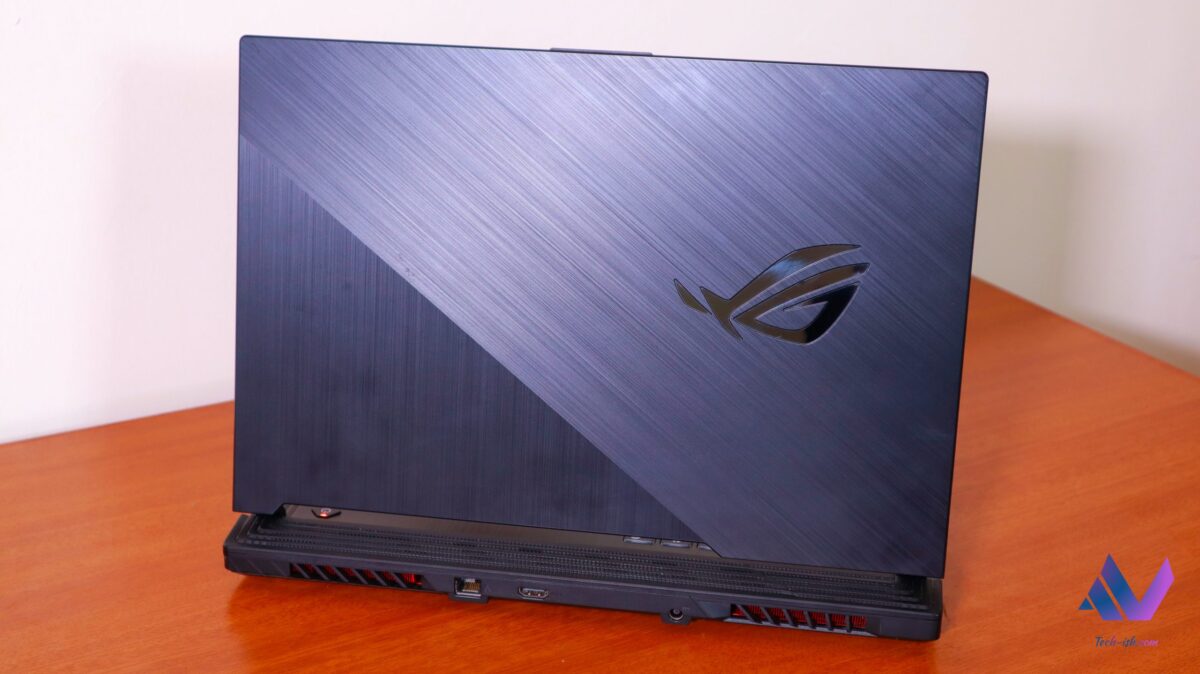 Specs
There's many different models and variants of this laptop. There's ones where that back logo lights up, there's ones where you get different port selections, and much more. It is actually confusing to know which device is which, unless you check very carefully. So be careful when purchasing this laptop, to ensure you get the one you want, with the specs you want. An easy way, especially when you're reading different reviews, is to check the code of the laptop. These are the specs as reviewed in the unit provided.
ROG Strix G531GT Specifications:
Display
15.6-inch, 1920 x 1080p resolution, 60Hz refresh rate
Processor
2.6GHz Intel Core i7-9750H
Graphics
NVIDIA GeForce GTX1650 GDDR5 4GB
Storage
1TB SSD PCIe
Memory
16GB DDR4 2666 MHz
Ports
3 USB-A 3.1 on the left,
1 HDMI 2.0 on the back
1 Ethernet port on the back
1 headphone jack on the left
Keyboard
Backlit chiclet keyboard
N-key rollover
One Zone RGB lighting
Aura Sync
Hotkeys (Volume down, volume up, mute, HyperFan, Armoury Crate)
Marked WASD Keys
Audio
1.5W*2 speakers on the left and right sides
Array Microphone
Battery
48Wh battery
150W power adapter
WiFi and Bluetooth
Intel® 802.11ac (2×2) Gigabit Wi-Fi support Rangeboost technology
Bluetooth 5.0
Operating System
Windows 10 (64bit)
Weight
2.395 kg
Software
Armoury Crate
GameFirst V
Sonic Studio
GameVisual
Aura Creator
Display: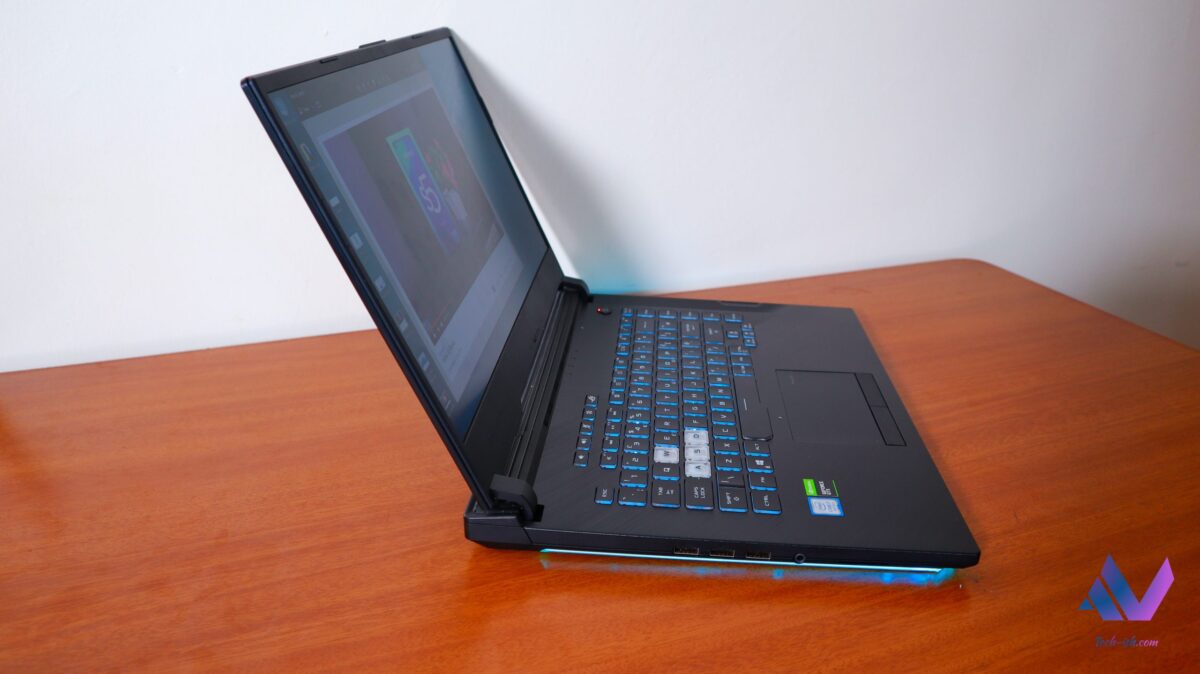 I didn't like the display as I expected to with a gaming laptop. Let me clarify this before you misunderstand my statement.
I've already said there's a couple of models for this laptop. This model, as you can see in the specs list above, comes with a 1080p 60Hz panel. It is boring. It is the normal display you find on many devices. It doesn't stand out. It isn't one of those special screens suited for gaming. If it were a touch screen, perhaps it would be more exciting. I didn't find the colors very vibrant, neither did I find the display bright enough.
There's a matte coating – which I actually loved. My desk in the house is directly opposite the window, and sometimes with other laptops I have to shift my sitting position to ensure there's no glare. With this device, anywhere I sat I didn't have to think of glare – loved that.
I wish the display was more brighter, especially for outdoor use. I also wish the colors were more vibrant, and that the refresh rate was higher.
I particularly felt the issue with the colors when editing a video. I feel like I over-saturated the video I was making because the display I was using wasn't really popping colors as I'd have wanted it to.
Anyways, since it is a gaming laptop, I feel like only the higher refresh rate would be the big issue with many gamers. Most of you play games indoors, so you won't have an issue with the brightness while in your gaming caves.
In terms of overall build quality of this display, be very careful with this screen. The hinge holding it is very solid, yes, but there's a lot of flex on the top material. I don't know if this is a good thing for long term use, and accidents, but I feel one might easily crack the screen from poor carrying.
What I didn't notice until I switched back to my main laptop were the bezels. They're very tiny, and give the device a feeling as if the display is bigger than it actually is. You won't probably notice this until you switch to a device with huge bezels, making you feel like you've been thrown back to the 1980s.
There's no webcam on the top bezel. Neither is there one on the thicc bottom chin. There's completely no webcam on this device. Which is a win for privacy, and a loss for people who don't want to carry around the detachable 1080p camera that's bundled with the device.
Design:
This laptop has all the aesthetics of a gamer device. You can definitely see this in everything. From the sharp angles, and corners, to the logo, and the overdone RGB lighting everywhere. It stands out. One can almost say it is a beautiful device.
There's no way you'd look at this device and not imagine it a gaming device. There's air vents everywhere on the back, above the hinge, and the sides. There's that rough finish look, and those nicely designed keys on the keyboard.
There's an RGB strip on the base of the device that goes all round. It is the coolest bit of the device. And I've loved having it on to impress anyone who would care. I love that you can easily control the lights, More on that later.
The back vents have a very nice red color accent on the inside. It looks hot – bad pun intended.
The design of the device is very important to how the device performs. The vents make sure even during loads the device doesn't thermal throttle. Yes, this device can handle heavy tasks for long bouts of time without any hesitations, thanks to it's thickness, fans, and vents.
What you should know is that the whole device is made of a Polycarbonate material. Yes you who hate that plastic finish are definitely screaming no, but this design choice is good for a couple of reasons:
reducing cost of the device
reducing weight
helping with having all those vents, that are necessary for heat dissipation.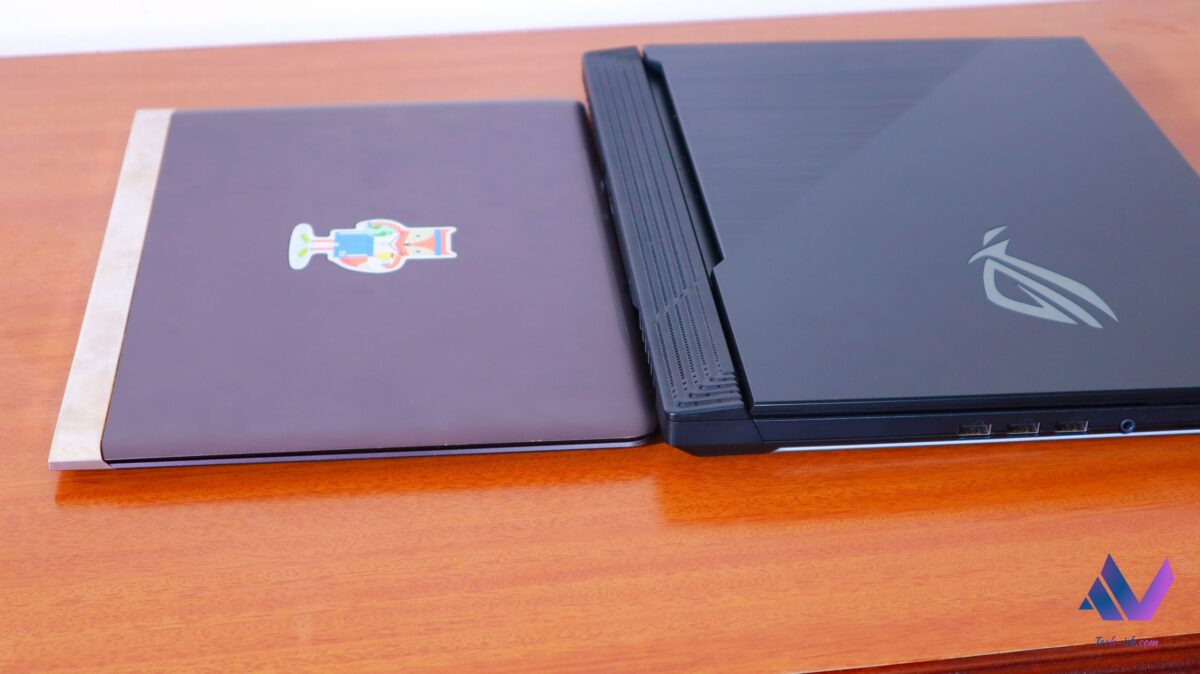 What I think should be rethought is the overall weight of the device. I know there's a whole graphic card inside here, plus two fans, and a 48Wh battery (which is quite small by 2019/20 standards), but at 2.4KGs this thing is heavy. You haven't even factored in the extra 150W charger that's heavy as hell.
Performance:
We've already established that the design of the device gives it an upper hand to achieving the limits of the specs it comes with. So, even on long periods of gaming, you should expect the performance, and most importantly your frame rate to not drop.
There's different modes you can set the device to: Balanced Mode, Silent Mode, and Turbo Mode. You can easily switch between the modes using the dedicated Hotkeys above the FN keys.
Silent Mode keeps the fan down, and slows down the performance of the device. It is the mode that's default when you're on battery power. If you're playing a non-intensive game, and you don't want the fans to kick in, it is a good mode to use. If you're working on a word document for example, and you want to maximise on battery life, it is the best mode.
Balanced mode is as the term suggests – balanced. I never tried it out.
Turbo mode is where the magic is. It is the mode that's on by default when your device is connected to the power. Here the fans come on, and are loud when you're doing something heavy. For example when exporting a video, or playing a game. This mode ensures the device maintains it's boost clock speeds for a long while without thermal throttling.
What's impressive is that the temperatures never go high even on long use.
From benchmarks, and other reviewers, you're good to go with all non-demanding games. With high-end graphic intensive games, you'll need to adjust your settings to mid for good frame rates.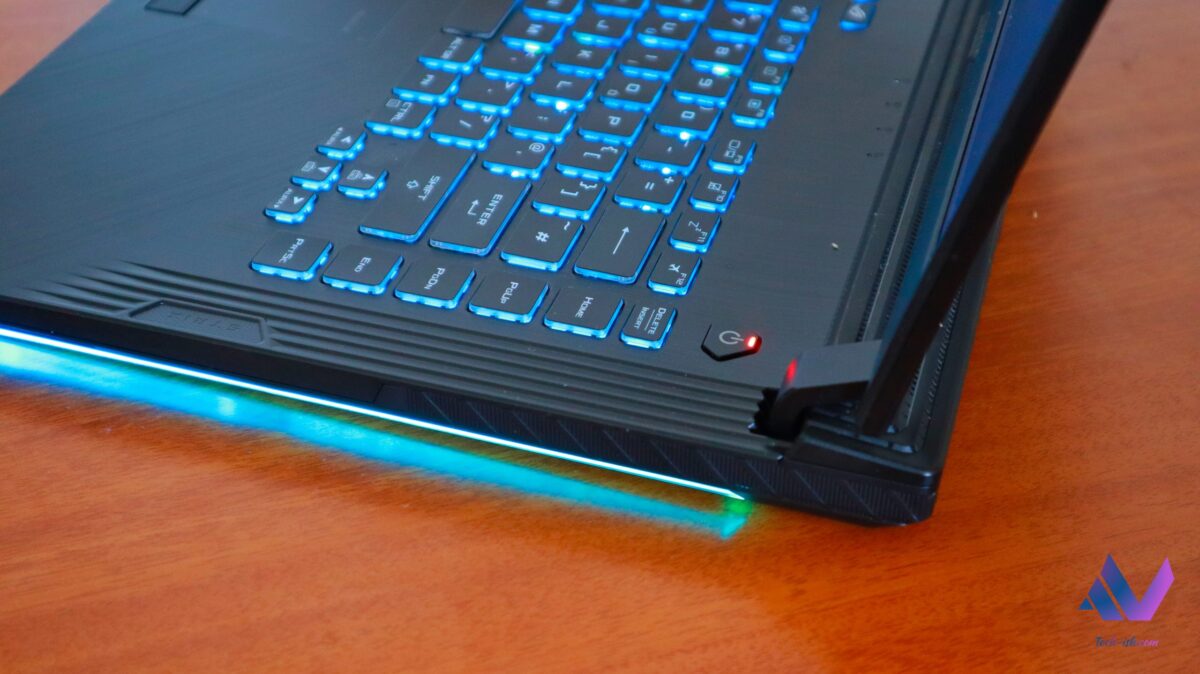 Like I said in the beginning, among the things I used this laptop for was editing videos. I expected good export speeds. What I didn't expect was that it would take less than 2 minutes to do what would normally last 20 to 30 minutes.
The laptop handled a 10minute 1080p export like it was nothing. For this one reason, I would like to keep it as my own. Because the fans didn't come on at all, it was like any other normal task for it. Which means it'll handle 4K content very well. If I had such a device all my videos would shift to 4K, because the export speeds are amazing.
Yes, you can expect things like photo editing, video editing, VR, and other things to work quite well on this device.
ASUS Software:
This is actually where ASUS wins it for me. You interact with the device and you feel there's been serious thought into its making. From the first time you boot it up and see the boot animation with those clashing swords sound.
Armoury Crate provides detailed system information, including CPU and GPU frequencies, usage, temperature and voltage. It also offers Game Profiles, memory/storage usage, fan speed and much more. Moreover, users can easily toggle on/off the Win key lock, ROG key or touch pad.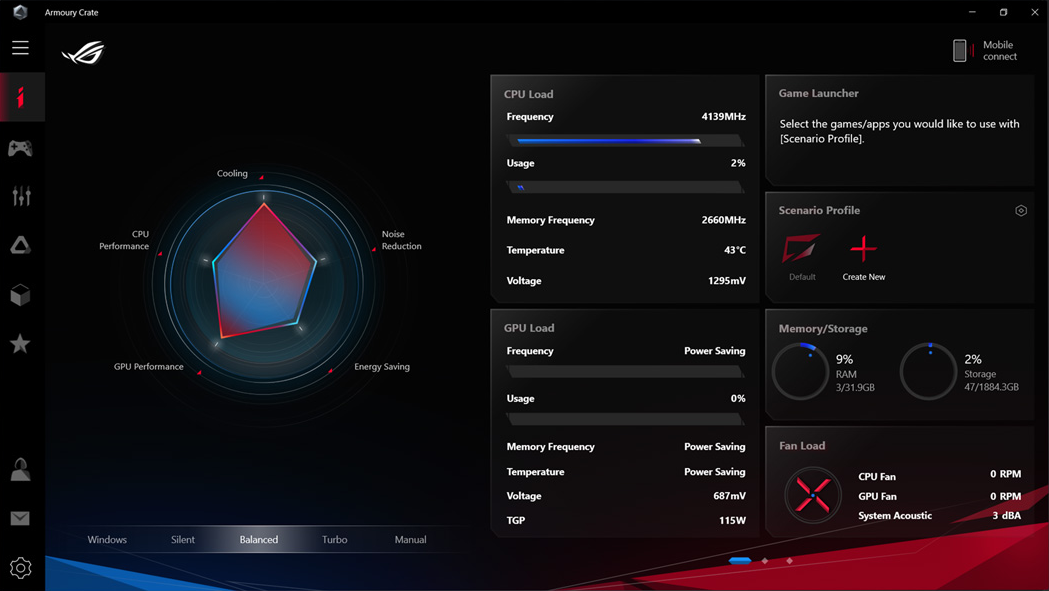 Aside from the basic system monitoring features, ASUS have also provided a settings view through an easy to understand radar chart. The default is balanced mode, but gamers also have the freedom to choose between several other tuned modes such as turbo, silent, windows and fully manual.
Armoury Crate even allows Wi-Fi Direct connections to a smartphone for conveniently monitoring the laptop status remotely.
Under Armoury Crate you can also control Aura Sync on how you want the RGB lights to function. I love setting it to music, so that when there's sound playing especially when listening to music, the lights match the sound.
Keyboard: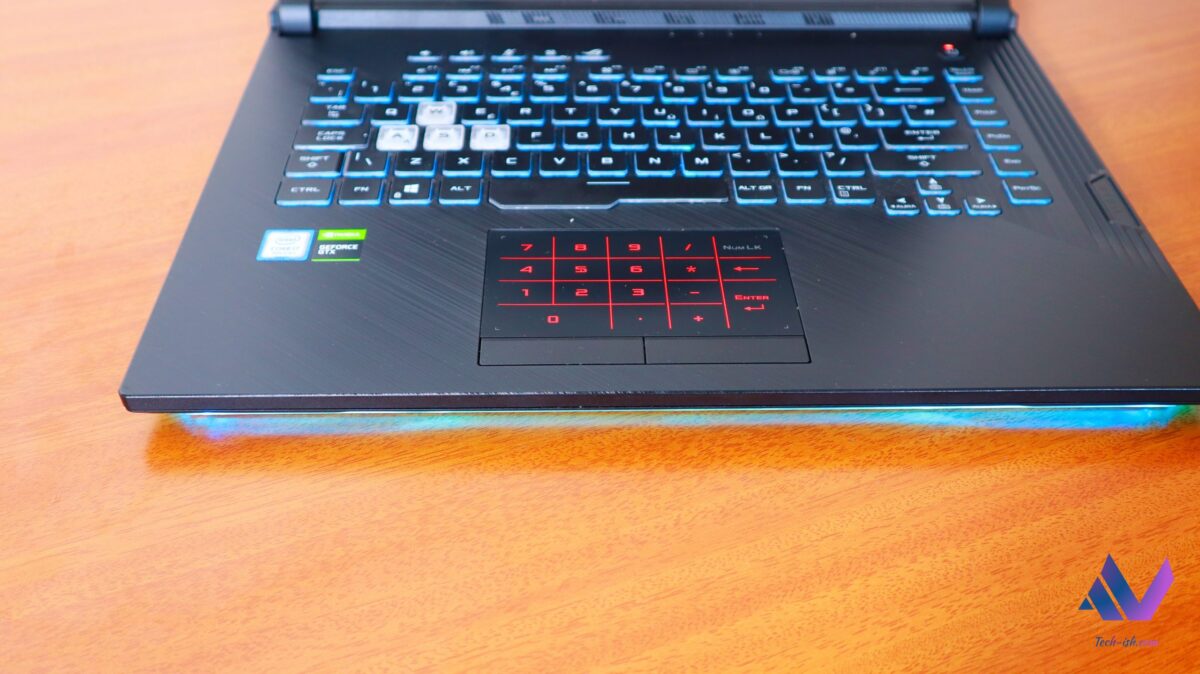 I love that despite being a 15 inch laptop, they did away with the number pad on the side, instead opting to have the touchpad double up as the numberpad. So with one long touch/press on the right upper conner of the touchpad, you can disable it, and enable the number pad. This is especially good news for people who hate the touchpad and prefer a physical mouse – which lucky you is included in the box, and beautifully matches the RGB colors of the device.
I found the keys of the laptop to be very soft, and mushy. I love hearing the sound when typing, and I love that little resistance that serves as feedback that a keystroke has been registered. With this device, it took quite some time for me to get used to typing with it.
I get that the design is specifically tailored for gaming, especially long hours of use, and I understand that for such a demographic, they'll love the keyboard. I am not saying I hate they keyboard though. I just wish it felt as good as the keyboard on my daily driver laptop.
The WASD keys stand out. All gamers rejoice.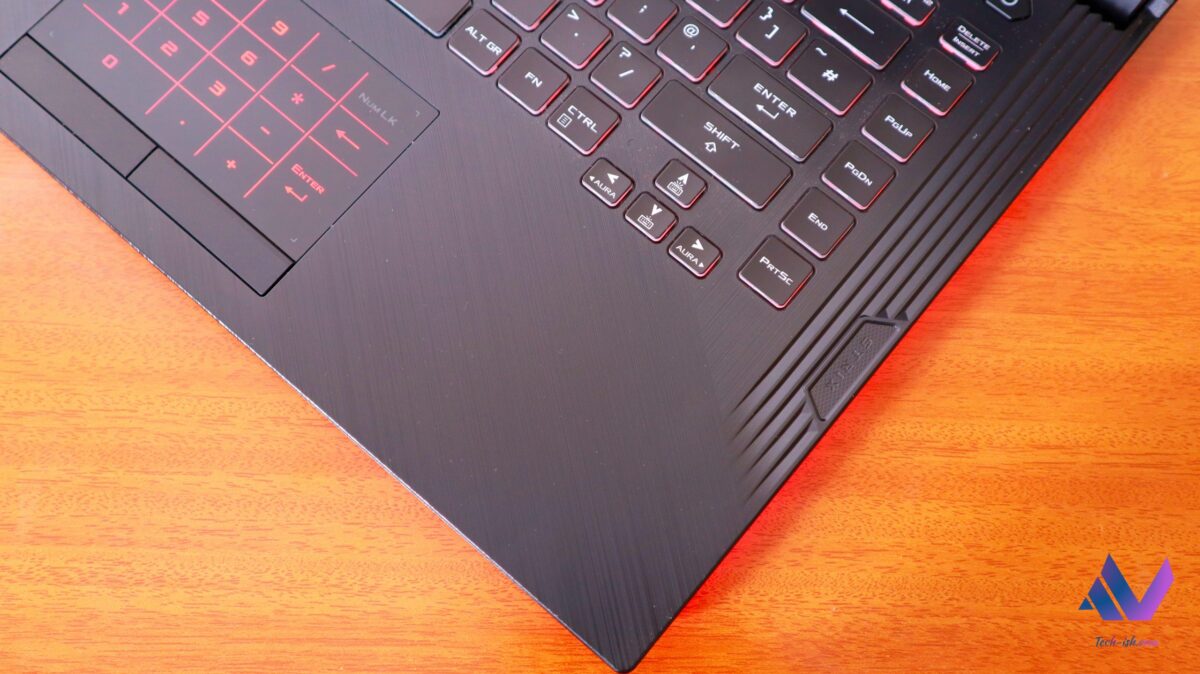 What most of you will probably dislike is that the arrow keys are quite small. They are also not very well aligned with the rest of they keyboard. They can also be used, with help of the FN key, to change the RGB modes of the laptop, and switch between the three back light levels.
Battery:
There's a small 48Wh battery powering the device. You may think of this as very meagre, and you'll be right. But I've managed over 4hrs of use on Silent Mode when dong simple typing and web browsing.
However this device is made for gaming, and gaming specifically when plugged in. So treat it is as such. Because when powered is when you can push it to perform seriously.
ASUS promises 5hrs 30mins on medium to light use. And I believe you can get like 1hr to 2hrs on light gaming. You can also do a full video edit, with juice to spare before saving your project to export later on.
Audio:
I don't know what I expected with the speakers. But I felt let down for a couple of reasons that I seriously don't know how to pass across. So, let me just ask questions and answer myself. Are they loud? Yes. Are they loud enough? Not so much. Are they clear? Yes. Are they clear in a very good way? Not so much. Do they have a good sound profile? Sort of. What could be better? The bass. And the highs. You won't have a bad experience with the speakers while gaming, but if you just want something for music, and movies, they are not good enough.
Still, you can sync the speakers to the RGB lighting like I'd already said, and that's the coolest thing.
ASUS probably thinks very highly of the speakers because there's dedicated hotkeys for the volume up, down and mute, and there's also Sonic Studio III which helps gamers adjust sound modes, such as bass-, voice-, and treble-boost.
With Sonic Studio III, one can also under Advanced Mode cspecify whether each app sound output is routed via HDMI, DP, speakers or headphones. For example, gamers can output sound from specific games to their gaming headphones, while when they are watching YouTube or Netflix sound can instead be piped via inbuilt-speakers or HDMI. This adds a significant convenience as users don't have to manually switch the audio settings every time.
Practicability: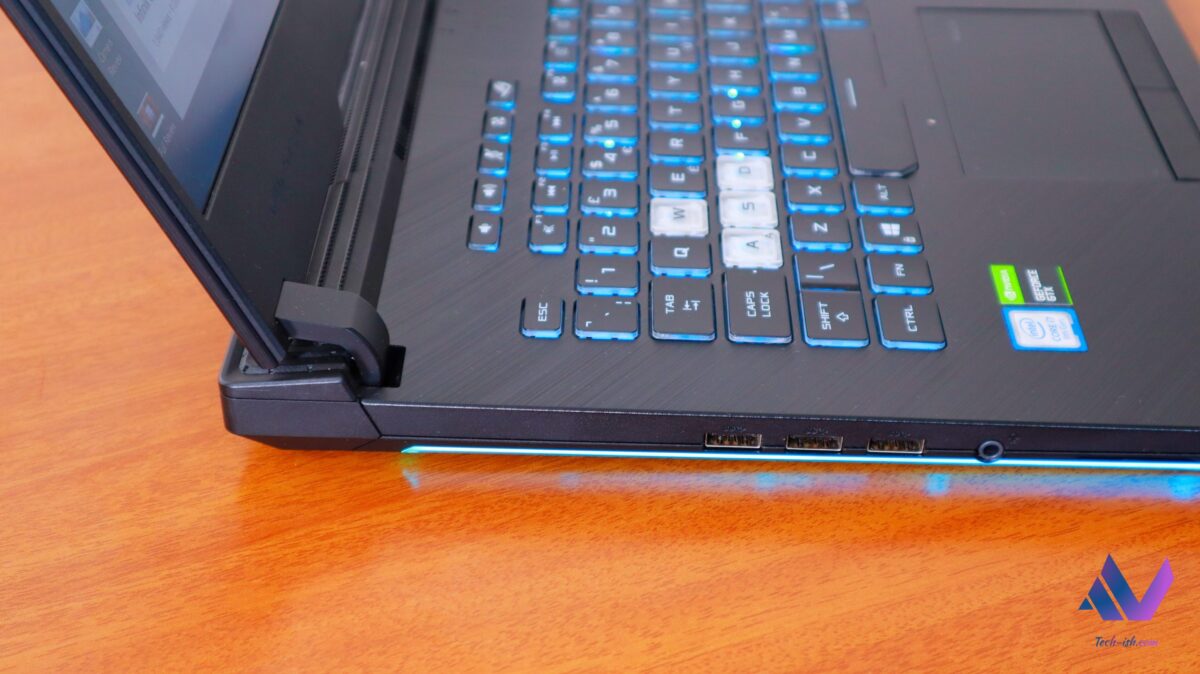 In my first few days, I thought to myself what a horrendous huge machine to carry around. But then with the conveniences of straight up amazing performance, I got to love the device. So yes, the device is too big for me, but I would consider having it because of its power. With the good performance, you find yourself convincing yourself of the screen, the weight, and even the lack of ports. I got a bigger bag to carry it around, and I would tell myself it isn't that big a laptop when using it in public spaces.
The things I hope ASUS makes available with any future updates:
Make high refresh rate displays standard across all the devices
Make the display better, and more color accurate
USB type-C ports that are Thunderbolt ready – at least 2
Work on the audio quality of the speakers
Work on the overall weight of the device.
Have at least a fingerprint scanner. Especially since there's no webcam to help with unlocking.
Price and availability
In Kenya, ASUS says the device starts at KES. 139,000. You can get it from Texbook Centre shops.