News
Infinix NOTE 12 VIP official launch in Kenya happening tomorrow
Infinix Kenya is set to launch the thinnest smartphone with support for 120W fast charging tomorrow. The launch which will be happening at the Sarit Centre Expo. You can livestream the event here: https://bit.ly/3abUzM7.
The NOTE 12 VIP will be available in Cayenne Grey and Force Black in 256+8GB; the NOTE 12 G96 will be available in Sapphire Blue, Force Black and Snowfall in 128GB+8GB and NOTE 12i 128+4GB.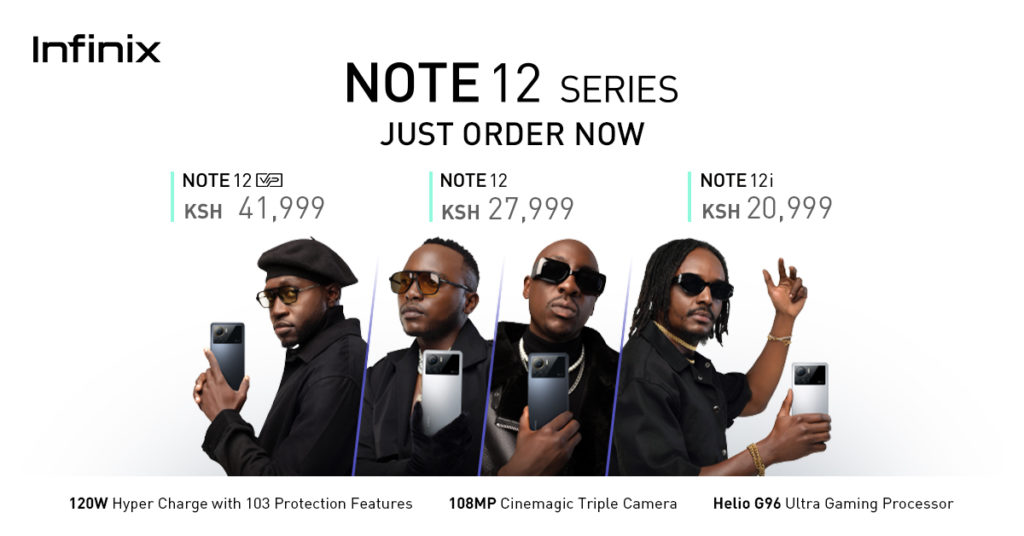 Prices for the Infinix NOTE 12 Series will be as follows:
Infinix NOTE 12 VIP – KES 41,999
Infinix NOTE 12 – KES 27,999
Infinix NOTE 12i – KES 20,999
We've unboxed the new device already which you can watch here:
The Infinix NOTE 12 VIP features a 4500mAh battery and Infinix says the smartphone has 103 charging and battery protection features to ensure safety when charging at 120 Watts. The device also has 18 thermal sensors that help monitor the device's temperature to ensure safety.
Infinix says the NOTE 12 VIP's battery will retain up to 85% battery after up to 800 charge cycles. This data was obtained from laboratory testing.
Both the NOTE 12 VIP and the NOTE 12 G96 are powered by the Mediatek Helio G96 ultra gaming processor. This is paired with fast 2133MHz LPDDR4X memory and turbo-charged UFS 2.2 storage that yields super-fast data bandwidth. 
What they said:
Infinix, Country Manager, Mike Zhang says, "This series packs quick-charging power and strong chipsets into an iconic design that is perfect for emerging professionals who need a light, flexible and high-performance device."
"Infinix is creating a new standard for high-quality smartphone performance and design with its new series which embodies impeccable form and function." shared Vento Lin, Product Manager of NOTE Series at Infinix Mobility. "
Additional key features: 
Dual Speakers with DTS: The NOTE 12 Series creates a powerful 360-degree surround sound with enhanced audio. 
Graphene Cooling System: The NOTE 12 VIP has 9-Layer Colling System with graphene and Vapor-Chamber Liquid Cooling for up to 15-degrees Celsius reduction4 in core temperature. Additionally, the NOTE 12 G96 is equipped with a 10-Layered Graphene Cooling system.  
Linear Motor Tactile Systems: The NOTE 12 VIP integrates a Dual X-axis Linear Motor Tactile System giving users a completely new touch experience while gaming. Meanwhile, the NOTE 12 G96 boasts a Linear Motor Tactile System that simulates shorter and crisper vibrations while gaming. 
Infinix's Dar-Link 2.0: The software improves image stability based on an AI algorithm, while simultaneously reducing device temperature for an immersive gaming experience.
XOS 10.6 Software: The NOTE 12 Series features new XOS 10.6 software based on Android 12, which includes new features such as Storage Optimizer, Lightning Multi-Window, Privacy Guardian and more. Additionally, the NOTE 12 VIP supports Folax AI voice assistant adding quality of life improvements.