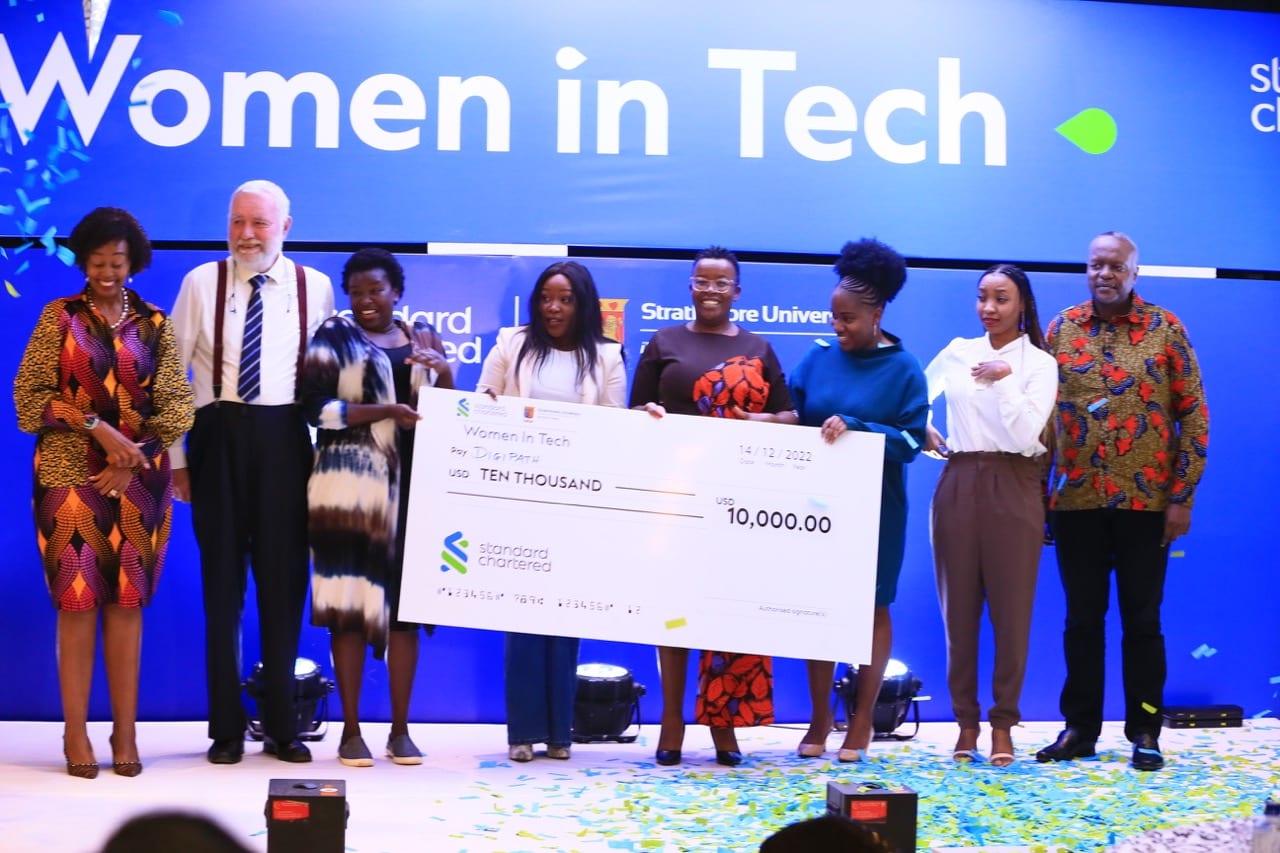 The Standard Chartered Bank Women in Tech program has awarded 5 participating businesses KES 1.2 million each in the culmination of the 5th cohort of the incubation program. 
The five businesses are:
Keyara Botanics: A skincare label that creates products that take care of your skin naturally with raw materials sourced from African farmers which are rich and of healing quality.
Learning Differently Limited: A learning intervention platform tailor-made to support students/learners with learning disabilities. The courses/training equips parents, teachers, and caregivers with practical learnings that they can incorporate to support their learners.
Sello Designs: A social business that designs and makes sustainable, durable, and timeless bags using leather and kitenge fabric.
Aurora Health Systems: A wearable medical device that uses wireless technology to continuously monitor heart rate and abnormal ECG findings.  Data is generated in real-time and linked to smartphones for a period of 21 days thus preventing acute cardiac conditions.
DigiPath Africa: A Digital Marketing agency that helps organizations and individuals navigate their way online and take their products and services to existing/ new customers using digital marketing
They received their prize money in a graduation ceremony presided by Flora Mutahi, Chair of Kenya Private Sector Alliance (KEPSA), Standard Chartered Bank Kenya CEO, Kariuki Ngari and @iBizAfrica Incubation Centre- Strathmore University Director, Dr. Joseph Sevilla.
The event was attended by leading Kenyan women entrepreneurs Wandia Gichuru- CEO of Vivo Fashion Group; Winnie Ngumi- CEO Space and Style Ltd and Joyce Mbaya – Founder & CEO, Zydii (WiT Alumni)
The 5th cohort of the Women in Tech program was launched in March 2022, attracting 207 applicants, among whom 10 were chosen to participate in the incubation program. Of these, 9 companies successfully underwent incubation for 3 months receiving training, coaching, and mentorship by @iBizAfrica-Strathmore University network of industry experts, Strathmore faculty, business leaders, experienced mentors, and professionals. This culminated into a rigorous and transparent pitching process for the KES 1.2 million ($10,000) business funding.
Speaking during the event, Kariuki Ngari, CEO & MD, Standard Chartered Bank Kenya & East Africa said, "as a bank, we are encouraged by the resilience and innovation of these women owned businesses and will continue to support the program as part of our Futuremakers initiative which aims to equip women with skills that help them earn, learn and grow. We are proud of this year's winners and look forward to seeing their continuous growth and innovation even beyond Africa.''
The funding recipients were picked after a rigorous judging process undertaken by accomplished industry experts in both private and public sectors, seasoned entrepreneurs and academic thought leaders on solution innovation, availability of market opportunity, and social impact in Kenya, among other criteria.
Adding to this, Dr. Joseph Sevilla, Director @iLabAfrica and @iBizAfrica Research, Innovation and Incubation Centre, Strathmore University said, "Since 2017, we have received over 1000 applications for the Women in Tech Incubator Program, reflecting the need and demand not only for funding but also for mentorship, advisory, coaching, and networking opportunities for women-led businesses. The results of the program, which include increased revenue, team effectiveness, and adoption of efficient business models speak to the long-term impact and necessity for the program. Not only have these businesses generated increased revenue, but they have also helped to solve some of the most urgent needs in our society through technology. We are proud of the 9 businesses that have gone through extensive training and capacity building in the last 3 months and look forward to seeing continuous growth and impact from their businesses. We look forward to continuing to provide support for the businesses through our extensive network at @iBizAfrica and to our long-standing partnership with Standard Chartered.''
Standard Chartered Selection Criteria:
This year's cohort was geared towards women-owned businesses that incorporated global trends including emerging technologies, sustainability, and digital economy accelerants. Other selection criteria included: –
A female-led start up business that solves social economic needs in Kenya
A company that is tech-enabled or leveraging emerging technologies
A business model with a Sustainable Development Goal (SDG) alignment
Clearly defined roles and a balanced skill set (team lead, business development, product development and marketing).