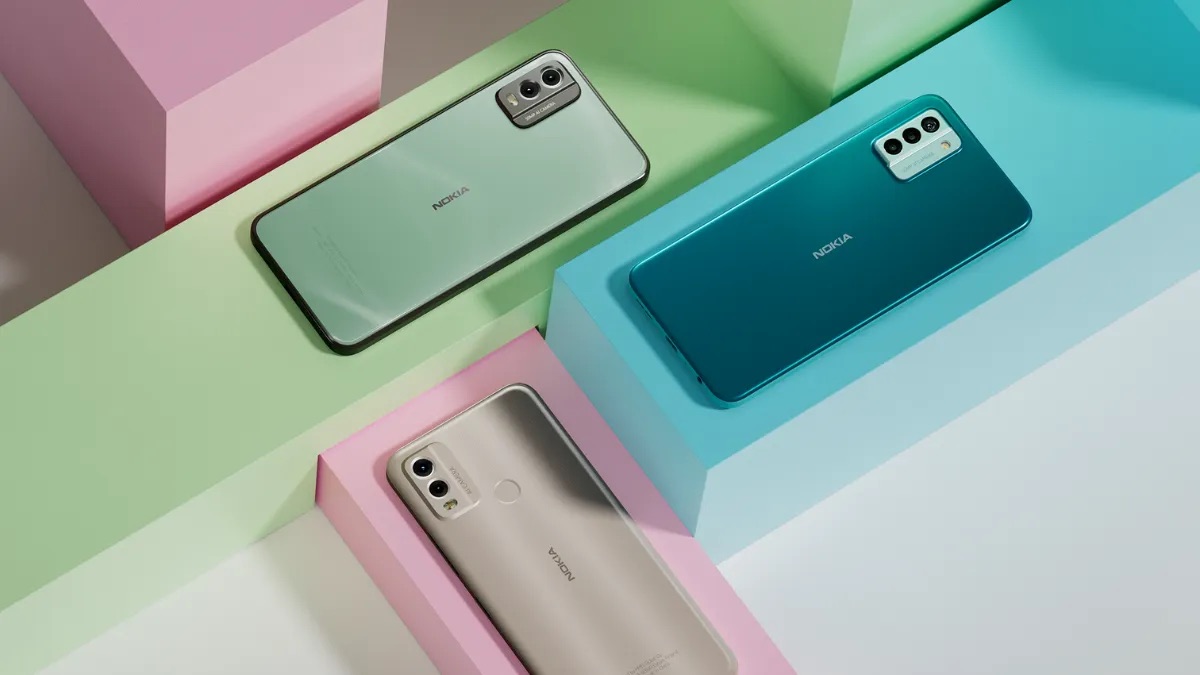 HMD Global has announced three new Nokia smartphones – Nokia G22, Nokia C32, Nokia C22 – just in time as the original Nokia (no longer a seller of phones) launched a new logo. The three new devices have different focuses with the Nokia C22 and C32 focusing on long battery life, while the G22 focusing on repairability.
Nokia G22
Nokia G22 is the first Nokia smartphone purposefully designed with repairability at its core, taking signature Nokia phone longevity to the next level. In collaboration with iFixit, a global repair community, you can easily access repair guides and affordable parts to replace a damaged display, bent charging port or flat battery on Nokia G22.
The new G-series smartphone also comes with a 100% recycled plastic back, OZO Playback that delivers enhanced bass and clearer sound, plus 2 years of Android OS upgrades, three years of monthly security updates and extended three-year warranty at no extra cost.
Nokia G22 comes in Meteor Grey and Lagoon Blue and is available in 4/64GB and 4/128GB memory and storage configurations. Global average RRP 179 Eur.
Nokia C32
Packing a 50MP camera and stellar imaging algorithms, Nokia C32 brings advanced imaging to an even more affordable price point. It comes in a refined design with a toughened glass finish and elegant, straight sidewalls that give the C-series a premium feel. Arriving with the latest Android 13 right out of the box, Nokia C32 delivers the most personalised software to date for a modern smartphone experience.
Nokia C32 comes in Charcoal, Autumn Green, and Beach Pink, and is available in 3/64GB and 4/128GB memory and storage configurations. Global average RRP 139 Eur.
Nokia C22
Nokia C22 arrives with exceptional build quality that outperforms the competition4 in rigorous free fall tests. Nokia C22 is prepared to take on the unexpected moments of daily life thanks to IP52 splash and dust protection, toughened 2.5D display glass, and rigid metal chassis housed within a strong polycarbonate unibody design. It's packed with powerful imaging algorithms in an improved dual 13MP camera that make capturing memories with crisp detail possible in any light.
Nokia C22 comes in Midnight Black and Sand, and is available in 2/64GB and 3/64 GB memory and storage configurations. Global average RRP 129 Eur.
Announcing first steps in journey to bring manufacturing to Europe
In a move to further strengthen its security promises, HMD Global takes the first steps in a journey to become the first major global smartphone provider to bring manufacturing to Europe. In the first stage of this journey, the company is developing capabilities and processes to bring 5G Nokia device production to Europe in 2023. These new developments are a continuation of HMD Global's commitment to conducting secure and transparent operations in Europe.
What they said:
Adam Ferguson, Head of Product Marketing, HMD Global: "People value long lasting, quality devices and they shouldn't have to compromise on price to get it. The new Nokia G22 is purposefully built with a repairable design so you can keep it even longer, and with advanced imaging on Nokia C32 and improved durability on Nokia C22, we are bringing even more value to the C-series."
"We are very pleased to announce this first step in our journey to bring 5G device manufacturing to Europe", said Jean-Francois Baril, Co-Founder, Chairman and CEO of HMD Global."The Nokia brand has a proud history within the European market, and with this move we are continuing to strengthen our position as the only major European smartphone provider.
Ben Wood, Chief Analyst, CCS Insight: "As consumers increasingly demand more sustainable and longer-lasting devices, the ability to repair smartphones easily and affordably will become a key differentiator in the market. CCS Insight's end user research reflects this with approximately half of mobile phone users in Western Europe saying they would like to be able to have their device repaired at a reasonable cost if they break outside of the warranty period."