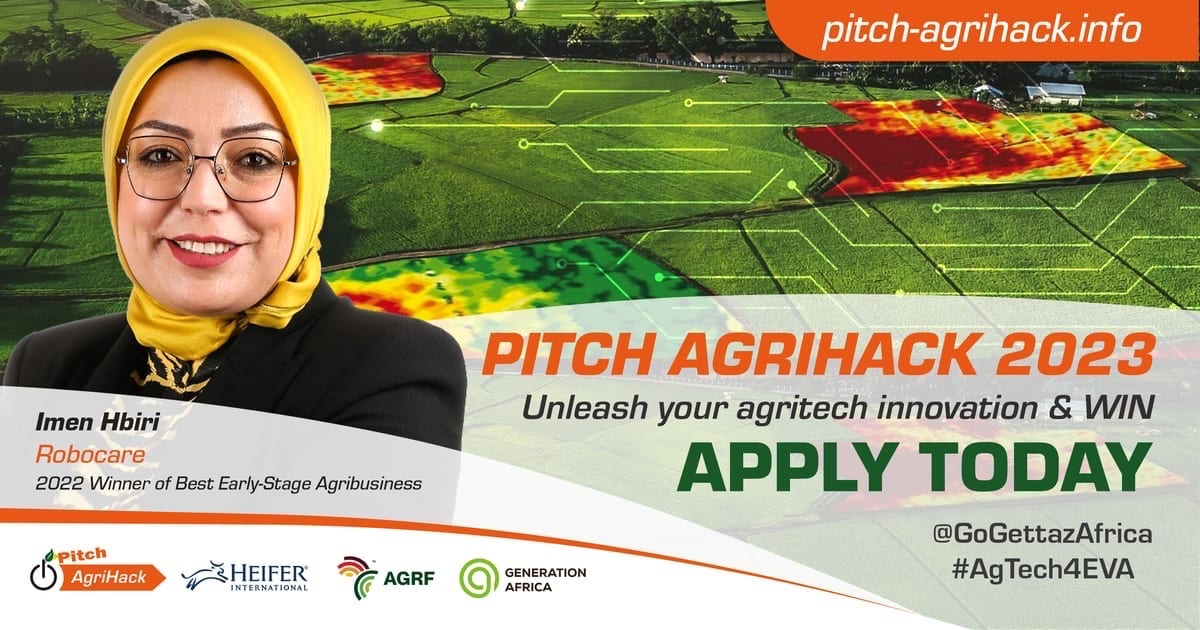 Africa's Food Systems Forum (AGRF), Heifer International, and Generation Africa have come together once again to launch Pitch AgriHack 2023, a competition aimed at promoting agritech innovation and sustainable agricultural development in Africa. With a total prize money of USD 45,000, the competition seeks to inspire and empower young African agritech entrepreneurs to contribute to the transformation of the continent's agricultural landscape.
The competition will reward the most promising ventures that address key challenges in the agricultural sector. It consists of three categories:
Early-stage
Mature/Growth-stage, and
Women-led ventures.
Three winners and three runners-up will be selected in each category, with winners receiving a cash prize of USD 10,000 and runners-up receiving USD 5,000.
Adesuwa Ifedi, Senior Vice President for Africa Programs at Heifer International, emphasized the importance of youth and innovation in driving the development of Africa's agricultural sector. Heifer International recognizes the pivotal role that these factors play in providing solutions that meet the needs of smallholder farmers. By harnessing the power of technology and innovation, local economies can be strengthened, food production can be enhanced, and communities can be uplifted.
Dr Agnes Kalibata, President of AGRA and Former Special Envoy to the UN Food Systems Summit, expressed optimism for the competition, highlighting the digital revolution taking place in the agriculture sector. She emphasized that Pitch AgriHack 2023 is at the forefront of this transformation and provides a platform for young businesses with technological solutions to overcome barriers that have limited smallholder farmers to subsistence farming practices.
Dickson Naftali, Head of Generation Africa, stated that the innovative solutions developed by young entrepreneurs have the potential to revolutionize the way food security challenges are addressed and empower smallholder farmers across the continent. Through Pitch AgriHack, an ecosystem is being created to nurture and support the growth of these entrepreneurs, providing them with the resources and recognition they need to succeed.
Amath Pathe Sene, Managing Director of AGRF, emphasized the importance of attracting young talent to drive African solutions for resilient food systems transformation. He highlighted the potential of agroecology, climate science, and digital technology to reimagine the agricultural landscape in Africa and create a sustainable future.
Entrepreneurs and innovators in the agritech sector aged between 18 and 40 are invited to submit their applications here. The application period runs from May 29 to July 3, 2023.
Finalists will be selected through a rigorous process by expert reviewers who will evaluate the submissions based on innovativeness, feasibility, and potential for impact. The selected finalists will then have the opportunity to pitch their agritech solutions to a panel of judges at a live finale event held during the AGRF in Dar es Salaam, Tanzania, from September 4 to 8, 2023. The winners will be announced at the event.
The AGRF Agribusiness Deal Room, attended by numerous companies, government delegations, and investors, will provide additional opportunities for entrepreneurs to secure investments, partnerships, and mentorship.
Pitch AgriHack 2023 reflects the commitment of AGRF, Heifer International, and Generation Africa to foster innovation, create jobs, and enhance food security in Africa. Through this competition, they aim to inspire a new generation of agritech entrepreneurs who will revolutionize the agricultural landscape and empower smallholder farmers across the continent.