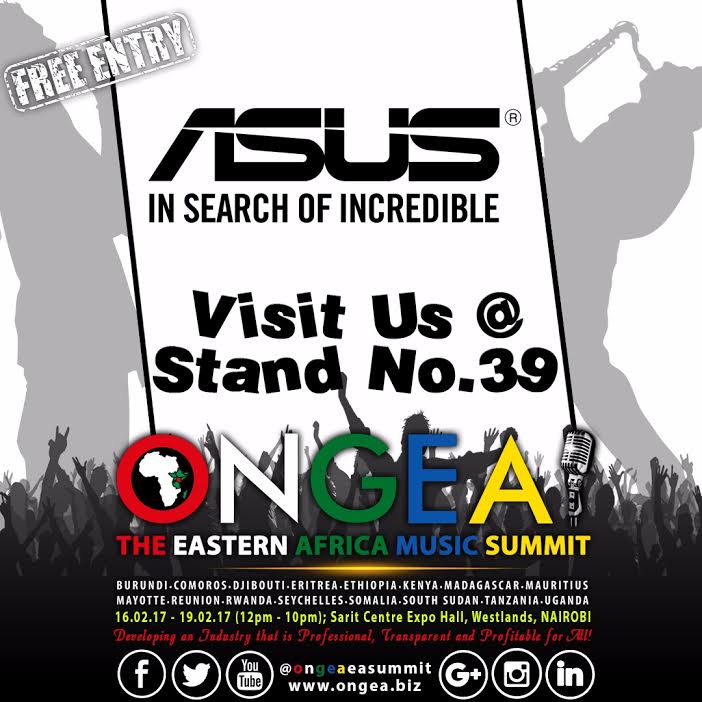 Asus Kenya is happy to be part of the Ongea Festival event that features showcases from over 15 countries.
ONGEA! was Born out of the Annual KENYA MUSIC WEEK, which ran for 10 Years – every December, from 2004 to 2013.
Since KENYA MUSIC WEEK had Achieved its Objectives for the Kenya Music Industry, over that Decade, they Broadened the Scope of their Event. The pillars still remain: Trade, Learn and Showcase.
The debut of ONGEA! – The Eastern Africa Music Summit, on Thursday 28th to Sunday 31st January 2016, was very Successful, with:
Fifty-seven (57) Exhibition Stands, including HomeBoyz Entertainment celebrating their 20th Anniversary.
Thirty-eight (38) local & international Professionals, on eight (8) topical Industry Panels, attended by over 1,000 Stakeholders.
Thirty-two (32) Showcase Performances which led to H_Art the Band and Mswazzi Masauti (on his first-ever Performance) being Signed to Austrian-based Marketing & Booking Agent – GLP; as well as Sauti Sol being Booked to Perform at the largest Festival in Africa: Timitar, of Morocco, during July 2018.
Open Mic performances, resulting in two (2) Fully-paid Scholarships to Sauti Academy.
Free Demo Recordings in our Studio, thanks to Ageless Entertainment.
Social Media Training by Bloggers Association of Kenya (B.A.K.E).
Launches of the Music Teachers Association of Kenya, Kidum's new Album: Hali Na Mali and Tedd Josiah's new Record Label: SwaRnB.
8,000 Visitors, including School Children on Excursions.
The ASUS stand features ASUS products with quality audio power and high-tech build quality.
ASUS Kenya says, "We pride ourselves in the fact that our Machines comes with Asus SonicMaster Audio Technology that takes audio even further."
With Asus AudioWizard which has 5 selectable modes where one is the Music mode, which brings your music to life. Basically Asus machines are made for music
So visit the ASUS Stand to check out their products.
ONGEA! will be the main Source of new Innovations, Trends and Content, for Regional and Global players, who are Setting the Pace for Strategic and focused Growth of the Music & Entertainment Industry in Eastern Africa.