Safaricom Masoko platform is launching on 16th November. We've been hearing about Safaricom's plan to delve into the e-commerce world for quite a while. And I'm sure such an announcement had caused jitters in Jumia and Kilimall offices.
Safaricom has the power to reach more people. They have the biggest mobile money solution in the world, they are the dominant Telco in Kenya, and they support certain startups which I'm sure they'll use to push the new platform as much as they can.
As we all wait for Masoko.com come 16th November, here are important things to know about an e-commerce platform I'm sure will shake up the African market.
Safaricom doesn't stock anything
Many people would be inclined to believe that Safaricom is starting an online shop. Nope they are not. Like any other e-commerce platforms, Safaricom is providing a platform where merchants can sell their stuff to consumers.
Merchants signing up for free
So you're a business and you want to sell your good or services on Masoko? Currently Merchants are signing up for free on the platform. Safaricom already has over 200 merchants on board with over 30,000 units in stock.
Safaricom charges a percentage commission per sale
So how does Safaricom make money? They've provided the platform and you have had your goods listed for free? Well, each item sold would have a percentage commission.
Anyone can be a merchant
Well technically, if you have a properly registered business and you have a certification from KEBS for quality products and standards, you can sign up to be a merchant.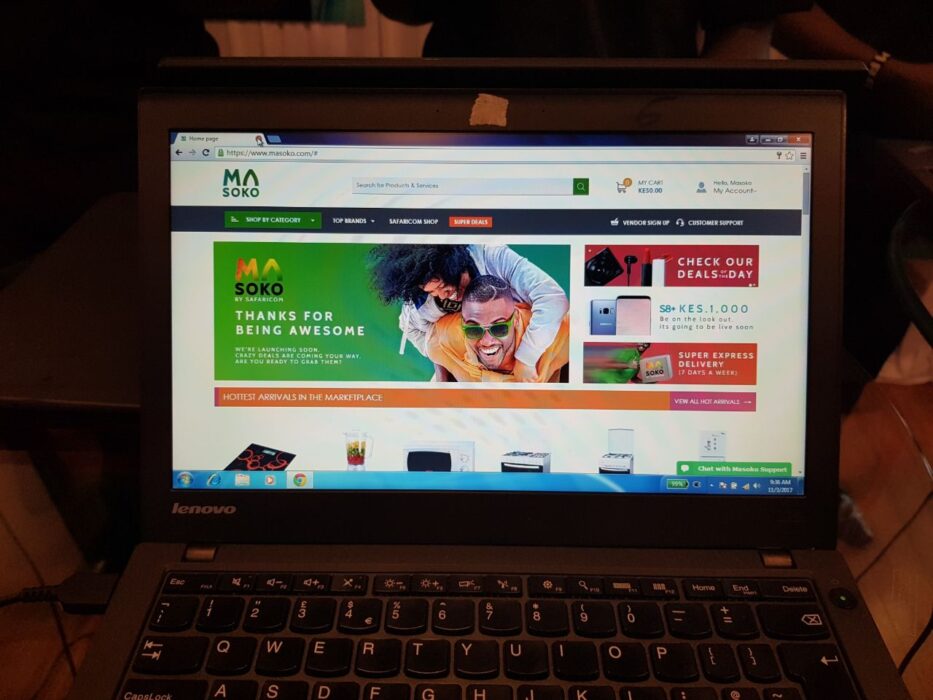 Delivery Options.
Safaricom will have different delivery options across the country. The aim is to make Masoko a platform where one can sell anything and buy anything across Kenya and Africa.
Standard delivery will take between 24 to 72hrs and delivery costs will be automated based on your location. For example if you're shopping from Mombasa you'll pay a different delivery charge as one shopping from Kakamega.
Express delivery will be as fast as possible. This will be first (of course) in Nairobi. Where you can receive the item you've purchased in less than an hour.
Fargo and Sendy are the companies partnering with Safaricom for delivery.
Safaricom will be using Fargo and Sendy, a startup they've supported, to deliver items across the country. This means many Kenyans will be able to receive their items at home in the near future rather than having to visit the posta.
There will be different payment options
My first thought when I heard of Masoko was that Safaricom would be using this to promote use of Lipa na Mpesa. Well of course they would. But that's not the only payment option.
On Masoko you'll be able to pay with MPesa, Airtel Money, your cards, and soon thereafter using mVisa.
Of course there'll be the option for payment on delivery which we all love.
Lipa na MPesa will be much easier than before.
The new MPesa API makes payments much safer, quicker and easier. So if you're paying with MPesa on Masoko, you won't need to key in a lot. You'll input your phone number, and then there'll be a prompt on your device asking you to key in your MPesa pin to pay the amount for the goods purchased on the site.
Customer care
On Masoko, there will be a dedicated chat room for contacting customer care to help out with anything you may need.
But there's also @MasokoAfrica on Twitter and Facebook.
I don't know about calling them but using the chat room, Facebook or Twitter will help you get help when you need it.
Masoko is meant to be an African e-commerce platform
Safaricom isn't making this for Kenya only. The target is the African market and you can see it from their social media handles. It would be exciting to see how this goes for them.
---
So there's that. For those who shop online and are looking forward to Masoko, what is the one thing you'll really want to see?
The one thing I'd love to see is a way for me to buy certain items that I currently have to import from China. That would be good.
I also hope quality products will be assured and delivery won't suck as it does sometimes with other platforms.
The one thing I was looking forward to is paying with PayPal. Maybe in future they'll add that.
Would love to know your thoughts.