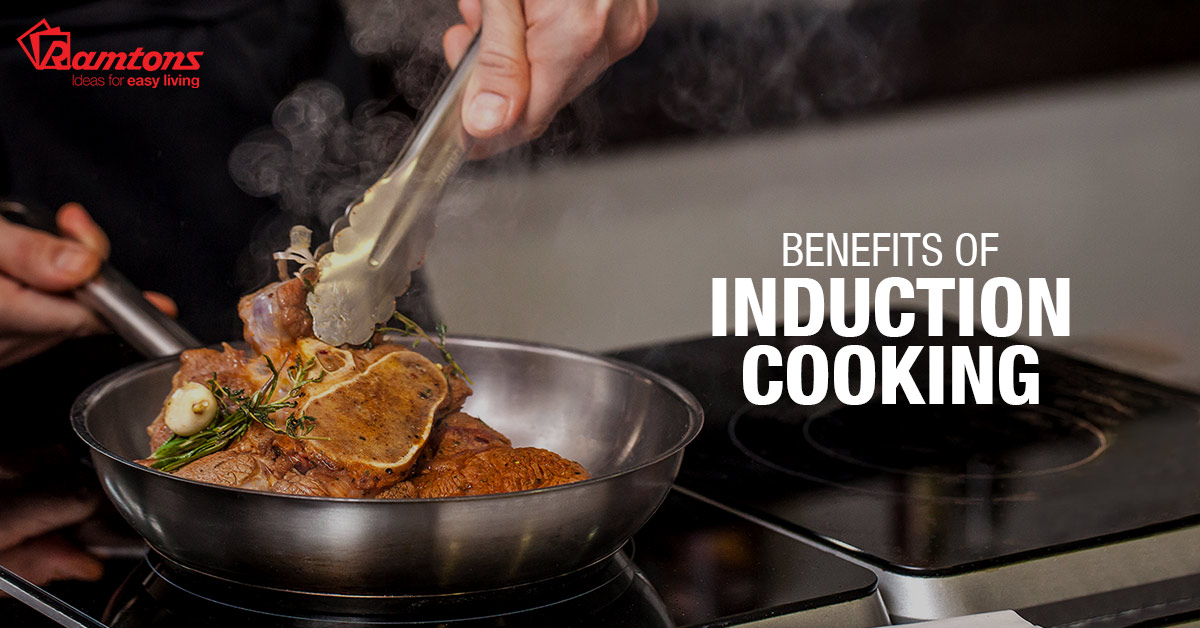 With the world becoming more conscious about conserving energy, the induction cooktop is now the modern way to prepare your meals. The science of induction cooking involves heating the pan with a magnetic field, rather than having the pan's surface on a direct flame as with a gas cooktop or on an element as with an electric stove. The entire bottom of the pan heats up with no need for it to fit on the burner.
You may have noticed when shopping for new cookware, a wide range of pots and pans that are marked "induction-compatible". Pad Thai, pasta carbonara, scrambled eggs, shakshuka are just some of the yummy meals that cook best on an induction cooktop.
Here are 5 reasons why you should consider making the switch to an induction hob:
Temperature control: With induction cooktops, you have responsive and precise control over the temperature compared to gas or electric cooktops. This ensures consistent results, reducing the risk of over or under-cooking even the most delicate of meals. Whether slow cooking a sauce or simply keeping food warm, induction cookers make things easier than with a gas flame which often falters on low heat settings.
Energy-efficient: Induction cooking is 70% more efficient than gas stovetops as a lot of the flame actually heats around the pan rather than on your cookware's bottom. On the other hand, 90% of energy is directed into the pan itself when using an induction cooker. In regards to cooking with an electric stovetop, induction cookers are still 40% more efficient as well. Worry less about heating up the rest of your kitchen while waiting for the electric elements to cool down.
Better ventilation: Induction cooking provides a cooler environment in the kitchen, as the surface only heats up when a pot or pan is applied, instead of having to keep your cooking appliances heated and ready all throughout busy service periods. When heat is generated within the pan itself; more of that heat gets to the food and warms your kitchen less. This results in better ventilation.
Quicker cooking: No other cooking technology is faster than the induction elements, which means that your pan gets hotter 2 to 4 minutes faster than other cooktops. Induction hobs produce 50% more power on output than a traditional hob as induction technology uses magnetic currents to directly heat your pots and pans, instead of the cooktop. This means meals get to your table faster.
Safety: Induction is a lot safer than the gas cooktop, as there is no flame to ignite any fumes or cause burns. Since induction heats your cookware directly, as opposed to the cooktop surface, the surface won't get hot until the right cookware is placed in the cooking zone. This is an essential factor to consider, especially when curious little hands are around.
Sharing ideas for easy living, Ramtons believes in making your shopping journey easy from the point of purchase to the point of use. Our kitchen equipment is carefully selected, designed, and tested thoroughly and individually so that you can maintain a durable and affordable kitchen. Ramtons aims to make lives in the home and kitchen easier through innovative products, ample availability and strong after-sales support. Our focus is always on making our customer's lives more convenient. Ramtons believes in providing prompt after-sales services to keep customers happy long after they've made a purchase. Ramtons is all about combining functionality, convenience and modernity in their products, and they do the same for their range of induction cookers for sale in Kenya.