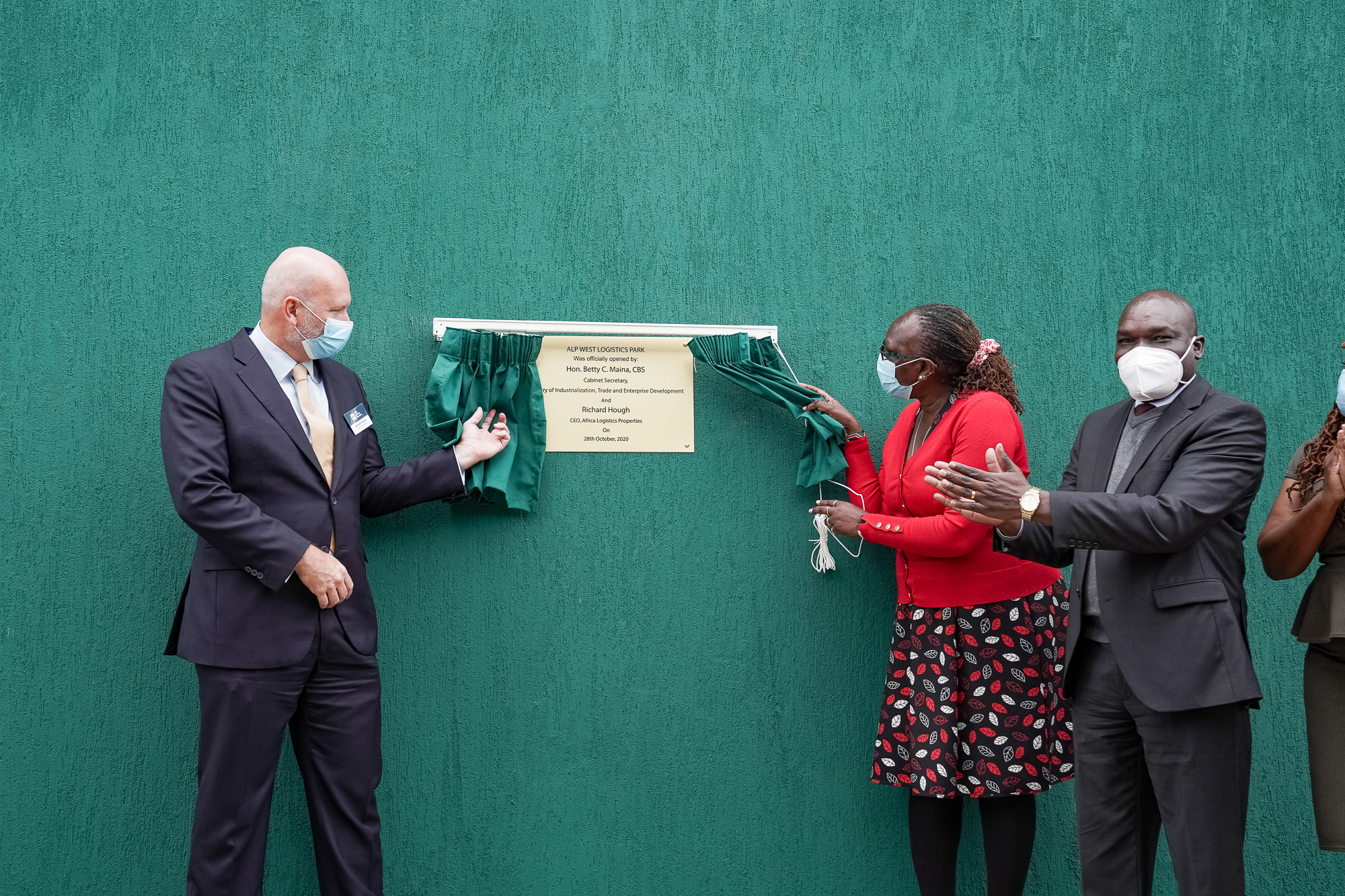 Integrated property and logistics investment company, Africa Logistics Properties (ALP) has today launched $6million warehousing facility for Kenya small businesses. In under 4 years since its inception, ALP says it has raised $150 million dollars to fulfil its purpose of constructing modern grade A warehouse facilities in East Africa with $50m of this apparently already invested in Kenya. ALP completed their first facility, ALP North in 2019, measuring 540,000 square feet. The company says this facility is already 75% occupied. The company's second project, ALP West will measure more than 1 million square feet.
The ALP West facility sits on an expansive 49 acres that comprise of seven phases. According to the company, right now, phase one is already 20% pre-leased and is targeting small to medium-sized enterprises (SMEs) seeking modern storage facilities with a minimum let of 5,300square feet.
"The foundational approach we are taking is a demonstration of our commitment to a long-term investment in meeting Kenya's warehousing and logistics demands. This is focused on industry and retail warehousing, commodity warehousing, cold storage and E-Commerce," said ALP's CEO, Richard Hough.
The rest of the phases will be dedicated to larger enterprises who will operate from grade-A warehouses that allow users to operate logistics at international standards, which is on demand by both local, regional and international companies.
"Vision 2030 prioritizes development of Small and Medium Enterprise (SME) parks, industrial and technology parks, industrial manufacturing clusters and upgrading of products from small and medium enterprises. What we are witnessing at Tilisi Logistics Park is a development that ties government long-term plans cater for supply and demands for manufacturing and industrialization," said Hon. Betty Maina, Cabinet Secretary – Ministry of Industrialization, Trade and Enterprise Development
"Businesses around the world have undergone a difficult time due to the pandemic and ALP has not been an exception. We had to make difficult decisions around the business, but I am pleased to announce that we have managed to keep our delivery timelines and retain hundreds of employees working with us during this challenging time. However, during the Covid-19 period, we have witnessed a general rise in demand for modern warehouse facilities, as well as, a consumer behaviour shift to online shopping which has fuelled an already increasing surge in e-commerce and demand for quality built warehouses for improved supply chain and logistics and within the region," Mr. Hough said.
ALP says it is currently in discussion with various local, regional and international companies, who own land in various parts of the Eastern African region to either development or upgrade their warehouses and factories on their behalf, through sale and leaseback options or through a pre-determined lease agreement.
"At ALP, we aim to build high-quality logistics warehouses for our clients to meet their increasing need for greater services and amenities in a mushrooming East Africa urban environment. This is just but the first phase and we remain committed to our purpose to provide affordable and quality warehousing solutions for businesses in Kenya and Eastern Africa," Mr. Hough added.