The International Telecommunication Union (ITU) hosted the 2020 edition of ITU Global Innovation Forum between 26th to 30th October 2020, focusing on mainstreaming competitive digital innovation ecosystems in the age of COVID-19. Kenyan developed app, Teleeza, was declared a winner in the Digital Change Maker Challenge trouncing 80 other entries globally.
The event was a five-day immersive programme that took the participants on global and regional learning journeys to prepare them to accelerate digital transformation in their communities.​​​​​​
Teleeza describes itself as a revolutionary FREE-to-use first of its kind mobile content aggregation and advertising platform that utilises the phone's first screen, the Lockscreen. It is a mass market aggregation platform available to over 500 million smartphone users in Africa & 150 million in East Africa. Teleeza was initially launched on Android via the Google Playstore and later rolled out for Apple IOS.
Besides serving the latest and top stories throughout the day, Teleeza allows users to customise their content so that they receive only what they choose ranging from latest news, sports, lifestyle, gossip, fashion & farming etc. Teleeza has been developed by a multi-disciplinary team with the aim of making access to great content easy, innovative and convenient.
The company says the app does not interfere with the normal workings of the phone, simply swipe to the right to continue using the phone as usual or swipe left to read the story displayed on the Lockscreen.
The advent of digital migration in Africa, particularly Kenya ushered in a new era where the media landscape has been systematically fragmented resulting in a crowded marketplace for content producers & advertisers to showcase their best. With over 300 media players across Television, Radio & Publications, consumer content connection has now been elevated to priority one.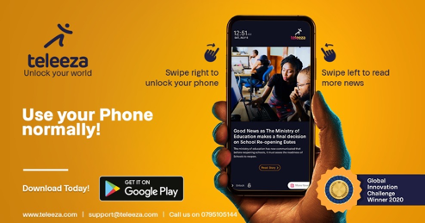 Further to this, the digital mobile age has brought with it unprecedented change in the way we consume media placing convenience & simplicity as core. With this in mind, the Teleeza platform has been created to take on the role of content aggregation therefore offering choice for millions of users around the Globe.
In addition to getting customizable content driven by Artificial Intelligence (IL) and Machine Learning (ML) in a simple, easy and convenient way, the Teleeza users get offered Teleeza points, through a Teleeza wallet, and shall access deals and coupons as advised from time to time. Teleeza offers a true aggregation experience as users gain access to their regular and favourite apps e.g Facebook, Twitter etc, shopping and deals, government services e.g iTax, e-Citizen, financials etc right from the Lockscreen.A Teleeza user will never have to worry about getting relevant information. The content shall be received on lockscreen without having to search numerous websites and applications
Owing to Covid-19 pandemic, this year's ITU event was held online. Unlike any innovation forum before, the 2020 challenge was immersive for the participants and well worth the time for winners and their supporters. This year's event entailed:
Virtual networking event and onboarding
Cocreation workshops with winners on new skills and capacity
Workshops on storytelling and practice in pitching projects
High level dialogue, pitching of their project, expert talks, networking, media corner, partner corner, and matching of winners with potential resources.
Entailed developing a remarkable video story about their project.
Identifying new partnership opportunities and networking with potential buyers, global delegates, investors, government representatives and other attendees.
Support during event to help winners further develop their proposals; connect with mentors, ecosystem builders, and potential clients and invest​ors; International recognition.
Winners will also join a global network of past winners and innovation champions.
Teleeza is available from the Google Playstore by clicking on the link below: https://play.google.com/store/apps/details?id=com.morbell.teleeza