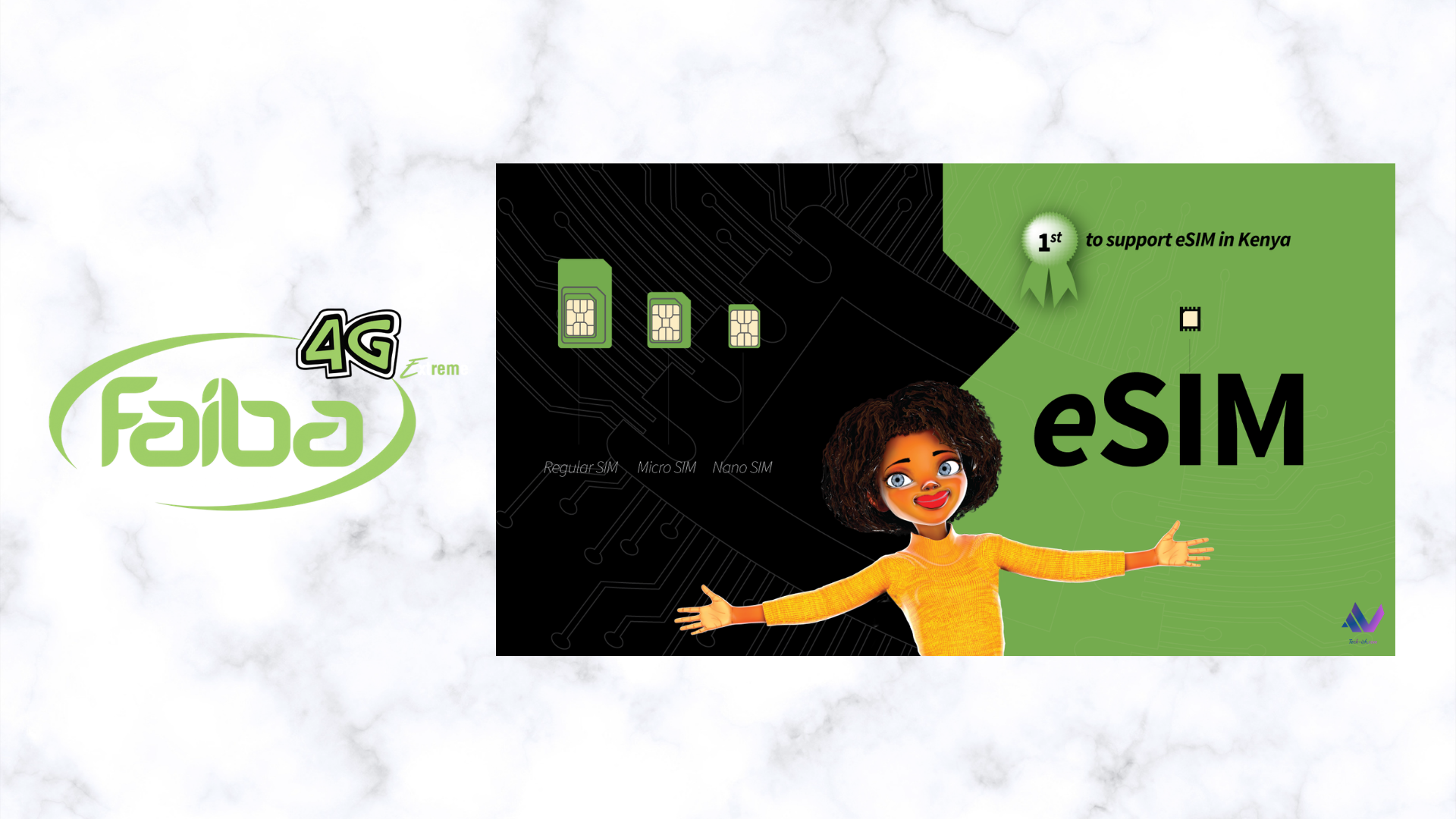 The first 4G-only network in the country has today made another first move for the Kenyan market. eSims. Faiba 4G now offers support for eSims, so if you have a smartphone that supports eSims, you can easily get the Faiba network to run on your phone without actually attaching a physical SIM card. Yes, your iPhone could soon be a dual SIM kinda phone.
eSim is short for an Embedded Subscriber Identity Module, or simply an Embedded SIM card. For a while now, many manufacturers (both Android and iPhones) have had eSIMs within their devices. So for markets, like the US where customers are attached to both their phone and the carrier, instead of having to remove SIM cards when changing carriers, all you need to do is change the SIM profile. So with an eSIM, all you need is some profile settings, and you're ready to use the new network. Mainly such profile settings are provided by the carrier in form of a QR code you scan.
This comes in handy for many people who may purchase an eSIM when traveling or for business purposes. But in a country where we are used to dual SIM cards, we may at first find it confusing. However, with an eSIM, ideally your single-SIM iPhone, iPad, Android Phone or tablet can finally support dual SIM cards. And yes, ideally if your dual SIM Android phone has an eSIM, you can have three networks at once on your phone, like with Samsung's S20 Ultra. However, the OS limits you to only two SIM cards working at the same time.
Jamii Telecom has said that their eSIM can be purchased from all their shops countrywide already. So if your single-SIM phone already supports eSIMs and you've wanted to have the Faiba network for a while now, this is your time!
Getting the Faiba 4G eSIM on your phone:
Here's how to get the Faiba eSIM in Kenya:
First, make sure your Android phone or tablet, or your iPhone or iPad has an embedded eSIM, and supports the Faiba 4G network. Check down below for currently supported devices.
Second, visit your local Faiba shop, and either buy the eSIM profile from them, or have them swap your current physical SIM card for an eSIM, to get the profile. (New customers pay KES. 300, while existing customers pay KES. 150 for the eSIM).
Third, Scan the QR code on the profile you get from the shop to activate the eSIM on your device so that it recognises the Faiba 4G network.
The process of activating the eSIM is simple. All you need is a reliable connection (preferably a good WiFi connection) that will enable you to download the profile once the QR code is scanned. Once the profile is downloaded, all you do is click install and your eSIM will be activated. You will see on your phone two network bars showing you have two SIM cards.
Unfortunately, the visiting an actual store part is very annoying given you're buying something normally most carriers offer online. However, given in Kenya one has to register for a SIM card, it is understandable. But, the company should make it easier for current Faiba users to activate eSIMs without going to a store physically.
I have a couple of devices that have eSIMs embedded and I'll be having each of them activated on the Faiba network. Especially the iPad which can do with the cheap bundles from the telco.
Note:
The Physical SIM on your phone, from whichever network, won't be affected when you activate the eSIM.
You will be able to change the eSIM profile anytime should another carrier in Kenya support eSIMs. You can also have multiple profiles, and choose the one you want to use at a particular time.
You will also be able to activate other devices with eSIMs with the same number should you choose to switch.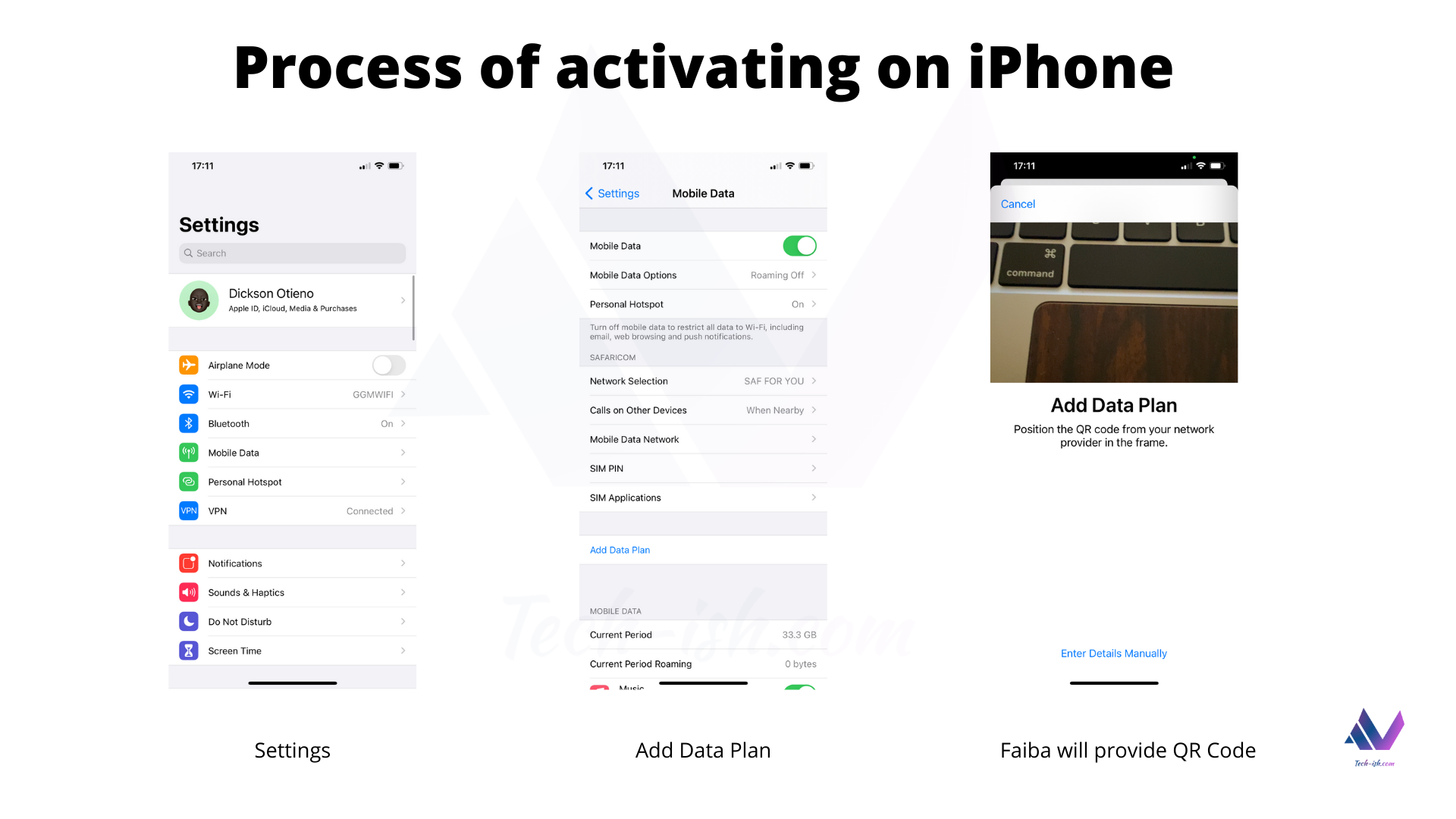 Phones and Tablets that currently Support Faiba 4G eSIM in Kenya:
Android Phones:
Google: Pixel 2, Pixel 2 XL, Pixel 3, Pixel 3 XL, Pixel 3a, Pixel 3a XL, Pixel 4, Pixel 4 XL, Pixel 4a 5G, Pixel 4a, Pixel 5
Huawei: Mate 40 Pro, P40, P40 Pro, Not P40 Pro+
Motorola: Razr 2019, Razr 5G
Samsung: Galaxy Fold, Galaxy Note20 5G, Galaxy Note20, Galaxy Note20 Ultra 5G, Galaxy Note20 Ultra, Galaxy S20 5G, Galaxy S20, Galaxy S20 Ultra 5G, Galaxy S20 Ultra, Galaxy S20+ 5G, Galaxy S20+, Galaxy Z Flip 5G, Galaxy Z Flip, Galaxy Z Fold2 5G. Note that Samsung produces both dual SIMs and those with eSIMs.
Oppo, LG, HTC, Xiaomi, Honor, RealMe, OnePlus, Vivo, TECNO, Infinix – no eSIM support yet.
Android Tablets:
If you have an Android Tablet, check for eSIM support, then check if the device support Faiba's Band 28, 700MHz.
Windows:
Confirmed: Microsoft Surface Duo, Lenovo Yoga 630, HP Spectre Folio,
Check if your Windows tablet of Laptop has an eSIM, and then check the network band supported for Band 28, 700MHz
iPhones:
All these iPhones as long as they're not purchased from China or Hong Kong:
iPhone 11 Pro Max
iPhone 11 Pro
iPhone 11
iPhone 12 mini
iPhone 12 Pro Max
iPhone 12 Pro
iPhone 12
iPhone SE (2020)
iPhone XS Max
iPhone XS
iPads:
All these iPads too:
iPad Pro 12.9‑inch (4th generation)
iPad Pro 12.9‑inch (3rd generation)
iPad Pro 11‑inch (2nd generation)
iPad Pro 11‑inch (1st generation)
iPad Air (4th generation)
iPad Air (3rd generation)
iPad (8th generation)
iPad (7th generation)
iPad mini (5th generation)
Apple Watches:
If you have any of these Apple Watches with LTE support, you can install an eSIM profile on them:
Apple Watch Edition Series 6
Apple Watch SE
Apple Watch Series 6 Aluminum
Apple Watch Series 6