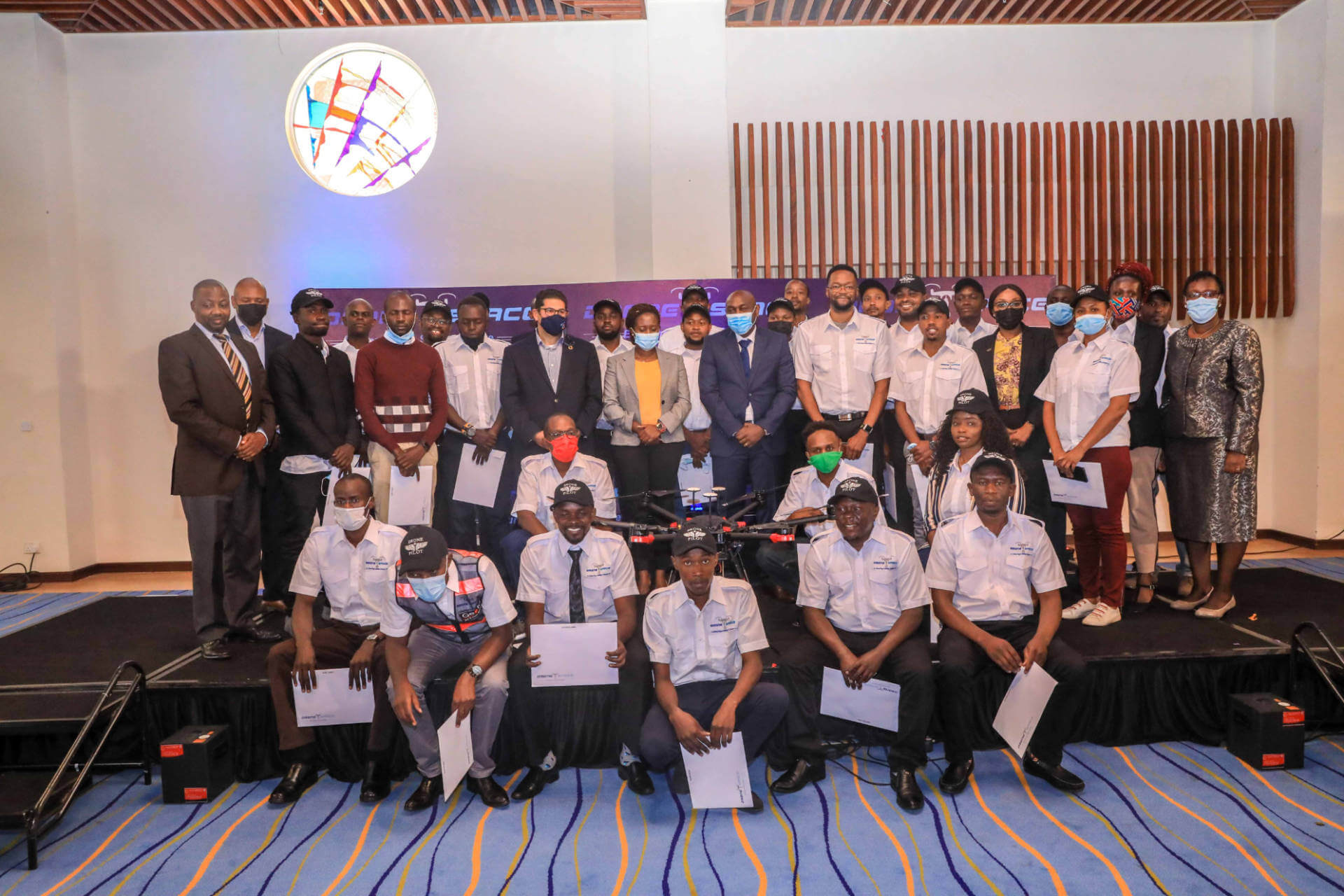 Announcements
The first batch of 'Drone Pilots' graduate from Drone Space Kenya
Drone Space, Kenya's unmanned aircraft systems training organisation, has today graduated over 40 students during the inaugural drone pilots graduation in East and Central Africa.
The pilots received their Kenya Civil Aviation Authority (KCAA) approved Remote Pilots Licence (RPL) certificates enabling them to operate drones in the Kenyan national airspace.
Speaking during the graduation ceremony Ministry of Information, Communications, and Technology Chief Administrative Officer Maureen Mbaka said that the unmanned aircraft industry is leading the way into a new age of aviation.
"As the drone industry continues to grow and develop at a rapid rate, it is crucial that pilots and operators do the same in order to improve their own standing within the industry," Ms. Mbaka said. "Drone technology will continue to play an increasing role in optimizing various sectors including agriculture, housing, security, tourism amongst other key sectors of our economy, but first we must master how to fly and operate them right."
Drone Space aims to build a team of KCAA–certified drone pilots who will practice flying unmanned aerial vehicles (UAVs) to meet the local demands for various sectors of the economy.
"The age of unmanned aircraft has arrived. Today's graduation is a first in the country, but a big leap in our national efforts to harness the use of this new technology. At Drone Space, we are committed to help shape this nascent industry, our graduates are very well trained, motivated and would make ideal drone pilots."
"Drones provide opportunities not just for service delivery but also employment. It's important that we do not miss this wave of frontier technology," said UNDP Resident representative Kenya Walid Badawi.
KCAA requires commercial drone owners to be certified and registered before operating them.
"Safety remains a fundamental concern to our collective mission. For us to reach the full potential this industry has to offer, we must make safety a thing," Said KCAA UAS Technical Officer Frank Kigen
During the event, the company revealed that it will be launching a Women in Drones Technology (WIDT) programmes a drone and data analysis program that targets graduate beneficiaries from all the East African member states, Ethiopia and Malawi
The program will see the Academy sponsor 12 women in Technology for the Drone and Data analysis program.
"We are on a journey to introduce the Women in Drones Technology Programme. We have developed the curriculum and are currently looking for partners to establish the program. We target to start it before the end of the year," Tony Mwangi said.
Upon graduation, the beneficiaries will receive a Remote Pilot License and Certificate of Drone Technology (CDT) effectively enabling them to construct and assemble drones, aircraft fundamentals, operations, regulations, and data analytics for Unmanned Aerial Vehicles (UAV). These are rare skills across the continent and will open myriads of opportunities for them.