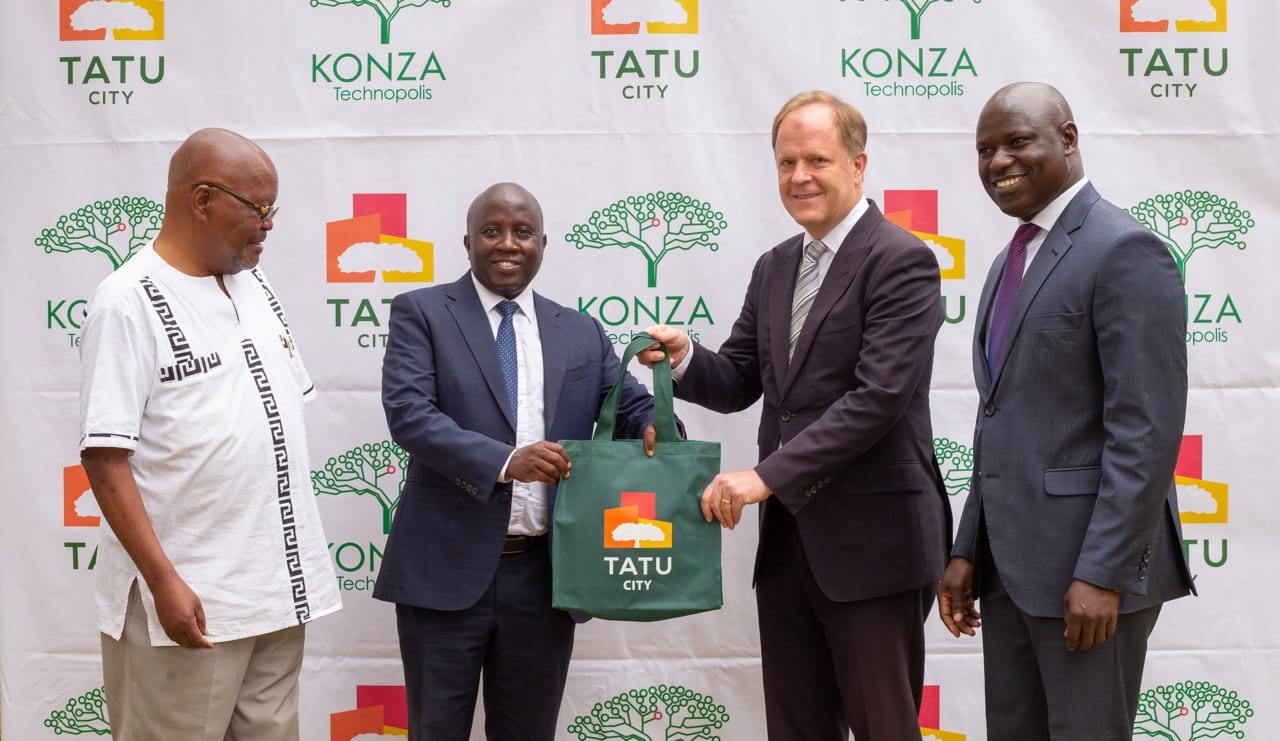 Konza Technopolis Development Authority (KoTDA), the agency that oversees the development of Konza Technopolis and Tatu City's owner and developer, Rendeavour, have agreed to establish an association for Special Economic Zones (SEZs) to accelerate development and investments in the country.
The move, aimed at championing the policies and conducive environment for SEZs, seeks to attract foreign direct investments (FDI) into the country as well as promoting domestic investment.
The engagement will further enable the upcoming SEZs in the country to speak with one voice, thereby safeguarding their investors' interests and championing for more development.
Speaking during a courtesy call to Tatu City by KoTDA, Preston Mendenhall, Chief Operating Officer (COO), Tatu City said:
"We are glad for the continued engagement between us and Konza Technopolis. Today's return visit is just the start of our key winnings on urban development not only in Kenya but also in Africa. What we have identify as sister cities is that we must collaborate closely on the Special Economic Zones which is relatively new legislation to ensure its good implementation in Kenya to enable it to attract Foreign Direct Investments in Kenya and  also benefit all domestic investors"
He added: "We have decided, alongside with Konza, that we act in unison because we are trying something new in Kenya that is very important for the country's future. So therefore with Konza, we have decided to form an association of Special Economic Zones (SEZs). This association will be founded by Konza and Tatu City as founding partners and members". 
Mr. Mendenhall noted that both cities are looking forward to positioning Kenya as a global industrialisation hub through bringing in more investors while easing the weight of urbanisation on cities.
So far, 64 companies have already taken space at Tatu City, with 13 of them operating under the SEZs category.
Commenting on the visit and the ongoing engagement, KoTDA CEO, Eng. John Tanui noted that the engagement is envisioned to propel the joint development of the smart cities with a focus on three areas; promotion of the cities, promotion of SEZs and the utilization of the cities' existing infrastructure such as the Data Centre in Konza.
"We are glad that our engagement with Tatu City has continued to bear fruits and from today's discussion, we are glad that the establishment of the SEZs association will seek to promote investment in our country," said Eng. Tanui, adding that the partnership has so far been beneficial to both entities.
He said: "When Tatu City made their visit to Konza Technopolis earlier this year, we deliberated to work together to attract more investors in Kenya. Through our SEZs approach, we are looking forward to enhance our engagement with Tatu City and other like-minded entities"
Eng. Tanui said the Authority is already benefiting from the SEZs incentives with over 50 investors earmarked to taking up space at the Konza Technopolis. 
The two cities announced their collaboration in January 2021, with a focus on building both mega-projects' investment policies and positioning the cities at vantage positions for both local and international investors.
The visit was also attended by Arch. Dr. Reuben Mutiso, MBS, Chairman KoTDA, Justus Kariuki, Executive Vice President, Tatu City and board members from both KoTDA and Tatu City.
The two cities are putting up a mixed-use development with homes, schools, offices, medical centres, nature parks, sport & entertainment complex and manufacturing.
So far, KoTDA's National Data Centre and Konza Complex are complete while horizontal infrastructure on Phase One is ongoing. On its side, Tatu City has already established schools and businesses which are operational.