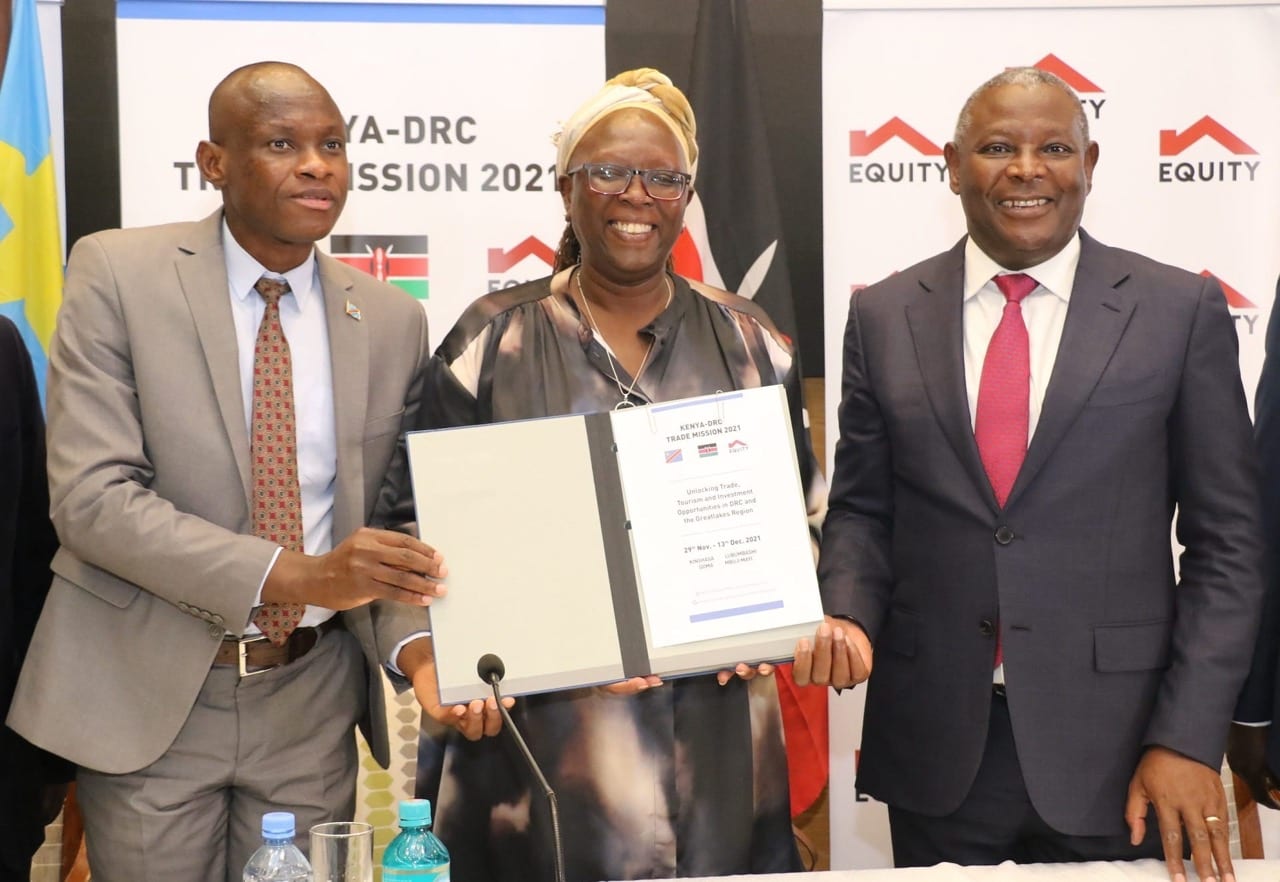 The Government of Kenya (GoK) and the Government of the Democratic Republic of the Congo (DRC) in partnership with Equity Group have come together to organize and facilitate a 15-day Trade Mission to DRC from 29th November to 13th December as part of sustained efforts to promote regional trade and business growth.
The Trade Mission, which expects to attract over 200 investors and business participants from Kenya, and a similar number or more from DRC as well as the public, will include trade exhibitions, business forums, and site visits in four of DRC's largest cities – Kinshasa, Lubumbashi, Goma, and Mbuji Mayi.
This joint initiative is a result of an agreement between H.E. President Uhuru Kenyatta and H.E President Felix Tshisekedi of the Democratic Republic of Congo earlier in April 2021 when the two principals signed bilateral agreements between Kenya and the DRC aimed at enhancing trade and the movement of people and goods.
President Kenyatta noted, "It is a moment of rare regional and continental pride, as we witness our local enterprises coming together in the spirit of "One Africa, One People". Our forefathers fought to secure not only political freedom but also economic freedom. The political freedom is secure; economic liberation is the task of our time."
This comes at a time when DRC's application to join the East African Community (EAC) has passed the technical committee stage and the Regional Council of Ministers is expected to deliver the final verdict this November.
Equity Group, through Equity Bank Kenya and EquityBCDC, its DRC banking subsidiary, will support to facilitate the trade mission by mobilizing SME entrepreneurs, championing the networking, and matching of local businesses to their counterparts in both the DRC and Kenya and by coordinating the trade mission. The mission aims at optimizing the opportunities availed by regional cooperation frameworks such as the Africa Continental Free Trade Area (AfCFTA), and to leverage trade corridors and create regional supply chains.
Speaking at the launch of the Trade Mission, Cabinet Secretary, Ministry of Trade, Industrialization and Enterprise Development Dr Betty Maina said, "DRC is the 6th leading export destination for Kenyan products in the world with agricultural and manufactured goods topping the list. This Trade Mission will strengthen service and product investment between the two nations, and we are looking to explore more partnership opportunities in various sectors of the economy. It will boost trade and development which in turn translates into an economic win for the region and the greater Sub-Saharan Africa."
According to the World Bank, with a surface area equivalent to that of Western Europe, DRC is the largest country in Sub-Saharan Africa. The nation is offering huge untapped opportunities for access to one of the world's largest economic frontiers. This includes exceptional natural resources, such as cobalt and copper, hydropower potential, significant arable land, immense biodiversity, and the world's second-largest rainforest.
Also speaking at the launch, Mr Botuli Bosaw Geoffrey, Second Secretary in the DRC Embassy, Kenya said, "There is significant untapped potential in DRC given that we have a current population of over 100 million potential consumers, mineral resources, fertile agricultural land, and potential for political renewal. By empowering local SMEs and fostering foreign investment in the country, we shall awaken an economic giant and increase trade and investment inflows and outflows. We look forward to hosting the Kenyan delegation and will facilitate and support them during their fifteen-day trade mission in our country"
Commenting during the Trade Mission launch, Equity Group Managing Director and CEO Dr James Mwangi said, "We applaud both the Kenya and DRC governments for promoting regional integration and cooperation. The inaugural Trade Mission to the DRC will encourage Kenyan private sector players to venture into the DRC by showing entrepreneurs the untapped opportunities within the market.
Equity Group believes in championing the economic prosperity of the people of Africa and we are excited to create a platform that encourages the networking and benchmarking of business opportunities while at the same time availing market intelligence, key elements that promote the growth and success of enterprises in the East and Central African region in line with Equity's post-COVID Africa resilience and growth plan."
"We have Kshs 500 billion available to support and facilitate private sector and the business community to grow and expand their businesses in Kenya and the region. Equity has operated in DRC since 2015 and has grown to become the 2nd largest bank in DRC. We have gained enough experience in the six markets we operate in and the region to support businesses that are looking to venture into DRC and the larger East and Central Africa," added Dr Mwangi.
Last week Equity Bank signed with Proparco two guarantee facilities, ARIZ and EURIZ totalling €39 million (5 billion KES) to facilitate the Kenyan bank to further support MSMEs.
The key economic sectors targeted by the Trade Mission are agriculture, education, health, sports, and tourism. Others are environment, SME's, housing, energy, and infrastructure development. Kenya's public and private sectors have been urged to register and participate in this opportunity.