On the Starlink website, if you hover around Kenya you'll see good news: Nairobi and Mombasa will be covered by Q2 2023. Admittedly, this is an Elon Musk company, so what's promised is never necessarily delivered on time. However, this is still huge news. And it is worth being excited for.
What is Starlink?
Basically, it is a crazy venture by Elon Musk-owned SpaceX. The aim is to connect as many people as possible – especially in regions where traditional Internet service providers haven't expanded to – to the internet. And they want to do it by having a mesh of satellites in orbit.
Here's how it works:
From the ground, there are stations that broadcast signals to space. In orbit, there are mini satellites receiving the signal. These satellites are approximately 480-550km above us. They then beam the signals to tiny satellite dishes that customers buy from Starlink. You then connect these tiny dishes to your home to provide internet connection to your devices.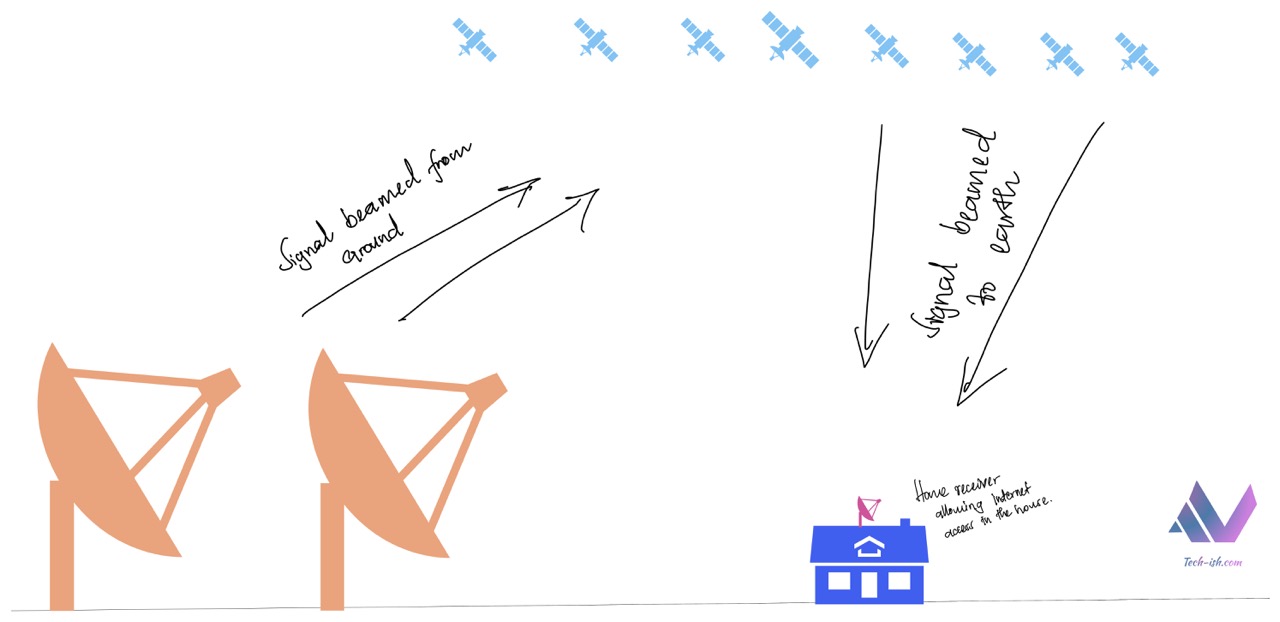 What is needed and what are the charges?
On Starlink's side they need to have a good number of Satellites in space. And since it is SpaceX, they can achieve this easily.
On the user side, you need to acquire that tiny satellite dish, and then pay a monthly internet subscription fee. Currently, the dish costs $599 while a monthly Internet fee for a residential building is $110. There's also Starlink for businesses and for moving vessels like trains, ships and trucks.
Once set up, a customer can access Internet speeds of up to 150Mbps. There's a fair usage policy which limits speeds after 1 terabyte of data has been used up within the payment cycle.
The company has promised that speeds will double in future. Which means you stand to enjoy faster internet speeds with the same hardware you already paid for.
Too expensive for Kenya?
Before the arguments come in, remember this: The quoted charges may or may not be the same for this region once the service is live here. We hope there's either a plan or a way to have it more readily affordable to more people.
However, remember that early adopters get to pay a little more compared to the rest of the users who might hop on to the service in the coming years. Also, this is a service that's completely portable, and can be used by households with a significant number of people.
Once the service is available, there're also significant positives for customers, thanks to new competition, and increase in options – something Kenyans badly need.
Of course there will be companies that will want to tap into the service for resupply purposes, businesses that will switch from current providers completely and many more interesting dynamics that will come into play. It will be interesting to see the reactions.
Starlink vs Fibre services in Kenya:
The greatest thing that sets apart Starlink from regular fibre is coverage. With fibre, you need to live in an area where the connection is ready. You then need to call the company to come and setup the necessary items in your home. If it is your own home, you need to convince companies to extend the fibre cable to your building, which may include charges. It's hectic.
However, with Starlink no mater how remote you are, you only need the tiny satellite dish, and you're good to go. That's the selling point. And with the promise of 300Mbps speeds in the future, and the fact that the service offers lower latency – compared to local providers – it will be interesting to see the uptake in this region.
For the home: Starlink vs 5G?
5G has been a great disappointment all across the world. We expected exciting speeds and low latency all from the palm of hands. However, in day to day use, people are only getting slightly better speeds than 4G, and incredibly annoying fluctuations in access.
Recently, we saw 5G WiFi for Home service launched in Kenya by Safaricom. The cost of acquisition as we broke down came to KES 33,499. That's KES 25,000 for the router and KES 3,499 for the monthly plan. Not only are the speeds disappointing – especially since it's freaking 5G – the charges also feel very expensive.
We are yet to know how the uptake of the service has been. And we are also yet to see 5G specific bundles for mobile users (These would help us decide whether it makes sense to get the router or just wing it by tethering your phone).
With what we've seen already, it seems Starlink will be a way better Internet solution for homes compared to 5G. What do you think? Will you be using Starlink in Kenya?