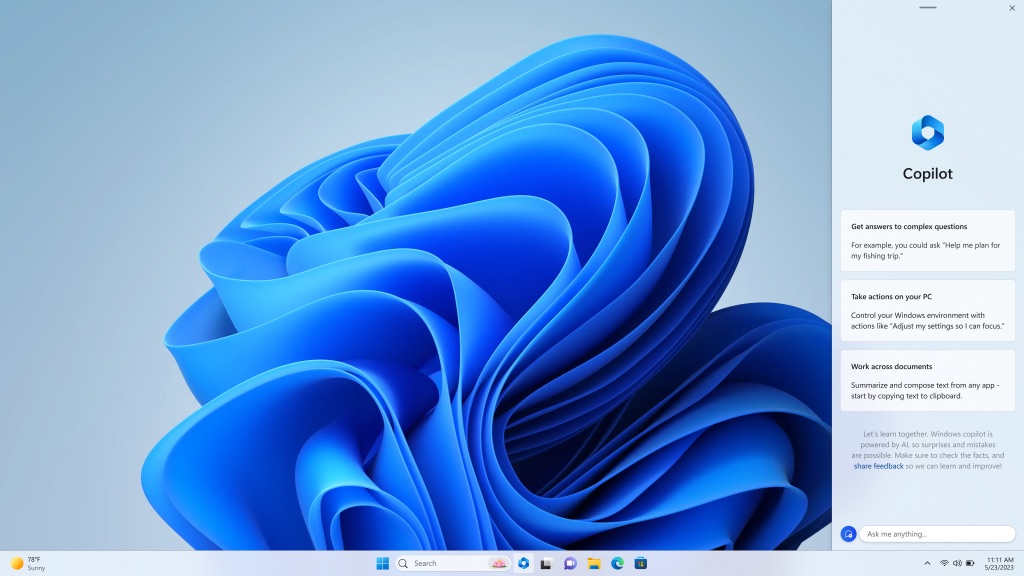 Microsoft has announced Windows Copilot, a cutting-edge, AI-driven feature for Windows 11, marking the dawn of a new era of productivity. This centralised AI assistant is designed to help users take action and accomplish tasks more easily, making Windows 11 the first PC platform to provide such a service.
Windows Copilot is accessible via a button located on the taskbar and functions as a constant companion in a user's digital environment. Once activated, it appears as a sidebar that stays consistent across all apps, programs, and windows, acting as a versatile personal assistant – remember Clippy? . The goal is to empower every user, regardless of their tech proficiency, to take advantage of the full breadth of features that Windows offers.
Windows Copilot extends beyond the typical features of Windows, such as copy/paste, Snap Assist, Snipping Tool, and customisation. It can also rewrite, summarize, or explain your content. It fields a broad range of questions, from basic to complex, much like Bing Chat. Whether you need to check the local time in a foreign country or require assistance in planning a trip, Windows Copilot is designed to help.
Furthermore, Copilot is integrated with Bing and ChatGPT plugins, which augments its AI capabilities and user experiences. This integration also paves the way for developers to innovate and reach their customers in new ways. Plugins developed for Bing or OpenAI's ChatGPT can be extended to Windows Copilot, expanding its functionality and ensuring that improvements to these plugins are seamlessly incorporated into Windows Copilot.
Microsoft is also investing in other AI-related initiatives, including the new Hybrid AI loop that supports AI development across platforms, from Azure to client devices. This advancement is backed by new silicon support from industry giants AMD, Intel, Nvidia, and Qualcomm.
Windows 11 has been experiencing considerable growth, driven in part by a 24% YoY increase in devices used for development. Microsoft believes that with the right tools, developers and customers can shape the future and make a significant impact on the world, with AI as a key catalyst in this transformation.
Public testing of Copilot is set to commence in June, followed by a broader roll-out to Windows 11 users. Developers are encouraged to contribute to the evolution of Windows Copilot by continuing to invest in Bing and ChatGPT plugins, ensuring their work enhances the utility of this AI assistant.