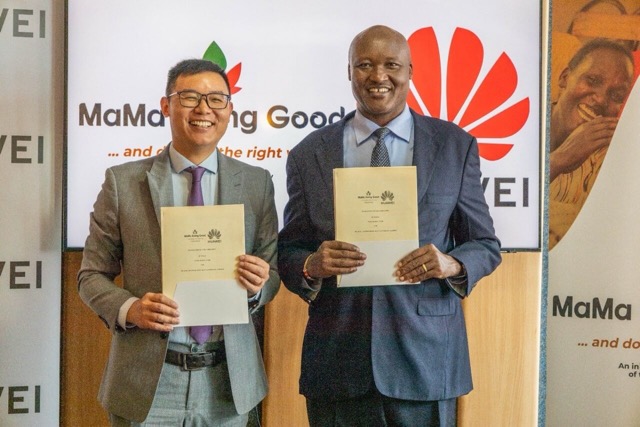 Huawei Kenya, a renowned global leader in information and communication technology (ICT) infrastructure and smart devices, has forged a groundbreaking partnership with MaMa Doing Good, a prominent non-government organisation led by First Lady Rachel Ruto. The alliance aims to empower Kenyan women by providing them with essential digital skills and bridging the digital divide that often hampers their economic and social progress.
In a significant move, the two organisations recently signed a Memorandum of Understanding (MoU) outlining their collaborative efforts to deliver digital skills to over 14,000 women groups throughout Kenya. The strategic partnership focuses on equipping MaMa Doing Good and the women they serve with devices to facilitate learning and digital literacy training.
Dr. John Chumo, CEO of MaMa Doing Good, emphasized the importance of private sector involvement in driving programs with NGOs and the government to empower women. He stated, "Investing in women's economic empowerment sets a direct path towards gender equality, poverty eradication, and inclusive economic growth. The equipment and digital skills the women participating in this Huawei program acquire will be a catalyst for change to improve their lives in profound ways."
The MoU between Huawei and MaMa Doing Good encompasses various key areas of collaboration, including:
Bridging the Digital Divide: The two organizations will work together to bridge the digital divide for women in Kenya.
Enhancing Digital Skills: They will jointly develop and implement activities to enhance the digital skills of Kenyan women.
Documentation and Communication: Huawei and MaMa Doing Good will document their efforts and engage in joint communications to raise awareness about the program's impact.
Advocating for Digital Literacy: Both parties will advocate for the importance of digital literacy and its role in women's empowerment.
Resource Mobilization: The partnership will involve collaboration on resource mobilization efforts to ensure the program's sustainability.
Dr. Chumo highlighted that this partnership reflects the shared commitment of both organizations to creating an equitable society aligned with Kenya's Vision 2030. He emphasized that empowering women with digital skills not only contributes to gender equality but also serves as a powerful tool for poverty eradication and inclusive economic growth.
Mr. Steven Zhang, Deputy CEO at Huawei Kenya, expressed his enthusiasm about the partnership and its potential to transform the lives of Kenyan women. He stated, "We are thrilled to join forces with MaMa Doing Good to empower women with the digital skills they need to thrive in today's world. Through this collaboration, we aim to bridge the digital divide and create a brighter future for women in Kenya at a time when technology is increasingly pervasive and playing a vital role in most sectors of the economy."
MaMa Doing Good, under the patronage of Her Excellency the First Lady, Mama Rachel Ruto, is dedicated to Women's Economic Empowerment, Environment, and Climate Action in Kenya. The organization's mission perfectly aligns with Huawei Kenya's vision of bringing digital access to every person, home, and organization, with the ultimate goal of creating an Equitable Society where Every Person Lives a Happy, Fulfilled, and Transformed Life.
This partnership between Huawei Kenya and MaMa Doing Good signifies a significant step towards empowering Kenyan women with the digital skills they need to thrive in an increasingly digital world. It is expected to have a profound and lasting impact on the lives of thousands of women across Kenya, contributing to their economic empowerment and overall well-being.