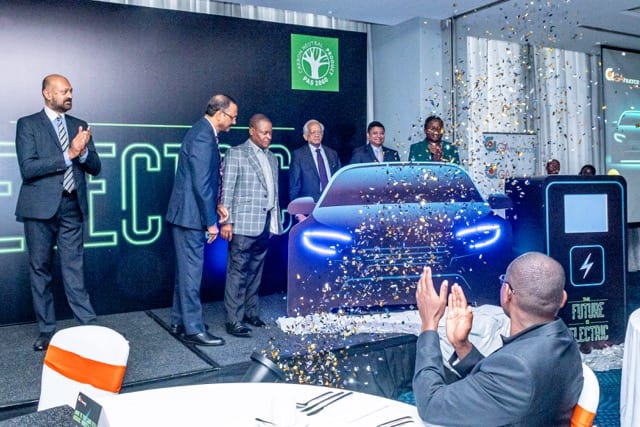 GA Insurance Limited has unveiled a groundbreaking insurance product tailored exclusively for Electric Vehicles (TVs) in Kenya. The GA Eco Drive Cover marks a significant milestone in the Kenyan insurance industry as it aligns with the global shift towards sustainable transportation options and reinforces the company's commitment to environmental sustainability.
The adoption of electric vehicles in Kenya has seen a remarkable 108% increase in sales during the 2022-2023 financial year, with the government's ambitious plan aiming to have 5% of registered vehicles as EVs by 2025. To address the emerging risks associated with the growing EV ecosystem in Kenya, GA Insurance has introduced this specialized insurance cover, which extends its support for sustainability through innovative risk transfer solutions.
What sets the GA Eco Drive Cover apart is its distinction as one of the world's first insurance products to attain Carbon Neutral Certification. This certification was awarded after a rigorous assessment process conducted by independent experts. GA Insurance proudly sourced high-quality Carbon Credits from local projects in Kenya, which were independently verified to meet Gold and Verra Standards. This move underscores GA's commitment to supporting local communities and projects while aligning with global carbon accounting practices such as the GHG protocol, ISO 14067, and PAS 2060. Furthermore, it aligns with Kenya's Nationally Determined Contribution (NDC) target of reducing greenhouse gas emissions by 32% by 2030.
The core theme of E-mobility is sustainability, and GA Eco Drive Cover represents a significant step towards practical action in the sustainability conversation. It aligns with the UNEP FI Principles for Sustainable Insurance and the UN Sustainable Development Goals, fostering dialogues with key stakeholders to promote sustainable transportation options.
Key Features and Benefits of the GA Eco Drive Insurance Cover for Electric Vehicles include:
Battery Cover: Covers the cost of repairing or replacing the EV battery in case of theft or accidental damage.
Charging Cable Cover: Protects charging cables from theft or accidental damage.
Cover for Private Charging Station: Safeguards charging stations against unexpected damage or theft.
Out of Charge Recovery Benefit: Assists customers in reaching the nearest charging point in case their EV runs out of charge.
Autonomous Driving Cover: Provides coverage for accidents occurring when using self-driving features.
Cyber Attack Coverage: Protects against online threats targeting the vehicle's electronic systems while using self-driving features.
In-car Entertainment Unit and Satellite Navigation Systems Cover: Facilitates settlement in case of theft or accidents involving these systems.
Cover for injury and damage caused by charging cables: Covers damage caused by charging cables to third parties or third-party property.
Mr. Sandip Bhadury, CEO of GA Insurance Kenya Ltd, highlighted during the official launch that "the GA Eco Drive Cover is a specialized insurance policy designed to address the unique risks faced by the E-Mobility segment and its associated business models." He emphasized that traditional motor insurance policies are inadequate in addressing the evolving needs and risks associated with electric vehicles.
As Kenya embraces electric vehicles as a sustainable mode of transportation, the GA Eco Drive Cover ensures EV owners have peace of mind, knowing that their investments are protected in every possible way. Mr. Bhadury also stated that the goal is to provide insurance solutions that align with the evolving needs of Kenyan consumers while promoting eco-friendly choices.
In a rapidly changing automotive landscape, GA Insurance Limited continues to demonstrate its commitment to innovation and sustainability by delivering insurance products that resonate with the values and aspirations of modern motorists.