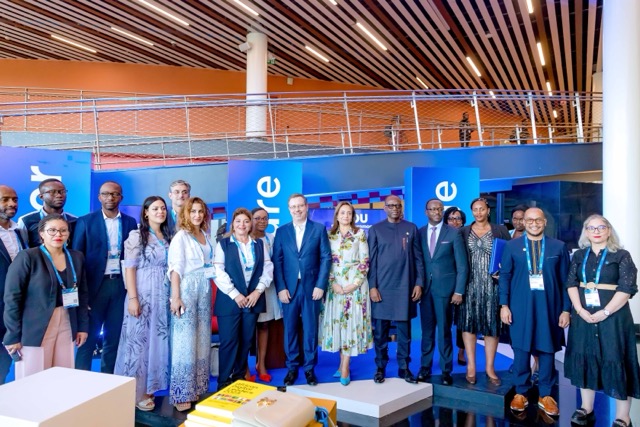 In a landmark move set to catalyze the digital transformation of Africa, Orange Middle East and Africa have inked a significant three-year partnership with the Smart Africa alliance. This groundbreaking agreement, announced at the Mobile World Congress Africa in Kigali, underscores both parties' dedication to fostering entrepreneurship and nurturing a digitally skilled workforce, thereby generating sustainable employment opportunities for the African youth.
Orange, renowned for its deep-rooted commitment to digital inclusion, joins hands with Smart Africa, an alliance fortified by the innovative dedication of African Heads of State. Together, they aim to expedite Africa's digital evolution and spark socio-economic development across the continent. The synergy of Orange's profound expertise in innovation and Smart Africa's robust, continent-wide commitment forms a powerhouse set to revolutionize Africa's digital landscape.
Central to this collaboration is the empowerment of youth and women, equipping them with the digital skills necessary for flourishing in emerging digital professions. Through the combined forces of the Smart Africa Digital Academy (SADA) and the Orange Digital Center (ODC) network, this initiative will roll out comprehensive digital skills development programs. Currently, the ODC network has a widespread presence, spanning 16 countries in Africa and the Middle East, as well as 6 European countries.
Moreover, the partnership pledges to invigorate innovative entrepreneurship by bolstering the incubation, acceleration, and financial support for entrepreneurs, particularly in critical sectors such as environment, e-agriculture, e-health, and e-commerce. Both SADA and ODC are committed to offering expansive digital training, with ODC uniquely integrating multiple free, open-to-all programs within a single facility, and SADA driving the implementation of Smart Africa's digital skills strategies.
The alliance promises not just skill development but also the incubation of innovative digital solutions tailored to meet local challenges, thereby contributing to the continent's sustainable development.
Lacina Koné, CEO of Smart Africa, expressed enthusiasm about the partnership: "Our focus has always been on empowering African citizens, particularly our youth, preparing them for future-oriented jobs. Collaborating with Orange amplifies our capacity to make substantial strides in this direction."
Echoing this sentiment, Jérôme Hénique, CEO of Orange Middle East and Africa, emphasized the shared vision between Orange and Smart Africa: "This collaboration aligns seamlessly with our joint aspiration of enhancing the digital capabilities of African youth and women while fostering innovative entrepreneurship. It's a pivotal step in our ongoing efforts to actively fuel Africa's digital transformation."
In the burgeoning digital age, this partnership stands as a beacon of hope for the African youth, offering them the skills and opportunities necessary to navigate and lead in the digital future. Through their united efforts, Orange and Smart Africa are not just shaping digital landscapes; they're transforming lives.