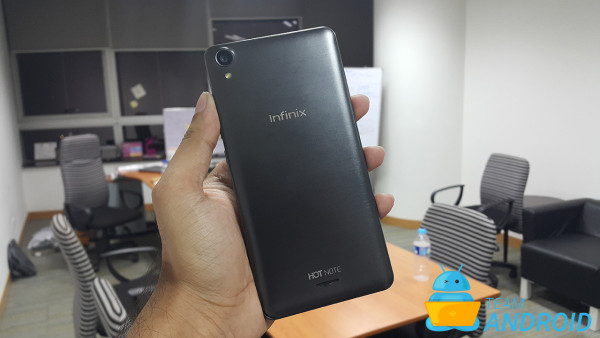 Update 2: How to Upgrade your Infinix Hot Note X551 to Android 5.1 Lollipop
UPDATE 1: 
These problems below have since been addressed. The issues that have been handled are as follows:
Battery heats a little while charging because of "Super Fast Charge" Mode. This is normal. You're advised not to use your device while it is on charging.
User Interface – I doubt this can be changed. This is only my problem.
Installing Apps on SD – I hope the System Update for the Hot Note which has been sent recently can solve this.
Font – There are Apps on Google Play to change Font.
Ultra-Power Saving Mode – Mmmh. The System Update maybe….
Anyway read-on.
ORIGINAL:
This is a quick complain about the Infinix Hot Note. These are problems according to me. My Problems. Don't get this post wrong.
I have been using the device for a week now and even did a full review over here.
I'm not saying it is a bad phone. It is an awesome device. In fact it beats all phones currently under 15K. I could even say under 20K. I don't know. However I have some few things to complain about:
Battery heating while charging.
This phone has the best battery I have used on a phone. 4000mAh is really really good. However I noted this: The phone heats up while charging. When you plug in your phone to the humongous charger (The charger is big. Seriously), you will notice that the phone will get hot while charging. Whether on or off, it still heats up and can be kind of scary. The heating lasts up to around 85%.When the phone is 85% charged, the heating reduces and charging continues normally. Maybe this happens only with my device. I use the charger that came with the phone. I charge it directly on the normal power sockets or on power surge protected extensions. But it still happens. If you are experiencing the same issue kindly share.I am happy, however, with the battery life. It lasts and lasts and lasts.
User Interface
I had already mentioned this on my Full Review Post. And some people laughed. Why now?Anyway, I have realised some people are in love with the device's interface. Okay I'm cool with it if you're. I just have to complain: What's with the White?This isn't much a problem anymore.
Installing Apps on SD card
No matter how many times I change my preferences to phone storage, the phone continually writes on the SD card. Everything is taken to the SD card yet the phone has 16GB internal storage? Why? Infinix should do something about this.
Font
This too kills me. The font. Anybody else hating the font?
Ultra Power Saving Mode
I am never using this power saving mode. Yes it works well. Changes everything to black and white to save power but after that I have to sign in to all my apps as their data has been cleared! I also have to reset default launchers and other apps as they've also been cleared. What's with that Infinix?
Okay those are the problems I am facing. My Problems. Do you face the same or is it just me? Tell me in the comment boxes below.
This phone is on my list of "Best Phones Under 10K" (and also 20K). @InfinixKenya shaking up the market.