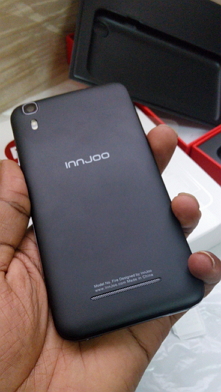 Last week on Tuesday I was unboxing the InnJoo Fire on Twitter, @TechishKenya. Did you miss it? Na Twitter ni free on Airtel? Anyway here's the InnJoo Fire: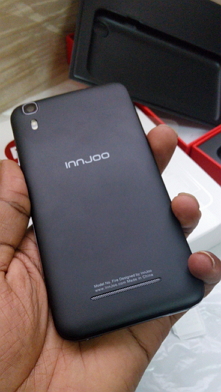 It has a 5.0 inch display. And will straightly amaze you if you are upgrading from any 3.5, 4.0 or 4.5 inch size phone. If you are from a bigger device say 5.5 you will still be amazed by the build quality and the pixel density. It shows colours really well. And gets bright really awesomely. Remember 'awesome' and 'well' here are relative to the price. This device costs less than Ksh. 8000.
Let see what you get with Ksh. 7,700:
Body and Design:
To say this Dual Sim phone wasn't thought of during design would be unfair. Though it is nothing out of this world, the design is kind of a fusion between the Infinix x507 hot and the Tecno F6.
The plastic back is easily removable and feels like matte finish common on Lumias. There's a shiny metal band going round the phone.
When you launch the phone for the first time you'll realise there's no App Drawer. And if you are like me, Nova lover, go ahead.
The phone has been personalised with Inn UI which basically is just the home screen. Everything else is like stock Android. Sweet stock, untweaked, untouched Android.
There are a few Inn Apps; InnCloud, InnBrowser and InnStore. You could use them to download apps and themes for your phone.
There's also double tap to wake and certain gestures to launch applications. For example drawing 'c' on the screen launches settings.
Display:
The 5.0 display is bright, clear and good. The screen is not protected. Can scratch. Can break. Then again most phones are like this.
Camera:
Both cameras are 5MP. But the rear camera is really something worth a mention. At 5MP, the image quality is surely great.
The front camera however has been tweaked too much. Everything is deeper in colour when using the front camera. It doesn't look 5MP to me.
Specs:
Here's where things get a little tastier. That's if you're looking to buy this phone. It has 2GB RAM. Yes. And just like that selling any device less than 2GB RAM in the Kenyan market (And at whatever price) is now a joke. Samsung, HTC, Oppo and all the others be warned.
Internal storage is 16GB. The processor is 1.3GHz Quad core on Android 4.4.2 Kitkat.
Battery:
The battery is 2500mAh. At normal use, this is good. I have gotten used to 4000mAh so I am biased on anything less than that. Though I am sure anyone using this phone appreciates the battery plus the intelligent power saving modes included.
Opinion:
At Ksh. 7700 this deal is too good. InnJoo is a company in the UAE, but all products are made in China. I learnt that from the beautiful casing the phone came in.