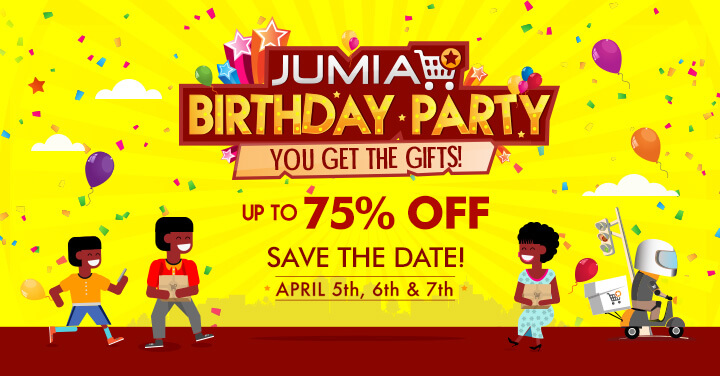 Jumia Kenya is celebrating its 4th Anniversary. It's a Birthday party! But that's not the good part. Here's the good part, they've slashed prices of most of their products. Some have even been slashed by 80%!
This is on from today the 5th of April to 7th.
There are also flash sales going on with 80% off on Fashion items and 60% off on Smartphones. You can check out all flash sales here. But you have to be online always, and fast to get the best deals.
Here are some of the best deals I have seen.
Smart Phones:
If you are looking for smartphones, they are really good deals. For example the Wiko Slide 2 is going for Ksh. 9999 but you get a free bluetooth speaker, and a free leather flip cover and screen protector.
Check out slashed smartphones —->>>

here

Check out Wiko Phones —->>> here
Check out other smartphones including Samsung Galaxy line —–>> here
Tablets:
There are good tablets too whose price has been slashed.
There are a couple of good deals for tablets less than Ksh. 10,000 check them out here.
If you want to spend between 10k and 20k on good tablets, there are a couple of good ones here.
Televisions:
If you are looking to buy good TVs, there are some for as less as Ksh. 10,000!
Here are some examples:
Cameras:
I am seriously buying a camera now. There are very good deals in the camera section!
For example:
Acme Action cameras at Ksh 4000 only —>> here. And they are waterproof!
Nikon cameras for less than 15k! —>> here.
---
There are other good deals. I can't list all of them here. But here below you're sorted. So if you're looking for
Tell me (Twitter, Facebook, anywhere…) better deals you discover! And share this with friends who might not have heard.
I think I am getting a camera. Better photos now?
Nice time shopping.