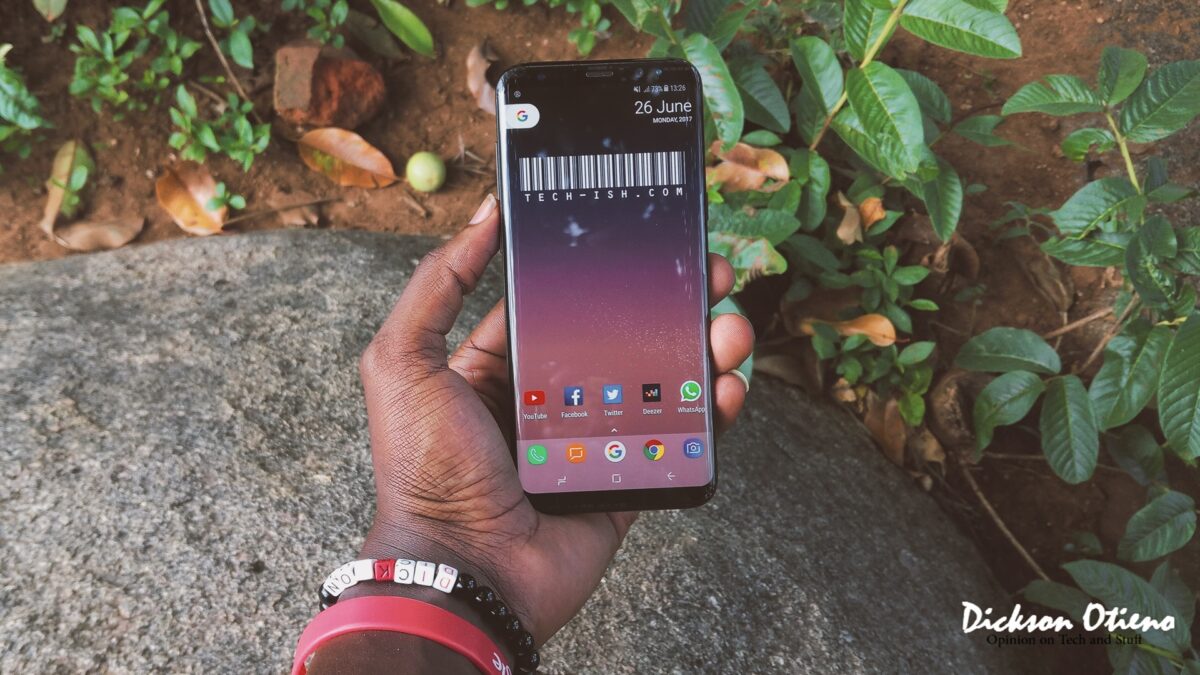 Most people say they'd rather have a cheap phone with good battery, than an expensive thing with poor battery life. And I agree. Battery life is very important in the appeal of a smartphone. Yes, it can have a QHD display, incredible amount of storage, speed and all other things, but if the battery life is bad, I better find another phone. Or a powerbank. For the time I have been using the Samsung Galaxy S8 Plus, I have not needed a powerbank neither have I needed to charge it before the day ends.
Honestly, I expected mediocre battery life. The first day with the device, I was traveling. I had just picked it up with 60% battery and this scared me as the travel distance was long. I didn't want it to die on me. But I left it at QHD nonetheless only switching off Always ON display. By 11pm, over 10hrs since picking it up, I still had 15% remaining.
All I had done that day was install a few apps, take a lot of photos and lightly browse through social media, in intervals. Battery statistics said I had enjoyed over 3hrs screen-on time. I was impressed.
I have now been using the Galaxy S8 Plus for a couple of days and I am very happy about the battery life. It is so good.
I remember I once used the phone on QHD only with WiFi and by 38% I had done over 5hrs screen-on time.
The last time I hit over 7hrs screen on time on a daily-driver phone was when I was using the TECNO Boom J8. I remember because it was quite surprising. Most of my phones have always given me about 6hrs screen-on time. Nothing ever goes over 7hrs.
But the with the Galaxy S8 Plus, I have severally done over 7hrs. Even hitting 8hrs!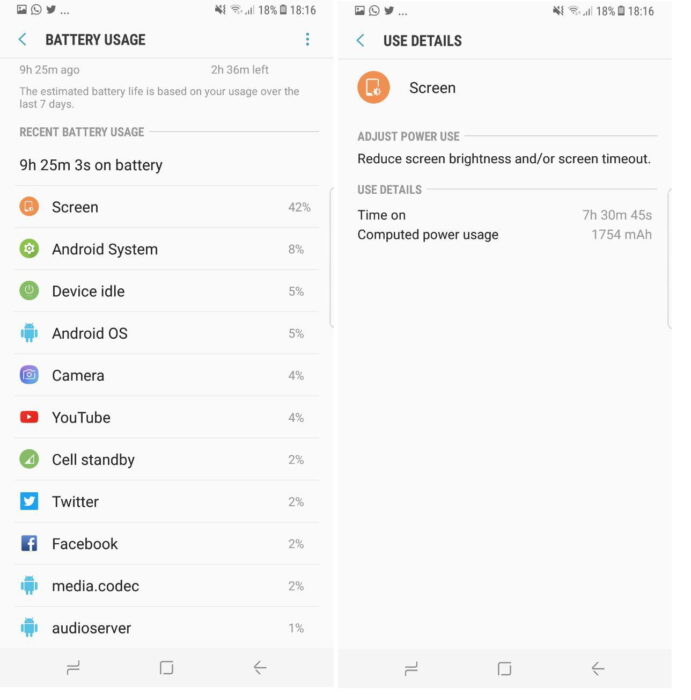 This might be funny, but the last time I had a Samsung flagship device as my daily-driver was a long time ago. It was the Samsung Note 3. And inasmuch as I loved all the tech it packed and all the things it could do, I hated the battery life. I had to carry an extra battery to be able to do anything for long hours.
Here is a screenshot of when I hit over 8 hrs screen-on time. I had spent a lot of my time watching FHD videos on YouTube and browsing the web; Facebook, Twitter, reading blogs etc. The screen setting was on Full HD. Always ON and NFC were off and Brightness was on automatic. I also took some photos and shot video samples this day. Amazing: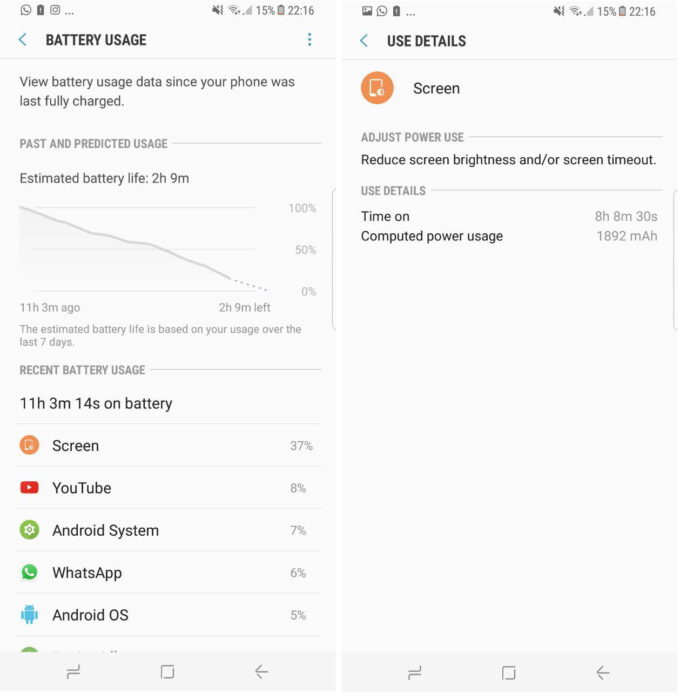 I am pretty sure battery life would fall if you switch between 4G and WiFi. But, all the same this is impressive.
Why such good battery life?
So I was asking myself. I have a Phantom 6 Plus with a good processor, a good battery and everything nice. It has 4050mAh battery but I have never hit 8hrs screen-on time. In my review, I told you that I always hit close to 6hrs screen-on time.
Why the huge difference with a 3500mAh battery?
Well, it is a matter of processors. The Helio X20 processor is good. And it performs so well in benchmarks and is fluid and fast. But Mediatek processors and Snapdragon processors are different in architecture. And I am assuming the same is the case with the Samsung Exynos Processors.
Quick difference between Mediatek and Snapdragon
Mediatek manufactures processors with built in C.P.U, Cellular Modem, WiFi Module, RAM and G.P.U. All these components are packed in one single chip. Snapdragon along with the above mentioned components of the Mediatek SoC's employs additional processors in their SoC's such as Image Signal Processors (for Camera), Digital Signal Processor(For excellent Audio and Crystal Clear Phone calls), G.P.S Module built into the chip. Not only that Snapdragon SoC's employ Heterogeneous computing.

If you chose Mediatek processors you will get good performance and their mobiles are available for lower price than Snapdragon's processors.You will not enjoy rich features like high quality audio, good camera performance,cellular call quality etc. If you choose a Snapdragon processor you will enjoy all of them with good performance and good battery life. – Read Swaroop's answer on Quora for more explanation and better understanding.
The 2.31GHz Exynos Octa 8895 on my unit is efficient, fast, and not power-hungry. The Galaxy S8 Plus has not once heated up while I use it, no matter what task I've thrown at it. Unlike with the Helio X20 processor that makes the Phantom 6 Plus warm up during heavy processes.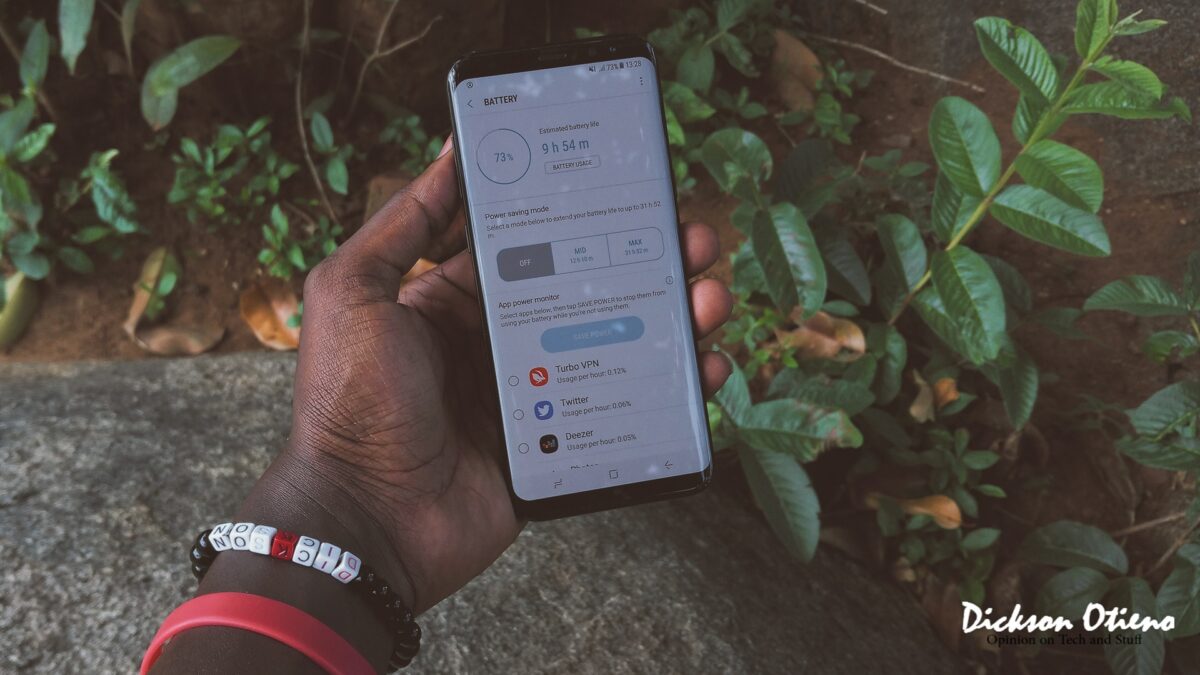 Conclusion:
If you wanted to get a Samsung Galaxy S8, get the S8 Plus. Techweez's @kiruti and Android Kenya's @echenze were each reviewing the normal Galaxy S8. They didn't quite like their battery life.
I really love the Galaxy S8 Plus. And I doubt there's a phone that can boast not just a futuristic beautiful premium look, an incredible iris scanner, an incredible display, but also amazing battery life. Point me to it.
It has been said that the Samsung Galaxy Note 8 will be their most expensive offering ever. But I don't care, if the S8 Plus is this good, I can't wait for the Note 8!
Battery Life - 95%
Charging Speed - 90%
Perfect would mean all day, everyday. But the device's battery life is pretty dope so yeah...