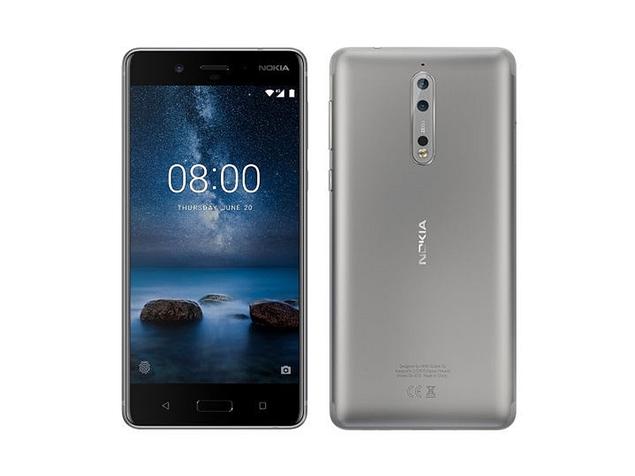 Nokia has been back. We've seen new devices like the new Nokia 3310 (that Safaricom is busy overpricing), and the Nokias 3, 5, and 6. Someone should breakdown for us what these numbers mean. Meanwhile, I got some few minutes with the Nokia 5 (read here).
On Aug 16th, in a very small (and sad, for me) announcement, Nokia unveiled their first Android flagship called the Nokia 8. And for all who were waiting for it, be happy. Nokia have collaborated with Zeiss optics for both the front and back cameras.
Every flagship needs a standout feature. For the Nokia 8, it is obvious the cameras are what they'll want to be pushing. All cameras on the device are 13MP. The dual setup at the back features one 13MP for colour and one monochrome lens. CNET already tested out the Nokia 8 Cameras so check the sample images out.
Nokia is also trying to make something they call "bothie" a thing. But we all know how bad that will go. Basically "bothie" (urgh) allows you to take a photo or video with both the front and back camera. And it still looks as hideous as it sounds. But the different thing here (companies have been doing this) is that Nokia 8 will allow you to broadcast to YouTube or Facebook.
I think "bothie" (I hate typing that word) would do better on larger screen devices. I can't imagine seeing two angles of a video on a small screen device. Keep in mind that the Nokia 8 is only 5.3 inches. So yeah…
Another not-so-headlining feature, but nonetheless amazing is what's called Ozo audio that will allow you to capture 360-degree audio. So if you're watching Facebook Live from someone streaming from a Nokia 8 and you have headphones on, you'll be able to enjoy 360 audio. Also you can listen to the video below and compare normal audio vs Nokia 8 Ozo Audio.
Also, like on the Galaxy S8, you'll have always-on display. Though this is an LCD panel and not an OLED one. Which makes me wonder how battery life will be affected.
Important and worth noting about battery life is that the 5.3 inch 2560×1440 LCD display will be powered by a 3090mAh battery which doesn't seem sufficient. But we'll wait and see. A ray of hope is the fact that the processor in this device is the Snapdragon 835, the best currently, which is not bad on battery. Remember I really praised the Galaxy S8 Plus battery which was only 3500mAh for a 6.2 inch device.
The best news however for anyone looking to buy the Nokia 8 is that it will come with stock Android. Nokia has promised this will be the fasted update to Android 8, but we wait to see.
Months ago when Naijatechguy asked me whether Nokia will succeed in Africa, I said:
Going to the top might be impossible for Nokia. But being that they are a known brand and that most people associate them with quality, if they can deliver devices at the same price range as Infinix, TECNO, and Gionee, then they might bring good competition.
With the Nokia 3, 5, and 6, they did that. And not just that. Nokia devices are close to the consumers (Safaricom Shops), and are offered in affordable price ranges.
So yeah, Nokia is doing things right in my opinion. And they might shake up the markets locally. But can the Nokia 8 really stand up to flagships like the Galaxy S8, or the upcoming Note 8 and iPhone 8? What are your thoughts? The Nokia 8 won't come cheap and might cost over Ksh. 70,000.