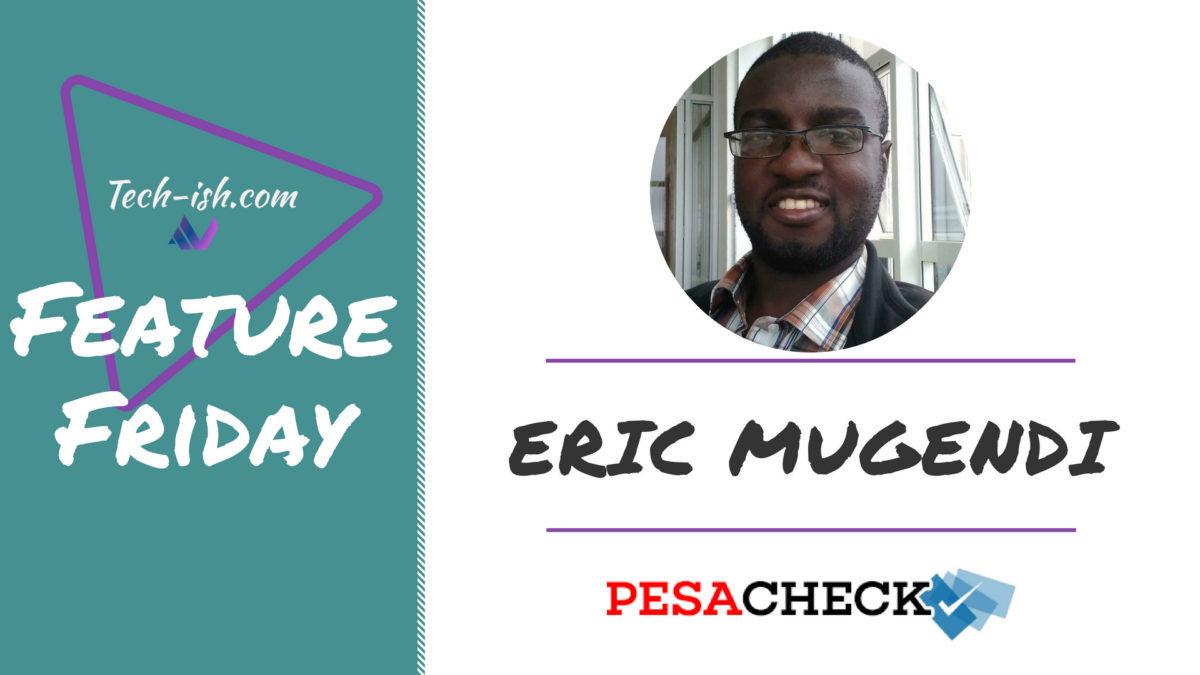 Feature Friday is a weekly column highlighting people making a difference in different fields. This week we have Eric Mugendi from PesaCheck.
---
Who is Eric Mugendi?
I'm the managing editor of PesaCheck, a fact-checking initiative that looks into the statements that politicians and other public figures make about how resources are being utilized.
I am Kenyan. Born and raised in Nairobi. And I have what some would call a knack for sarcasm… I would say I am a proper introvert. I believe in showing rather than telling. I'm also an experimenter – I like trying things out, and I'm always discovering new things about myself.
Describe how you got to where you are today?
I would say it is a combination of my interest in technology and my passion for writing that got me here, as well as some very useful connections and acquaintances I made along the way. I started out in this space as a freelance writer doing features for The East African Newspaper five or so years ago. I wrote about a lot of things while I was there, from book reviews to the impact of World War I on East Africa. I also got to travel a lot, getting to meet other people working in the journalism space and honing my craft.
Through a good friend of mine, I got to know about TechCabal, a tech news website based in Nigeria, and I worked as the East Africa correspondent for a while, and after that I was Editor-at-Large at iAfrikan, which is based in South Africa. That was fine for a while, but we did have a falling out, and I ended up leaving the company due to financial difficulties that made it difficult for us to work together.
I was fortunate enough to land the job I have now after finding out about it through a WhatsApp group. I had been part of a training on financial journalism, but the new job required a whole new skill-set. It has been a rather convoluted journey, but I have enjoyed every step of it.
Describe shift from what you studied in University to what you do right now
I took Environmental Studies in school, and I did get to work at UNEP and at NEMA. However, as you can probably tell, the work I do now is quite different from what I studied. But there are some connections. I got to where I am now through exploring my interests and pushing myself, and like I mentioned earlier, I have been fortunate to encounter various people who have guided me along this path, either by giving me a chance to prove myself or literally showing me where interesting opportunities lie, and how I can best utilize them.
PesaCheck was established with the aim of improving how budget and public finance issues are reported on in the media.
What is PesaCheck?
PesaCheck is East Africa's first public finance fact-checking initiative, established in 2016 and incubated by Code for Africa. We basically check statements made by politicians and other public figures about how resources, such as taxpayer money, are being utilized, as well as statements made about how governments in Kenya, Uganda and Tanzania are delivering on public services. We publish the fact-checks as articles on our site, as well as in mainstream media. We also publish data related to these focus areas, including budget and public finance documents produced in the three countries we focus on.
Describe your work at PesaCheck
I joined PesaCheck in July 2017. As the Managing Editor, my work primarily involves supporting the Fellows we have working on the project – one each in Kenya, Uganda and Tanzania – to write the stories that they do, and making sure that the data they're using is sound. I also sign off on the graphics that accompany the stories the Fellows write, and occasionally write some articles myself. I also do some project management as well, because PesaCheck as an initiative has other various programmes under it that tie in with the core work that we do. In addition, we do trainings for journalists, newsrooms, and interested organizations on the fundamentals of fact-checking.
We check statements made by politicians about how resources are being utilized
What are PesaCheck goals and why is now the right time for PesaCheck to exist?
PesaCheck was established with the aim of improving how budget and public finance issues are reported on in the media. Thanks to our partnership with organizations such as the International Budget Partnership, we have been able to work with the media to interrogate statements by public figures that would otherwise go unquestioned. Our focus has grown to include verification as well. We have done a number of trainings with newsrooms to show them how they can actively prevent the spread of misinformation, and how they can empower their audiences to join the fight against 'fake news' as well.
I believe PesaCheck's work is relevant, especially given the fact that the issues we cover are especially important as devolution puts more and more public resources in the hands of the county governments. By adding in an extra layer of oversight, we believe that the people can be more actively engaged in keeping track of how their counties, and by extension the country, are being run.
The main driving force behind 'fake news' is in the changing way in which we are getting information. Consumption patterns are changing, and mainstream media is struggling to keep up.
Share some of the greatest achievements of PesaCheck
We worked with the Elections Observation Group (ELOG) during the repeat presidential election in October last year, and we were able to monitor and verify claims being made on social media quickly. This information was fed into some of ELOG's reporting around the election, and I believe we made a difference in at least giving some direction to the fight against misinformation during that time. We have also been able to translate a cartoon by the International Fact Checking Network showing seven ways that we can fight fake news and misinformation online into Swahili, with ongoing work to translate it into various local languages as well. Download here.
Share a sneak peek of the future of news now that advancements in tech are making it easy to share fake news
The main driving force behind 'fake news' is in the changing way in which we are getting information. Consumption patterns are changing, and mainstream media is struggling to keep up. There are so many ways to consume this content now that it's easy to change the channel or close the tab and open a new one in a heartbeat. However, that does not mean we don't care for the news. The race to 'break' stories and attract eyeballs using clickbait-y headlines shows that mainstream media is going through an identity crisis made worse by the fact that anyone with a camera and followers can do what they have been doing. So where do they fit?
I believe the reason why mainstream media became mainstream is because they produced something of value. It's not enough to tell people what has happened, we need to ask why it happened and what it means. By sticking to good journalism that holds people to account and shows people where they fit within the story, and using new media channels to take the content where the audiences are, then I believe that is how the future of the news will play out – hyperlocal stories told from an expert perspective, adding in context and actively checking and verifying to make sure that the final product is the truth and nothing but the truth.
What's your take on the new Computer and Cybercrimes Law:
I believe the law is misguided and is likely to be abused, given the fact that it is purely punitive, and doesn't recognize the work that various organizations are doing to tackle the problems it identifies. I believe a more realistic approach would be to investigate why the things the law is meant to fight – in this case 'fake news', cyberbullying and cybercrime, among others – have become such a menace, and then working with the people already in the space to identify solutions, otherwise the law will be abused, as many have before it, and whatever problems it sought to solve will continue unabated, or even potentially get worse.
Give a Parting Shot
Verification and fact-checking are incredibly easy to do, once you get the hang of it. There are lots of tools out there that you can use to make sure you're not being duped. However, all this work is pointless if nothing comes out of it. The point of the work that we do is that people everywhere can learn where to check for legitimate information so that they know for instance that before they hit send on a 'forwarded as received' post, they can check for themselves and refrain from spreading falsehoods. It can be a gruelling task, especially when these falsehoods go viral, but I believe it is a fight that we can win.
Find me on Twitter @mougendi