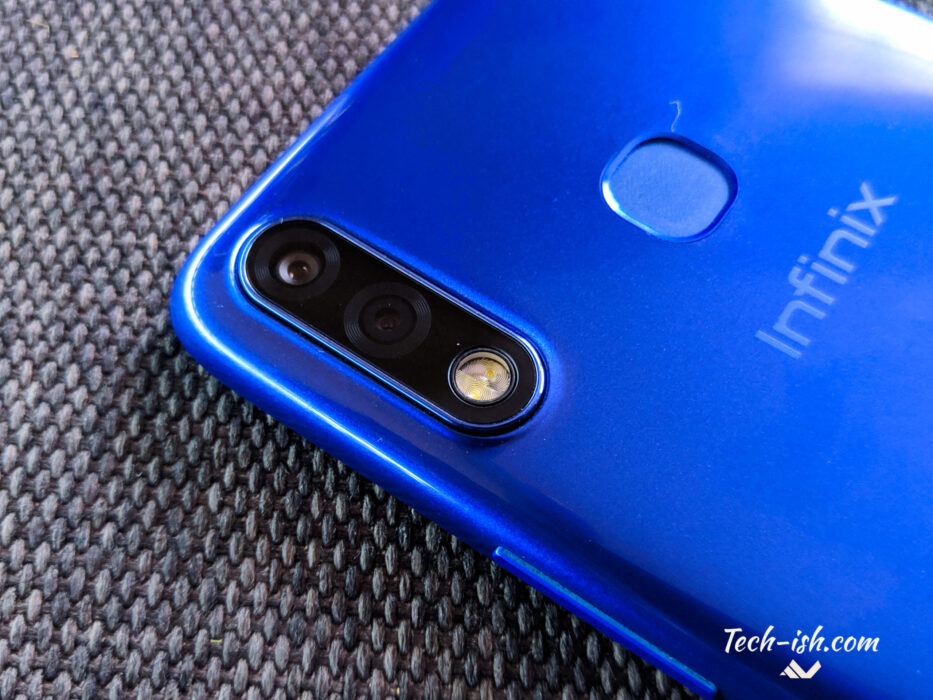 Infinix almost had it completely. Everything. This phone is really good. Nice display. Huge battery. Fair performance and Good design. But, a couple of choices makes it a hard sell for me. And there's no way to not tackle this in the first paragraph: Lack of 4G/LTE on the Hot 7 Android Go, and on the Hot 7 with 2GB RAM. If you want 4G/LTE support, wait for the Hot 7 Pro that is coming mid April. But if you're like a couple of people who've been commenting about not minding 4G/LTE, then go ahead and pick it up anywhere you are, because I don't think there's currently a better phone at the exact price the Hot 7 goes for.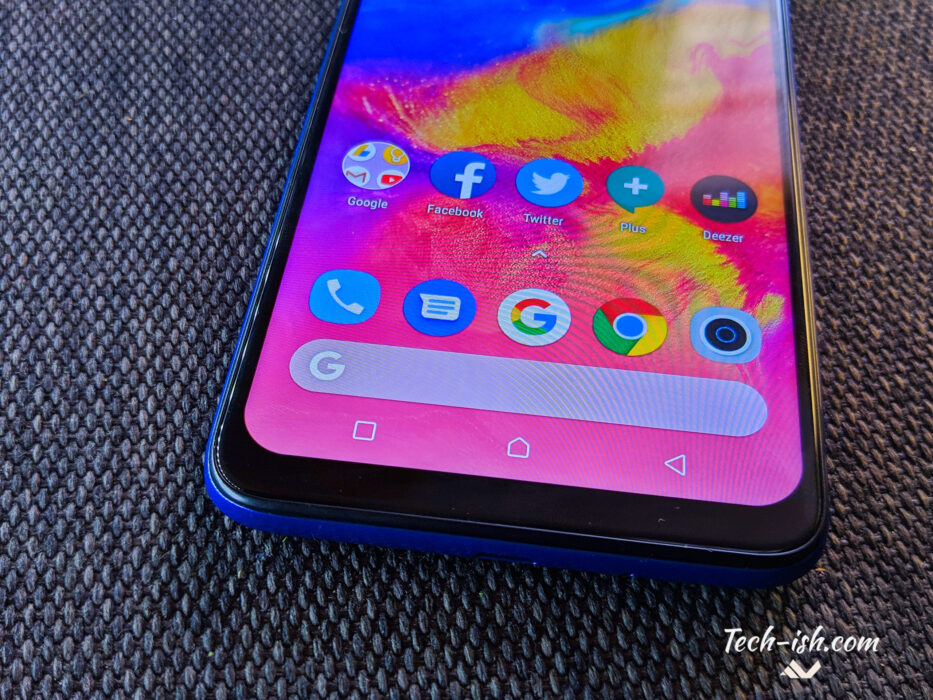 Phones are pretty much almost the same in what they offer nowadays at various price points. So in the same breath, reviews tend to sound almost pretty much the same if I am to dive in onto everything. Instead, let me talk about how this phone stands out, and what I like and dislike.
First thing I can pinpoint that would really differentiate this device with other phones within the same price range? Well, for one, you get 2GB RAM and 32GB storage, at what is I guess one of the fairest price points in the market – Ksh. 10,999. I don't think there's any big players in the market that can boast of this. And that alone makes it a huge sell. I know many people who will ignore the lack of 4G because the device gives you 32GB storage. Plus that it is expandable using a MicroSD card, even better!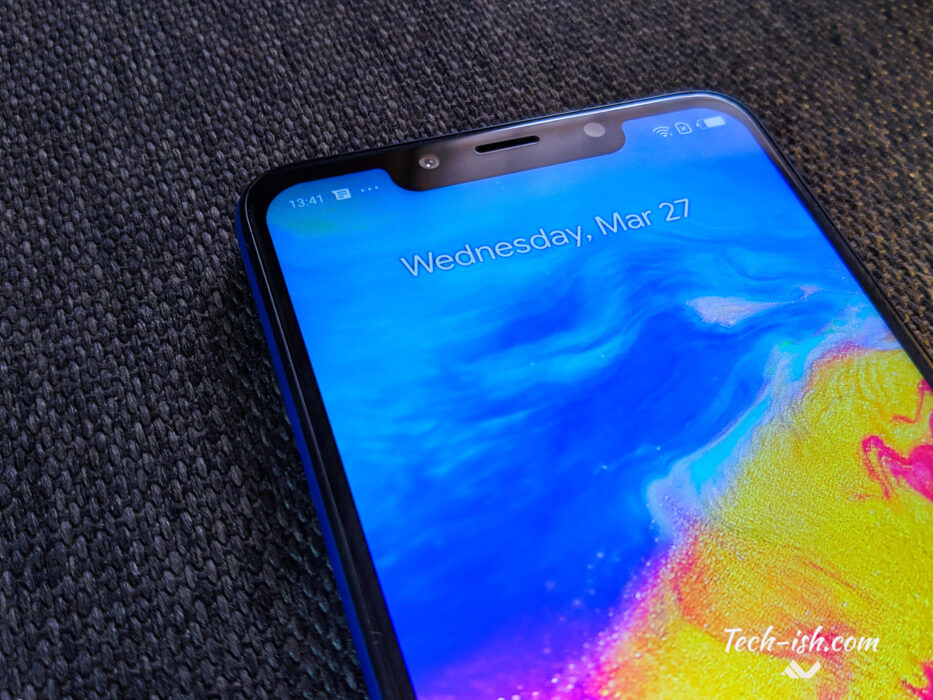 Another thing that I have come to like with Transsion phones is their displays. This phone's display is really good. I feel like this is something I have and will continue to say with many Infinix and TECNO devices. The displays are not only quite bright, and saturated, they're also very sharp and very pleasing to the eyes. Yes, this particular display maxs out at 720p but you shouldn't care at all, it isn't like you will be seeing the individual pixels. Also, you'll definitely pick up this display as being the better one when you compare it to say the Y7 Prime 2019 that's 16k.
The other good thing with this phone? The back camera. And I want to insist camera not cameras even though there's two lenses at the back. Why? Because I don't believe that extra lens is doing anything. I've blocked it, nothing. I may be wrong, but on the TECNO Spark 3 PRO that I just unboxed, when I cover the extra lens the camera notifies you lens is covered, and you see it switch to using the normal camera. I don't know why the extra lens on the Infinix Hot 7 exists if it doesn't seem to be doing anything at all. But back to the goodness of the camera…
If you've used an Infinix phone you know what to expect with their cameras: sharp, colourful, bright images. And that remains the case. This phone takes way better pictures than the Huawei Y6 Prime 2019. Infinix has a better approach to cameras, and I like that even with a 10k device, they've managed to have it take great pics. The camera supposedly has AI but does nothing I've noticed or can tell. I don't know why say AI Cam when you can't see any AI features like recognising faces, different scenes etc.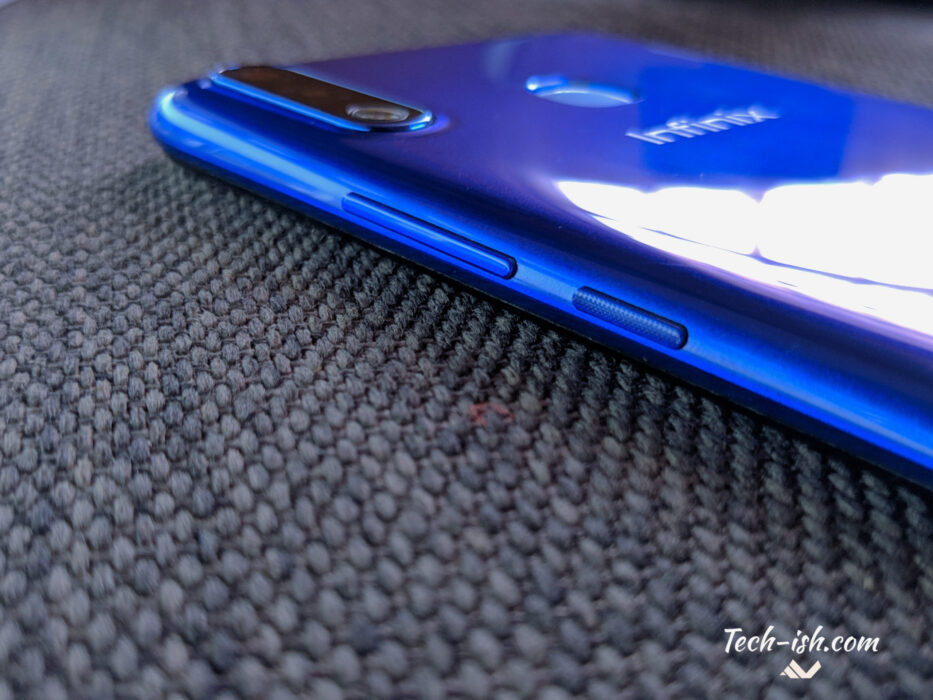 Final thing I really have liked with this phone is the performance and battery. Yes it is a 32nm processor that's dated, and almost embarrassing to have in 2019, but it manages to handle tasks quite well, and apps stay in memory better than they do with the Y6 Prime 2019. I like that the battery is not bad. It is at par with the Y6 Prime. I know you would expect the Hot 7 to have way better battery than the Y6, but they have the same because like I said in the Y6 Review, that 12nm Helio A22 processor on the Y6 is really good with battery life making the 3020mAh on that phone give pretty much the same screen-on-time like the 4000mAh battery on the Hot 7.
One thing I don't like at all remains the same with every Infinix and TECNO phones: their Skins and Adverts. XOS has changed over time. But you will still find a couple of bloatware apps that you most definitely don't want, and the device will still send you adverts as notifications which is the most annoying thing ever. If you're like me with any Infinix phone, before setup, go to settings and uninstall or disable any app you're not familiar or you don't need, then go to Play Store and install another launcher before denying XOS launcher all permissions and blocking all its notifications. Done. No more annoying ads.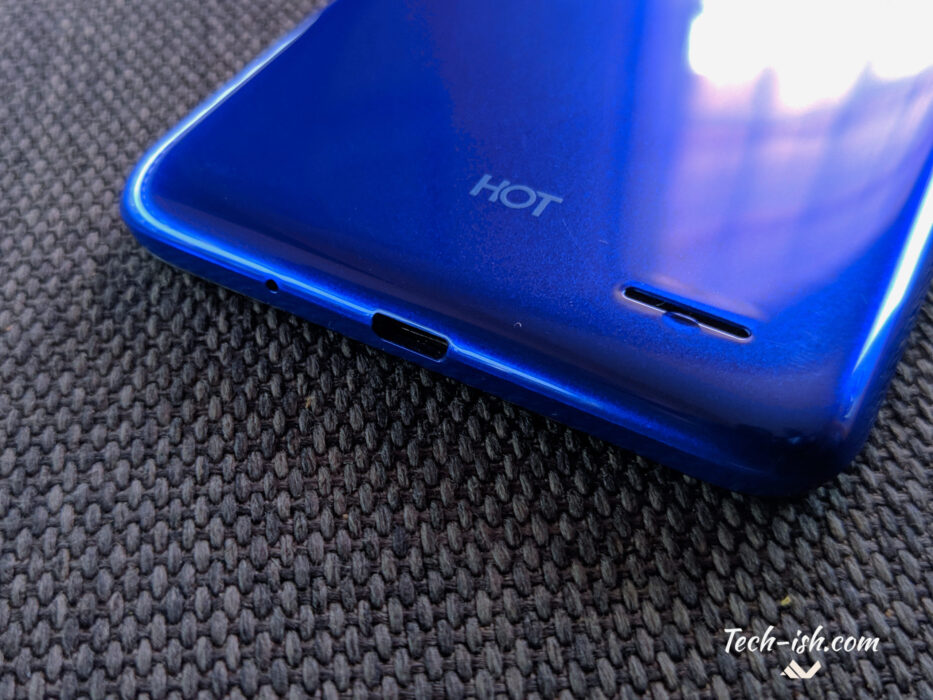 Another thing I don't like is that Infinix decided to ship the phone with Android 8.1 in 2019 when Android Q beta is already out. Even though the company says they'll send out an update to Android 9 (and we can believe them, given their track record), we don't know when that will come, and it would just be better to go with Android 9 Pie straight out of the box.
I still don't like that notch. I know it was something companies used last year as a feature to attract people who wanted high-end looking devices but it is now dated, ugly and used up so much space blocking notifications and important icons like battery percentage, speed meter, bluetooth etc. It makes interaction with the phone hard. Also, with the Hot 7 I don't understand why the notch is still not catered for in apps like Instagram and WhatsApp stories where it cuts out content something that almost every other phone with a notch already fixed. The notch is also not aligned (watch video down below to understand) so that there's a space between the end of the notch and beginning of the apps, something that's only an issue with Transsion phones.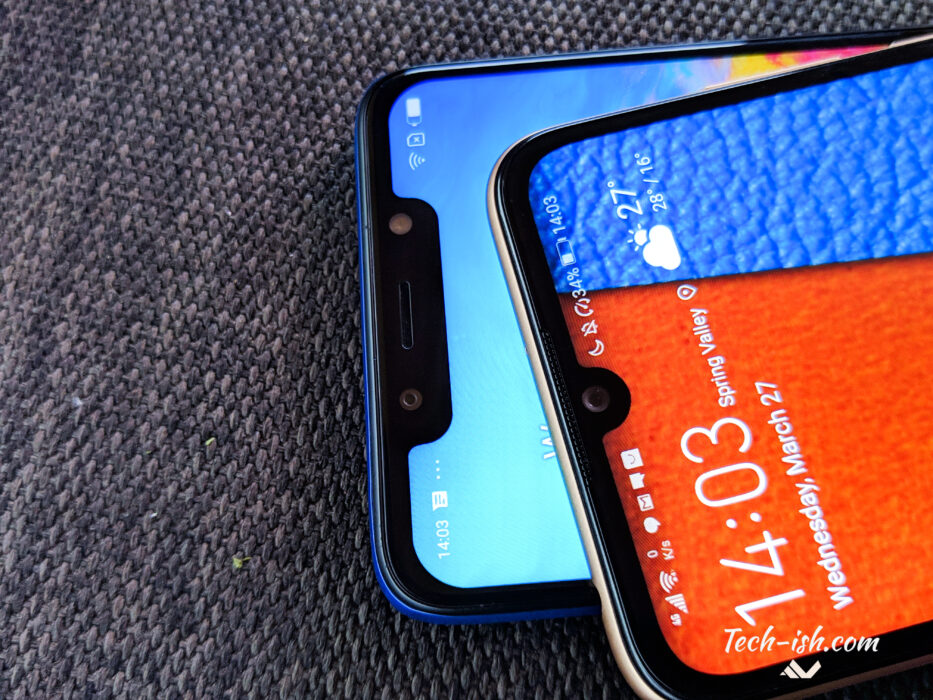 I am looking forward to testing out the Hot 7 Pro because I want to see what Processor it uses. If it is the exact same processor as the one on this Hot 7, it means the company would have deliberately done something to disable 4G/LTE. I don't know though, so let's wait for the Hot 7 Pro mid April.
This phone reminds me a lot of the Infinix Note 5 which I really liked. I find it funny that it looks nothing like the Hot 6 from last year, and is an all new different design, especially with the removable back cover. The blue version I have has sort of glitters at the back that are really hard to capture. Remember it is quite heavy. I don't know if it is the battery or just the general material used.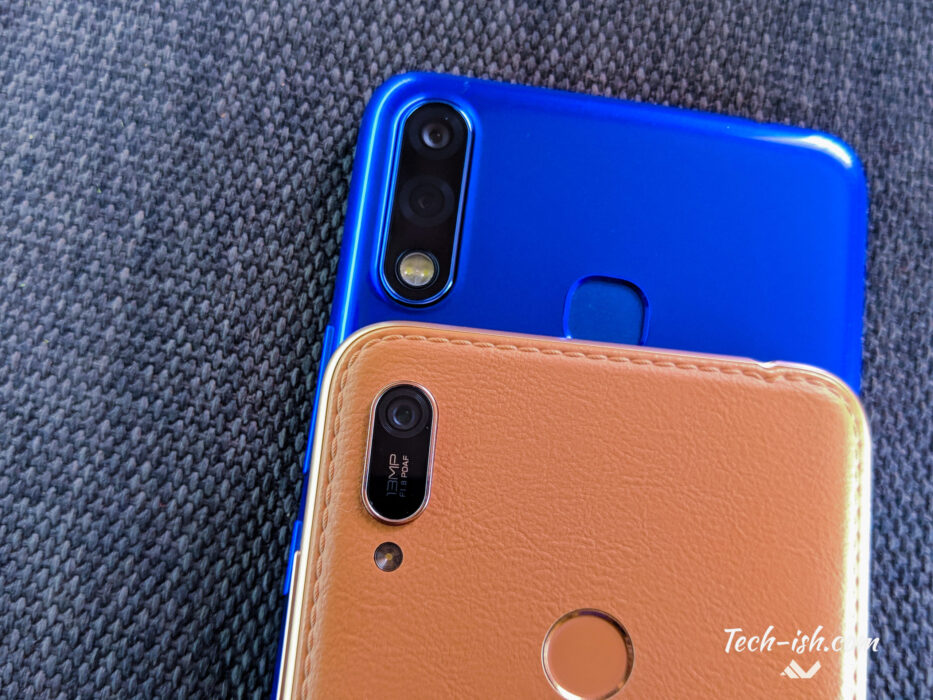 If you're willing to spend a maximum of 10k and want a phone with a good camera, good display and good performance, consider this device if you don't mind the lack of 4G/LTE, and the fact that it comes with Android 8.1 Oreo. Check it out on Jumia where it is currently Ksh. 10,799.
Specifications and Price

Display
Type
IPS LCD
Size
6.27 inches with Notch
Resolution
1560x720pixels (19.5:9 ratio)
Platform
Operating System
PRO – 3GB Android 8.1 Oreo with XOS Honeybee v4.1Normal – 2GB Android 8.1 Oreo with XOS

Android GO Edition with 1GB RAM, Android 8.1

Chip
MT65080P 32nm Quad-Core 1.3GHz
GPU
Mali-400MP2
Memory
RAM
PRO – 3GBNormal – 2GB

AndroidGo – 1GB

Internal
PRO – 32GBNormal – 32GB

AndroidGo – 16GB

Network
SIM
Dual SIM Support
Support
*Only Pro supports 4G networks.Normal – 3G

Android Go – 3G

Cameras
Main
Pro and Normal – 13MP+2MP Dual CamerasAndroid Go – 13MP single camera
Front
Both – 8MP
Battery
Size
4000mah
Colours
Sky Blue, Champagne Gold, Milan Black, and Purple
Features
Removable Back Cover, Rear Fingerprint Scanner, Face Unlock, Dirac Audio
Price
Ksh. 9,999 – Android GoKsh. 10,999 – 2GB Normal (Buy from Jumia)

Expected Mid April (Estimated Ksh. 12,999) – Pro