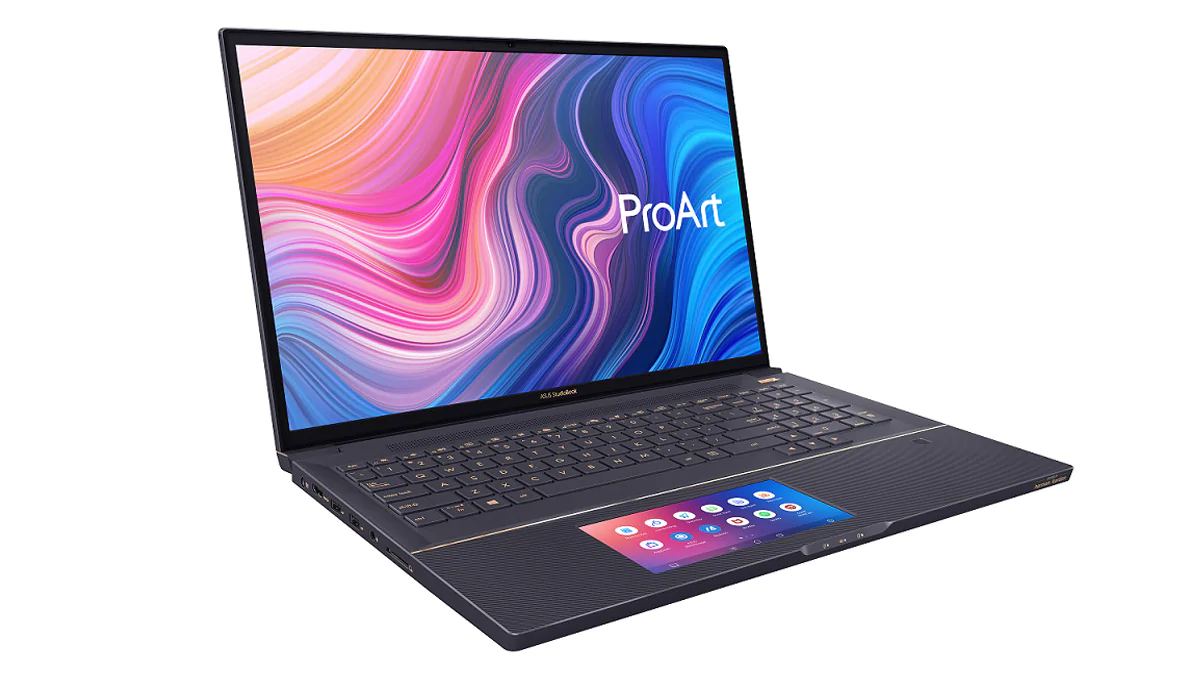 ASUS has announced the new ProArt StudioBook series of laptops. Designed for graphics professionals, digital artists, animators, architects, and programmers, the flagship of the series is the 15-inch ProArt StudioBook One (W590) — the first creative laptop powered by NVIDIA® Quadro RTX™ 6000 graphics and an Intel® Core™ i9 processor. It features an ultra-sharp 4K UHD PANTONE® Validated display with exceptional Delta E<1 color accuracy, making it ideal for product design, 3D animation, and data science.
The 17-inch ProArt StudioBook Pro X (W730) is the first Quadro laptop with a four-sided NanoEdge display, Quadro RTX 5000 graphics and 9th Generation Intel Xeon® or Core i7 processors. It also features the innovative ASUS ScreenPad™ 2.0 to make it easier and quicker to work with professional applications.
The ProArt StudioBook series also includes the H700, H500, W730 and W500 models, ensuring that the series covers a wide range of sizes and performance requirements to cater to the diverse needs of its target audience.
ProArt StudioBook One: The world's most graphically-powerful laptop
Creators are increasingly mobile, yet the most powerful hardware is traditionally found in bulky desktop systems. ProArt StudioBook One, the world's most graphically-powerful laptop, frees creators from the constraints of desktop-bound systems and gives them access to workstation-grade power wherever they are.
ʺPowered by Quadro RTX 6000 graphics, ProArt StudioBook One is the flagship of our RTX Studio line of laptops, designed for the most demanding creative and technical users,ʺ said Bob Pette, Vice President, Professional Visualization, NVIDIA. ʺIt delivers extreme power and portability for those working with live virtual production, real-time 8K editing, data analytics, CAD design and simulation, and other data-heavy workloads to create stunning, immersive content fast and efficiently from any location.ʺ
The Quadro RTX GPU provides users with more CUDA, RT, and Tensor cores, enabling real-time viewing of environmental shading and lighting effects, with ultra-smooth and ultrafast rendering of animations, effortless 8K video editing and efficient data-crunching on the go.
To do justice to this awesome graphics power, a stunning display is needed that delivers creators' stringent requirements for color accuracy and detail. The 4K UHD PANTONE Validated display on ProArt StudioBook One is truly amazing, boasting a superfast 120Hz refresh rate and edge-to-edge glass that sits flush with the bezels. Its 84% screen-to-body ratio provides immersive visuals, while the wide 100% Adobe RGB color gamut and Delta-E value of <1 ensure exceptional color reproduction and accuracy.
ASUS worked closely with NVIDIA in the development of ProArt StudioBook One, with the top-of-the-line model getting its Oneʹ name to differentiate it from other models in the range. It also has the 'ProArt' logo below the display.
ProArt StudioBook One has a powerful cooling system featuring a lightweight aerospace-grade titanium-alloy thermal module designed to optimize inlet and exhaust flow. All heat-generating components, including the CPU, GPU, and thermal systems are located in the lid to ensure comfortable use, even when placed on the user's lap. When the laptop is opened, the outer cover of the lid opens automatically by 4.57° to aid cooling.
For creatives, software is key, which is why ASUS tests and invests in comprehensive Independent Software Vendor (ISV) certification processes to ensure users enjoy the very best experience with professional software applications.
ProArt StudioBook Pro X: The first Quadro laptop with a secondary display
Creators are a diverse community, and the ProArt StudioBook series is tailored to recognize this diversity with models designed to meet a wide range of creative requirements, allowing creators to unlock their full potential.
ProArt StudioBook Pro X delivers extreme performance, so users can edit and render multilayered files with professional-grade NVIDIA Quadro RTX 5000 graphics, aided by the power of 9th Generation Intel Xeon or Intel Core i7 hexa-core processors that are designed to handle complex, multithreaded applications. ISV certification ensures that users can enjoy optimized stability and performance with their preferred professional software apps. Additionally, ProArt StudioBook Pro X is designed to operate at full load without the need to throttle the speed of the CPU or GPU, making it outstandingly reliable for even the toughest workloads.
Creators need out-of-the-ordinary visuals. ProArt StudioBook Pro X is designed to deliver exceptionally accurate color, and is the first Quadro laptop to feature a PANTONE Validated four-sided NanoEdge display with a wide 97% DCI-P3 gamut, along with a 92% screen-to-body ratio and a 16:10 aspect ratio for truly immersive and precise visuals.
Versatile connectivity and the ability to easily transfer large files is provided by Thunderbolt™ 3 ports and Wi-Fi 6 (802.11ax). CPU-attached RAID 0 ensures the fastest possible storage performance, with speeds of up to 6 GB/s compared to the typical 4 GB/s SSDs.
For the ultimate creative touch, ProArt StudioBook Pro X is also the first in the series to feature ScreenPad 2.0. This interactive secondary touchscreen upgrades the traditional laptop experience, providing users with an intuitive smartphone-like interface on which they can easily manage tasks and create their own seamless multitasking creative workflows.
The compact size of this 17-inch laptop is comparable to that of many 15-inch laptops, slipping easily into a briefcase or messenger bag for professional-grade graphics on-the-go. It looks good, too: its Star Grey finish with Rose gold highlights giving it a classy look.
A ProArt StudioBook for everyone
The ProArt StudioBook series is designed to offer professional solutions for a wide range of creative needs and budgets. To this end, in addition to the flagship ProArt StudioBook One and ProArt StudioBook Pro X, the series also includes ProArt StudioBook Pro 17 (W700) and ProArt StudioBook Pro 15 (W500), as well as ProArt StudioBook 17 (H700) and ProArt StudioBook 15 (H500). ProArt StudioBook Pro 17 features Quadro RTX 3000 Max-Q graphics, while ProArt StudioBook Pro 15 has Quadro RTX 5000 Max-Q graphics. ProArt StudioBook 17 and ProArt StudioBook 15 both feature GeForce RTX 2060 graphics. The comprehensive range of performance options and sizes on offer makes the ProArt StudioBook series the perfect choice for serious creators.
AVAILABILITY & PRICING
ASUS ProArt StudioBook series laptops will be available by the end of the year in Kenya and Nigeria. Please contact your local ASUS representative for further information.
ASUS ProArt StudioBook One (W590) Full Specifications
Processor
Intel® Core™ i9-9980HK processor
2.4GHz octa-core with Turbo Boost (up to 5.0GHz) and 16MB SmartCache
Graphics
NVIDIA® Quadro RTX™ 6000 24 GB GDDR6 VRAM
Operating system
Windows 10 Pro (ASUS recommends Windows 10 Pro)
Display
15.6" LED-backlit UHD (3840 x 2160) display
16:9 aspect ratio
84% screen-to-body ratio
Anti-glare panel
100% Adobe RGB
PANTONE® Validated
Corning® Gorilla® Glass 5
Memory
32G DDR4 2666 MHz
Storage
1TB SSD (PCIe® NVMe Gen3)
Connectivity
3 x Thunderbolt™ 3 USB-C™ with Display Port 1.4 (40Gbps) 1 x DC-in
Wireless
Dual-band Wi-Fi 5 (802.11ac)
Bluetooth® 5.0
Keyboard and touchpad
Illuminated chiclet keyboard with Fingerprint & Power on button
Precision Touchpad (PTP) with Windows Gestures support
Audio
Array microphone with Cortana voice-recognition support
Camera
HD webcam
Software
McAfee Common Build for All
My ASUS
Battery and power supply
90 Wh 12-cell lithium-polymer battery
300W power adapter
(Output: 48V DC, 6.25A, 300W)
(Input: 100~240V AC, 50/60Hz, 4A universal
Colors
Star Grey
Size
364.5 x 245.0 x 24.2 mm
Weight
2.9 kg
---