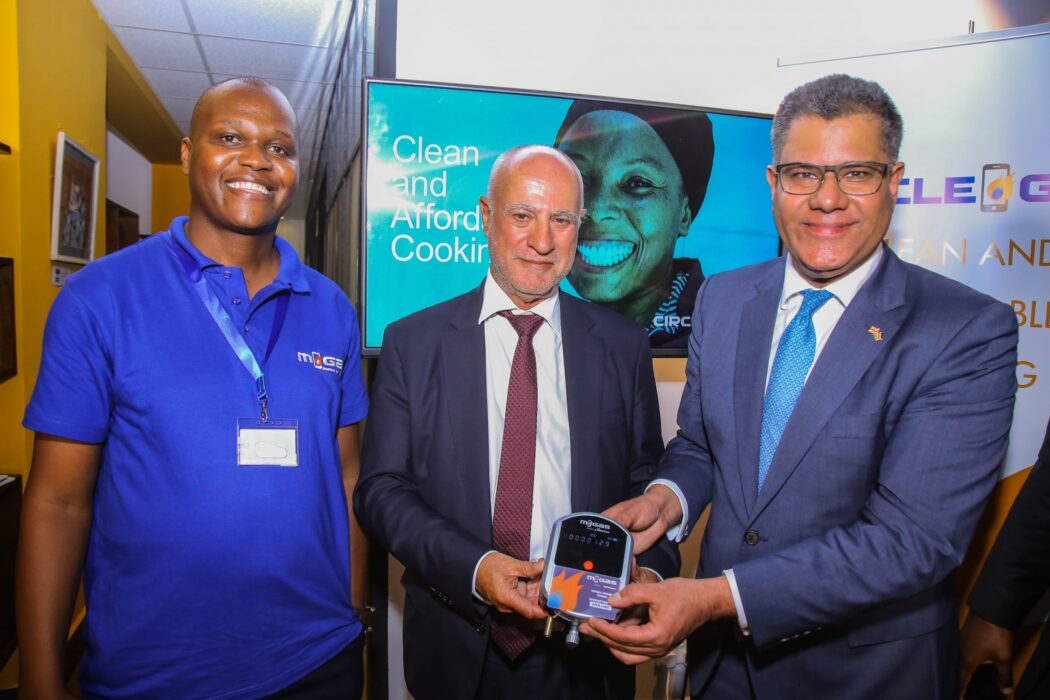 If you were moving out to start living in a new place, and you wanted to be using a gas cylinder to cook, you'd need to do a couple of things: go out and find a shop selling new or used gas cylinders, have the gas cylinder filled with gas, and then buy the burner. After that, you'd need to carry that cylinder to your place. Each time your gas runs out, you'd need to either walk with the cylinder to a place for replacement, or call someone from around your area who does refills, and have them carry another cylinder that's full to replace yours.
Well, M-Gas wants to change all that. M-Gas describe themselves as being a company that's revolutionising energy access for clean cooking in Africa. The company is a subsidiary of Circle Gas, which is organised as a holding company in the UK, with operational units in Kenya, Tanzania and product development and manufacturing in Hong Kong and China. They provide a reliable and low-cost supply of LPG (Liquefied Petroleum Gas) fuel for clean cooking to low-income households by using innovative smart metering and advanced distribution logistics. And today they've announced a partnership with Safaricom – who happen to be one of the corporates who've invested in the business – for a cooking gas subscription service.
The new prepaid gas service is targeted at Kenyan households, and will empower millions of Kenyan homes to enjoy access to clean, affordable and reliable cooking gas, providing them with the flexibility of purchasing gas based on their needs and how much they can afford at a time.
Customers will have the flexibility of purchasing gas from as low as KES 1 through M-PESA, with the cost of providing three meals for a household coming at less than KES 70 per day.
So how does M-Gas subscription service work?
No Upfront Costs – You don't need the KES. 6000 to get a cylinder. Neither do you need money to refill the cylinder. All you need is to sign up, and pay what you have.
Gas delivered to your house for free – After signing up, you'll get the gas and a 2-burner cooker delivered to your house, at no cost. This cylinder will ideally come full tank, but you'll only be using what you've paid for.
Smart Metering – The cylinder will be equipped with a smart meter to show you how much you gas you've paid for, and how much is remaining. When what you've paid for is used up, the cylinder will auto-disconnect, till you pay again.
Smart Payments with M-Pesa – You will be able to pay instantly with M-Pesa. So say one has KES. 200, with the smart meter on the cylinder, you'll be able to get 200 bob worth of gas after paying through M-Pesa. One will be able to connect back with as low as 1 bob.
Smart Refilling/Replacement – The smart meter will also notify Safaricom and M-Gas when your cylinder is running dry. So that staff from the company will come and refill it where you are, for free.
So where can you get M-Gas?
M-Gas is launching in the Mukuru kwa Njenga area around its first depot. Safaricom and Community Based Organisations will assist in identifying the next priority areas for expansion. Ideally, this could expand across the nation given very many Kenyans use Gas for cooking.
The M-Gas solution has been made possible by Safaricom's Narrow Band Internet of Things (NB IoT) network and M-PESA. Powered by Safaricom's robust 4G network, NB IoT provides a low-power, mobile connectivity to devices across the country, including to beverage coolers, allowing for remote monitoring and management. If you've seen any smart vending machines across the country with M-Pesa payment, you understand that NB IoT network.
At the launch, Safaricom's acting CEO, Michael Joseph said, "For more than 19 years, we have maintained our commitment to our purpose of Transforming Lives by exploring new innovations that create opportunities for our customers and uplift their lives. Safaricom's partnership with M-Gas will for the first time empower millions of Kenyans with affordable access to clean cooking gas, an opportunity we believe has been previously underserved,"
Volker Schultz, Head of M-Gas said, "M-Gas is proud to be working with Safaricom on this pioneering effort to bring affordable, convenient and clean cooking solutions to millions of low-income households in Kenya. Safaricom is a leader in both technology and customer service and we look forward to building on this exciting new partnership."
Challenges M-Gas may Face:
Theft – Since the gas cylinder comes full, what stops one from finding ways to tamper with the IoT system and access more gas?
Time for refill – Normally if my gas is up, I will just call my guy and have it refilled in less than 5 minutes. How close/far will service centers be? And how fast will refills be done?
Overall cost – Yes one doesn't need to pay for cylinder, and for burners. But normally, once I've paid for those I own the product. And I can move with it anywhere. Why not save slowly and buy that rather than pay a subscription fee, and not own the product?