With the expansion of Safaricom Home Fibre to more parts of the country, something landladies and landlords across different towns will soon realise is how much access to home internet dictates whether or not they get customers. This is something apartment owners in Nairobi know of too well. I can never move to an apartment if they don't have Home Fibre installed.
There are many different home internet providers in Kenya right now. And we can expect many more to spring up in the coming years, as more households get on with the trend. Uninterrupted fast internet access is no longer a luxury, it's a necessity.
I've been a Home Fibre customer since beginning of 2019. The reason I chose Safaricom Home Fibre over other home internet providers is because of reliability, and assured customer support. This is one thing I like – that I can easily reach out to Safaricom whenever there are issues that need fixing or addressing. Even though there have been various hiccups over this period of time, my experience has so far been good.
I like that I can get through to Safaricom at any time through 400 and have my issue checked. I like that whenever I move houses, provided I give Safaricom a notice, I will get an agent to help me setup internet in my new house. This assurance that as a customer, I will always get support is the number one reason I still use Home Fibre. It is the main reason I even pay for my subscription months in advance.
When I signed up, I got in on the 10Mbps package. Last year, with the first lockdown, Safaricom doubled the package's speeds to 20Mbps. Early this year, this was made official.
| | | | | |
| --- | --- | --- | --- | --- |
| Old Speeds | 5 Mbps | 10 Mbps | 20 Mbps | 40 Mbps |
| New Speeds | 8 Mbps | 20 Mbps | 40 Mbps | 100 Mbps |
| Price | KES. 2,900 | KES. 3,999 | KES. 5,999 | KES. 11,999 |
| Monthly Fair Use | 1Mbps after 500GB | 3Mbps after 1000GB | 3Mbps after 1000GB | 3Mbps after 1000GB |
Safaricom also introduced new Fair Use policies which the company explains are meant to ensure everyone using the service gets fair access to resources without interruptions. The company also explains Fair Use is meant to stop any resellers as they did with years back with Sambaza. So far – months in – I am yet to reach my 1000GB threshold.
As someone who lives alone, and cannot survive without the internet, there are many things I use my home internet connection for. From work, to entertainment.
First of all, I rarely buy internet bundles. Because I am always at home, I don't see the need to buy internet bundles. If you're someone who moves between your house and work, you could buy Home Fibre Plus and get 5GB data plus 400 minutes of talk time – which should be enough for your commute.
For me, the one time monthly fee ensures I reduce my spend on internet services. Compared to buying a data bundle, an unlimited home connection is superior. All I need to budget for is that one-time monthly fee and I enjoy uninterrupted internet.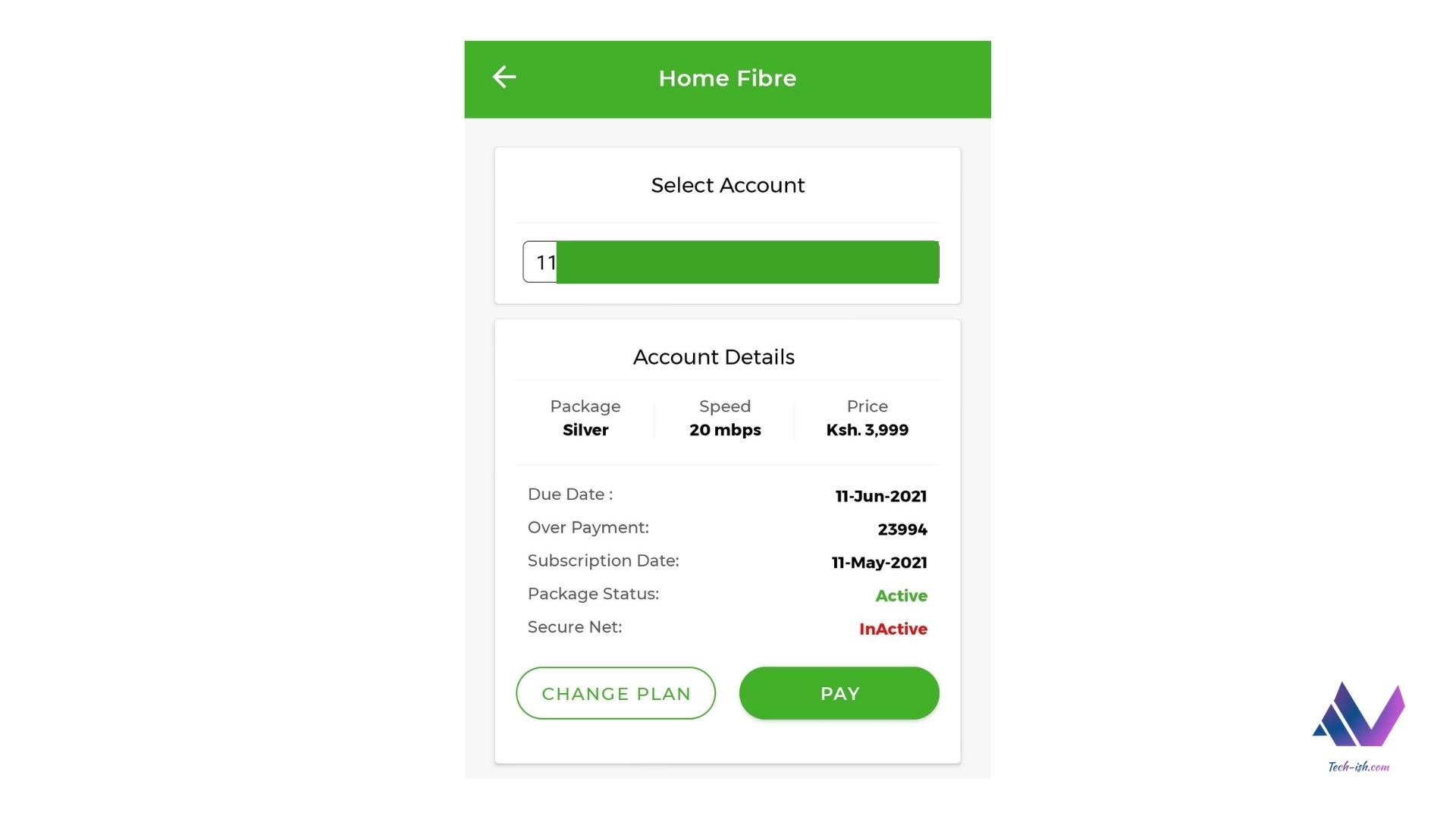 This ensures my workflow is constant. I get to work at any time of the day or night, and still be connected.
Secondly, I get to enjoy good upload speeds for all my YouTube content. Given one video on YouTube is about 2.5GB, it is impossible to pay for mobile data for such an upload. The 20Mbps package handles all my uploads pretty well and in a short period of time. I don't have to wait long hours with my 20Mbps package for a video file to finally upload on YouTube before I can post it. Around 8 to 13mins is always enough for my huge uploads.
Thirdly, I can stream Netflix movies, YouTube videos in high quality easily throughout the day. If you've watched content in 4K ever, you know everything in lower-res can't compare. I love being able to stream shows, movies and documentaries whenever I want just because the internet is there, and it is reliable. If you have access to Netflix, Showmax etc. or even if you have a VPN and have access to platforms not yet available in Kenya, the 20Mbps package handles my demands pretty well.
Right now the hot new show is Disney+ Marvel Series 'Loki' and my 20Mbps package – over a VPN connection allows me to stream the show immediately its available in the US. If I were on 10Mbps as before I probably would have to be patient with the buffering, or to wait hours to download episodes.
Lastly, the 20Mbps package ensures my home accessories are all connected and working well without interrupting whatever else I may be doing online. So the Google Home devices work well, casting works well, all the devices I may be reviewing remain connected so as to download updates etc, and much more. I've also noticed that even when I have people over, I am comfortable having all of them connecting to my WiFi without having issues with whatever may be streaming on TV.
If you're a more demanding user, or household, you could try the 40Mbps and 100Mbps packages which are much faster. However, if you are like me, KES 3,999 a month will sort out all your needs.