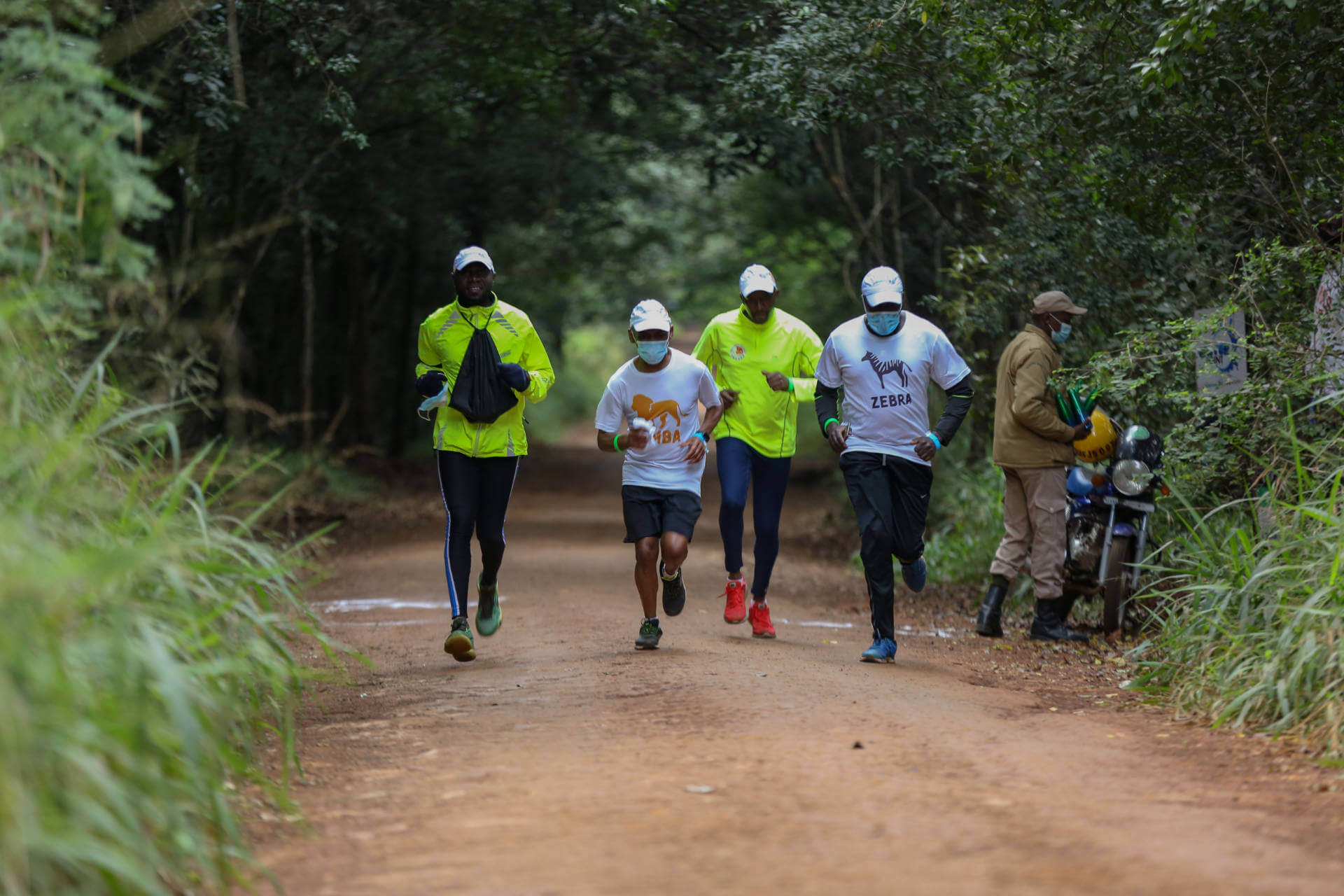 On Friday, June 18th, top Kenyan athletes Catherine Ndereba and Henry Wanyoike, representatives from several of Kenya's top corporates and wildlife rangers from Lewa Wildlife Conservancy came together for a Fun-Run in Karura Forest. 
Participants ran or walked for 5km, 10km or 21km to help promote the upcoming Virtual Lewa Safari Marathon
This was the first time that the organisers of the Lewa Safari Marathon have held a promotional event in Nairobi to draw attention to a wider audience of athletes, families, and corporates to the annual sporting event that impacts thousands of lives across Kenya and whose inspiration lies in protecting Kenya's natural heritage.
Hosted by Virtual Lewa Safari Marathon, headline sponsors, Safaricom PLC and Huawei – the mini-run was an opportunity to highlight the success and impact that the marathon has had since the first race in 2000.
"It is a great honour to be part of the Lewa Safari marathon which has raised over 850 million shillings to fund wildlife conservation and community development in Kenya over the last 21 years. Safaricom's purpose has always been to transform lives and there is no better way to do it than to protect the environment in which we live and conduct business in and supporting the communities we serve," said Peter Ndegwa, CEO, Safaricom.
Due to the unfolding global Covid-19 pandemic and the restrictions that come along with it, the annual marathon, organized by Tusk Trust in partnership with Lewa, which is due to be held on June 26, will be the second virtual edition of the famous event. With just over a week to go, the marathon which has been dubbed one of the top ten marathons in the world by Runner's World, is one of few known marathons where participants get to share the trails with some of Kenya's most iconic and critically endangered wildlife – Grevy's zebra, rhino and elephants.
"Communities and wildlife protection are intertwined. Without the support and collaboration of communities that live around the protected areas, we are fighting a losing game. It is vital that those of us in the conservation community, together with corporates and key stakeholders, come together and work to ensure that families and communities are economically empowered in a manner that places Kenya's rich bio-diversity at its core. Over the last 20 years plus, through the proceeds from the marathon, it is clear that we are reaching some incredible milestones and achieving sustainable impact," said Sarah Watson, Tusk's Director Programmes for Africa,
Through the years this unique marathon has raised over 850 million shillings to fund wildlife conservation and community development in Kenya over the last 21 years. The marathon, which draws over 1400 participants annually, broke that record last year when it went virtual for the first time in its 21-year history with 20 countries, 70 cities and over 2000 participants taking part in the event.
"It is quite remarkable the extent at which Lewa Conservancy has gone to preserve Kenya's natural heritage and the future of its lands, culture and people. We commend you for going beyond Lewa itself to helping so many other natural areas across the country. Environmental sustainability is a key pillar in Huawei's CSR and that is why this marathon is and continues to be of key interest to Huawei. " said Will Meng, CEO Huawei Kenya.
Unlike before, this year's event, which will be streamed live from the conservancy, will show extraordinary efforts being made round the world by the Virtual Lewa Safari Marathon community.
To date, over 600 participants have registered with event organisers hoping to meet the target of at least 1000 participants. Like the FunRun, the marathon has no time limit, participants are welcome to complete their distance any time throughout June, over days or weeks.
"The mini-run was very important to us as not only does it bring Lewa to Nairobi, we had 7 of our rangers participating – it also shows the level of unwavering commitment from our co-sponsors, followers, participants who have been with us since the start. It is through this commitment that together, we have been able to transform the lives of many within the community, through jobs, education opportunities and access to affordable healthcare. The Lewa Safari marathon is about community and this mini-run was a perfect example of that, said Edward Ndiritu, Head of Anti-Poaching at Lewa Wildlife Conservancy