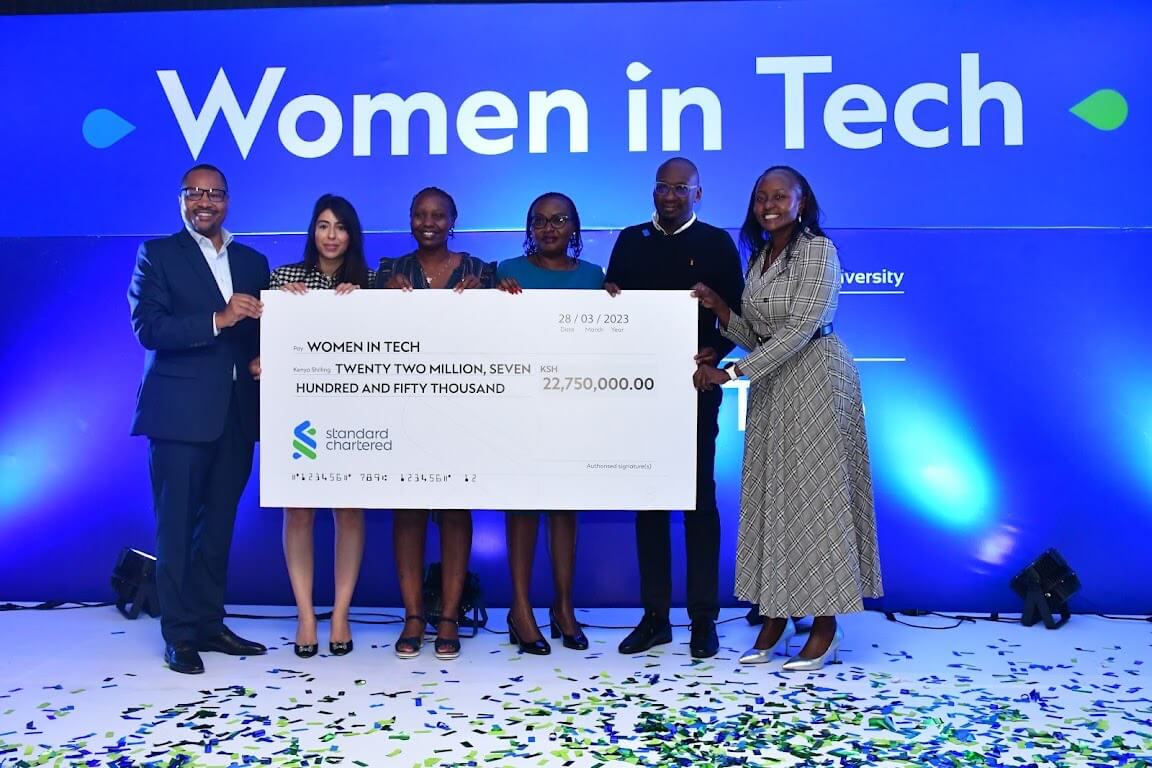 Standard Chartered Kenya in partnership with @iBizAfrica- Strathmore University has launched the 6th Cohort of the Women in Tech (WIT) Incubator Program. The program aims at championing more diversity in technology and advancing entrepreneurial and leadership excellence for women-led businesses. 
Edith Chumba, Standard Chartered Head of Consumer, Private and Business Banking and Strathmore University Vice Chancellor, Dr. Vincent Ogutu presided over the event at the bank's Head Office.
The theme for this year's cohort, Embracing Equity, is tied to the 2023 International Women's Day theme and calls for more inclusion in the digital and technology space.
How the 6th Cohort program will run:
The 6th cohort of the Women in Tech program will see 15 applicants participate in a 12-week incubation program with 7 women-led startups receiving seed funding. This is an increase from the previous cohorts, where 10 businesses were incubated and 5 startups per cohort received funding. Businesses chosen to participate in the incubation program will undergo training, coaching, and mentorship offered by the @iBizAfrica- Strathmore University network of key industry experts, faculty, business leaders, experienced mentors, and professionals. Through the incubation, all the entrepreneurs will get expert training in the areas of idea conceptualization, strategy formulation, and marketing which is key in moving the businesses from incubation to sustainable ventures.
The focus areas of this cohort will be centered around women-led startups with components of emerging technologies such as Artificial Intelligence, the Internet of Things; Big Data; Machine Learning; Robotics; Big Data, and Blockchain among others.
Funding for Women-led Startups in 2022:
Research indicates that female-led startups in Africa attracted less funding in 2022 compared to male-led startups in the region. Challenged by societal bottlenecks and financing limits, this points to a need for increased capacity building and focused funding toward female-led enterprises.
In the venture capital sector, nearly 85 per cent of investors are men supporting male founders, while only 12 per cent of VC firm decision-makers are women, but when these women do make decisions, they are twice as likely to invest in female-founded startups. Because men constitute the majority of the workforce in technical organizations, men can assist by taking up mentorship roles for women in the computing tech and engineering space.
What they said:
Speaking during the launch, Edith Chumba said, "Technology and innovation are key enablers of digital transformation and socio-economic growth in emerging markets. By empowering women-led businesses in the technology space to thrive, we not only contribute to their business growth but also drive sustainability and inclusion. The Women in Tech Program has been designed to bridge the finance and capacity-building gap that women entrepreneurs face, and we are excited to further champion this cause through an additional cohort. Furthermore, we have now scaled the program to create space for more participants and to channel increased funding to women-led enterprises. We encourage all eligible businesses to apply to the program as the evidence from previous cohorts proves that this is a forward-thinking, efficient and transformative program. We are also pleased to continue our partnership with Strathmore and are grateful for their implementation support for the past 5 cohorts.'' she concluded
Commenting on the need for equity and inclusion of women in entrepreneurship and leadership was the Strathmore University Vice Chancellor, Dr. Vincent Ogutu who stated; ''Women do business differently with a substantial number of them leaning towards social enterprises that make an impact on communities and economies as a whole. Driven by high work ethic and ambition, Africa holds the largest number of female-led enterprises, which highlights the need for more investment. The entrepreneurial and professional playing field is not level, which calls for more tools and systems that drive inclusion and equity and in this regard, women entrepreneurs are setting the pace for by challenging societal biases and norms. Strathmore is proud to complement the advancements made by women entrepreneurs by providing training and capacity building facilities that make it easier for them to access finance, scale and innovate. We are happy to continue our partnership with Standard Chartered through the Women in Tech Program and are excited to work with the amazing businesses that apply and get to participate in the program.'' 
Benefits of program:
Each year the program trains more than 10 small and medium businesses leveraging on technology by offering mentorship, advisory, coaching, networking opportunities, access to seed capital, and investor forums that help mold their businesses to international standards. 50 start-ups have participated to date, and 25 have been awarded over KES 1.2 million (USD 10,000) in seed funding. 50 businesses have so far gone through the incubation process with the first five cohorts attracting over 2,000 applications.