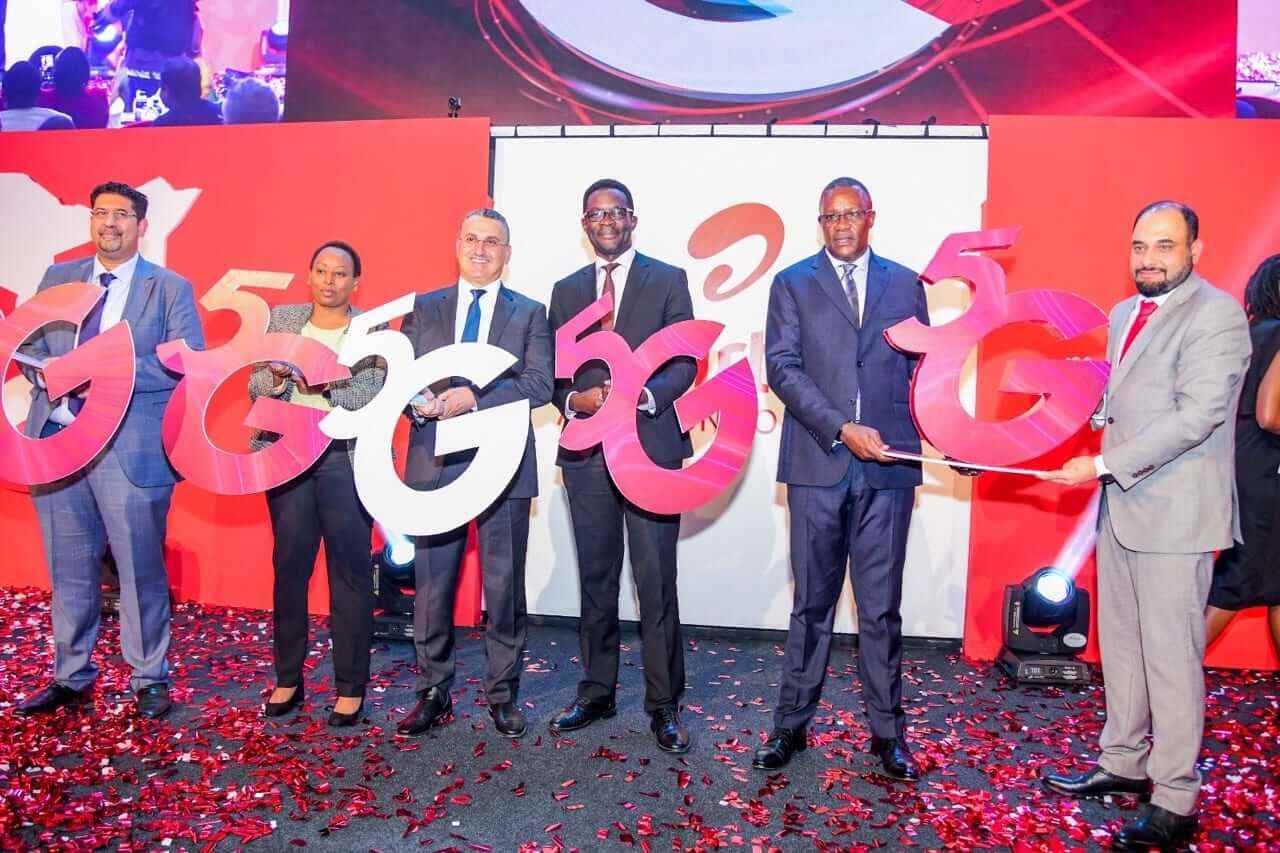 Airtel Kenya has finally launched its 5G Network, becoming the second operator after Safaricom to launch commercial 5G services in Kenya. Kenya is Airtel's second market on the African continent to have the 5G network live. Currently, the company boasts a customer base of 17.5 million prepaid subscribers and over 95,000 postpaid subscribers. It is these customers and more that Airtel will be targeting with the new 5G Routers and Bundles.
What's important to know:
Airtel acquired the 2600MHz spectrum in June 2022. The company says their current network infrastructure – 2G, 3G and 4G – covers 89% of the country, with over 3,200 sites spanning across 47 counties.
The Airtel 5G network will immediately be available across 16 counties, comprising 370 5G active sites spread across 180 wards. The 5G network will be concentrated in specific zones, including central business districts, highly populated residential areas, city centers, and hospitals. These zones will be clearly marked as 5G zones for customer convenience.
Airtel plans on building an additional 650 sites this year. This represents the largest network expansion rollout by Airtel Kenya in a single year, highlighting the company's commitment to improving connectivity nationwide.
Airtel 5G Bundles and 5G Router:
Airtel has launched 5G Home Broadband plans for Enterprise and SME Unlimited Packages. The pricing of the plans ranges from KES 3,500 to KES 7,500, offering different speeds such as 10Mbps, 30Mbps, and 50Mbps. Additionally, Airtel has introduced volume-based data plans for individual homes starting from KES 2,999. Airtel has reiterated to customers that they will still be able to use their 4G bundles whichever network generation they're connected to, including the 5G network.
The Airtel router that gets you using the new network is a compact device that offers lightning-fast speeds and can connect up to 64 devices simultaneously.
Prices for Unlimited 5G on Airtel
| Plan | Speed | Monthly Price (KES) |
| --- | --- | --- |
| 5G Unlimited 10Mbps | 10 Mbps | 3,500 |
| 5G Unlimited 30Mbps | 30 Mbps | 5,500 |
| 5G Unlimited 50Mbps | 50 Mbps | 7,500 |
What they said:
The launch was attended by Eliud Owalo, the Cabinet Secretary of the Ministry of Information, Communication, and the Digital Economy, and Ezra Chiloba, the Director General of the Communications Authority of Kenya. Also present were Mr. Ashish Malhotra, the Managing Director of Airtel Kenya, and Anthony Shiner, the Chief Commercial Officer of Airtel Africa.
Ashish Malhotra, Managing Director of Airtel Kenya said, "Today marks a significant milestone as we proudly introduce our 5G network, a state-of-the-art infrastructure that provides data speeds up to 10 times faster than 4G, incredibly low latency, and the ability to seamlessly connect billions of devices. Airtel 5G will revolutionize various sectors, such as smart cities, education, healthcare, Agri-tech, transport systems, entertainment, and more, shaping the future of Kenya."
Anthony Shiner, Chief Commercial Officer of Airtel Africa, said, "Our 5G launch positions Airtel at the forefront of a technological revolution that exemplifies our dedication to progress, innovation, and empowering our people. The benefits that will transform businesses and industries will create opportunities to further unlock Kenya's potential. Together, let us build a future where connectivity knows no bounds, innovation knows no limits, and Kenya stands tall as a digital powerhouse."
Mr. Eliud Owalo, Cabinet Secretary, Ministry of Information, Communication, and The Digital Economy said, "We are doing everything possible within both the regulatory and technical environments to make our country Africa's silicon savanna. We are building the infrastructure, equipping our people with the digital skills, and sensitizing them to the reality that is the digital revolution. We are also addressing the affordability of access and protecting both critical infrastructure and personal privacy, as well as data security."