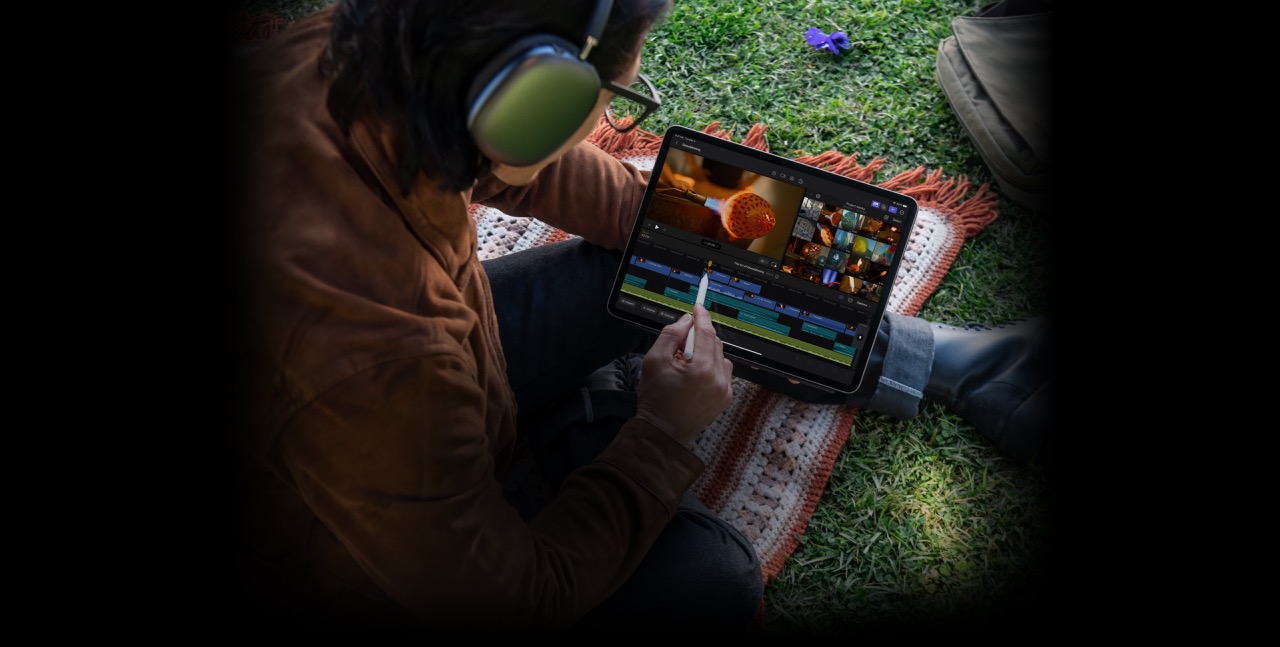 When Apple announced the arrival of Final Cut for the iPad, I was thrilled and immediately installed it on my iPad Pro 12.9 inch with the impressive M1 Processor. I decided to give it a try during the free trial period, but ultimately chose not to pay the monthly subscription fee. While my experience with Final Cut on the iPad was undeniably amazing, I couldn't help but question its value for a recurring cost. In my opinion, a one-time payment option would be more reasonable.
To my surprise, I approached Final Cut on the iPad without any prior knowledge or tutorials, and yet the software proved to be incredibly intuitive. Apple has done an excellent job ensuring that users can quickly and easily find their way around the app. This user-friendly design allows for a smooth editing experience, even for beginners.
For quite some time, there has been a debate about the iPad's potential being hindered by its software limitations. However, the arrival of Final Cut and Logic Pro to the iPad finally justifies the powerful hardware it possesses. The iPad's capabilities are now fully utilized, providing users with professional-grade editing tools.
I've long regarded the MacBooks with M1 and M2 chips as the epitome of laptops. These chips offer outstanding performance without heating up or triggering noisy fans, resulting in a quiet and powerful computing experience. The same chips power the iPad, making it incredibly capable. When using Final Cut on the iPad, there are no lags, no performance issues, and no sluggishness thanks to the robust processor. The device remains cool, with the only impact being on battery life due to resource demands. Even when using Final Cut while charging the iPad, it remains pleasantly cool to the touch.
Having edited several videos for TikTok on the iPad, I must mention the joy of exporting files swiftly and seamlessly. Exporting videos is a breeze, without any hiccups or delays. I've also worked on multiple clip videos, such as the Infinix HOT 30 Series video posted on YouTube, and everything worked flawlessly. In this video, which involved three camera feeds, the iPad's implementation of Final Cut made it incredibly easy to switch between views with just a tap. For projects with multiple camera angles, Final Cut on the iPad offers the best way to select which views and audio sources will be included in the final video.
The iPad handles 4K videos with ease, and if you have an iPhone as your camera, the workflow becomes even smoother. With a simple AirDrop, you can quickly transfer files, edit them, and delete them to save space.
Unfortunately, there is one notable drawback: editing from external storage is not supported. To edit a file, you must move it to the iPad's internal storage, which can be inconvenient for those working with large video libraries.
On a positive note, Final Cut projects created on the iPad can be transferred to a MacBook for further editing using Final Cut Pro. However, the reverse is not possible, which seems counterintuitive and limits the flexibility of the software.
One aspect that I particularly enjoyed about Final Cut on the iPad is the ability to write with the Apple Pencil and incorporate animations. This feature adds a unique and creative touch to video projects, allowing for more personalized and engaging content.
Apple has committed to updating and expanding the features of Final Cut on the iPad, including enhancements to audio, transitions, and more. Perhaps these future additions justify the $5 monthly subscription fee. However, I still find it difficult to justify paying for the app, especially when alternatives like CapCut by TikTok offer a plethora of editing capabilities without the need for a monthly or yearly subscription.
It would make sense for Apple to consider offering a one-time payment option for users who don't own Final Cut on their Macs, as well as providing a zero-cost option for those who have already purchased Final Cut. However, as someone without extensive knowledge of the business aspect, I acknowledge that there may be reasons behind Apple's pricing structure that I am not aware of.
Have you tried out Final Cut on the iPad? Are you a paying subscriber?