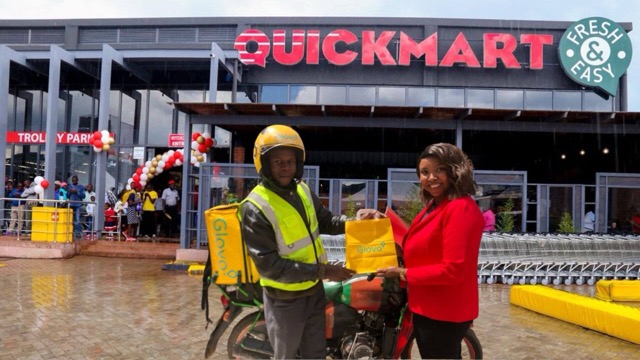 In a move set to redefine the grocery shopping experience in Kenya, Glovo, the leading multi-category app with a vision to provide easy access to anything in the city, has forged a strategic partnership with Quickmart, one of Kenya's top grocery chains. This exciting collaboration will enable Kenyan customers to access an extensive catalog of Quickmart's top 6,000 products via the Glovo app, making it faster, smoother, and more convenient than ever before.
The partnership, which covers all 12 cities where Glovo currently operates, marks a significant milestone in the quick commerce industry in Kenya. The towns and cities within Glovo's Kenya coverage include Diani, Eldoret, Kikuyu, Kisumu, Kitengela, Mombasa, Nairobi, Nakuru, Ngong – Rongai – Karen, Ruiru, Syokimau, and Thika, with plans for further expansion in the coming months.
Quickmart's Managing Director, Duncan Kinuthia, expressed enthusiasm about the collaboration, highlighting the transformative power of e-commerce in the retail sector. He stated, "Quickmart is constantly looking for ways to deliver innovative services that make customers' daily shopping experience easier. Leveraging Glovo's global and local expertise in the quick commerce industry, we believe this partnership will offer fast and convenient home delivery service that allows us to address our customers' needs in the digital age."
This strategic alliance aligns with Glovo's mission to provide everyone with easy access to a wide array of products and services within their city. Elizabeth Mbugua, Head of Q-commerce at Glovo Kenya, emphasized this point, saying, "To deliver on our vision, we seek partnerships with top retailers with stores widespread across our active locations. Our goal is to make grocery shopping faster, smoother, and more convenient than ever before for the customer."
Glovo's Head of Expansion in Africa, Maingi, highlighted the significance of this partnership. "This alliance establishes Glovo as the first integrator in the market with full coverage for top grocery partners in Kenya, a testament to Glovo's strong growth and big ambitions in Africa and beyond."
Through the Glovo app, customers will have access to Quickmart's extensive product catalog, which includes items from the deli (Q-cafe) and branch-specific promotions. The highlight of this collaboration is the promise of speedy delivery, with products reaching customers within an hour of placing an order, ensuring utmost convenience for shoppers.
This partnership between Glovo and Quickmart represents a significant step forward in Kenya's e-commerce landscape, promising to reshape the way Kenyan consumers access groceries and daily essentials. As Glovo continues to expand its reach and service offerings, it remains at the forefront of delivering innovative solutions to meet the evolving needs of customers in the digital age.