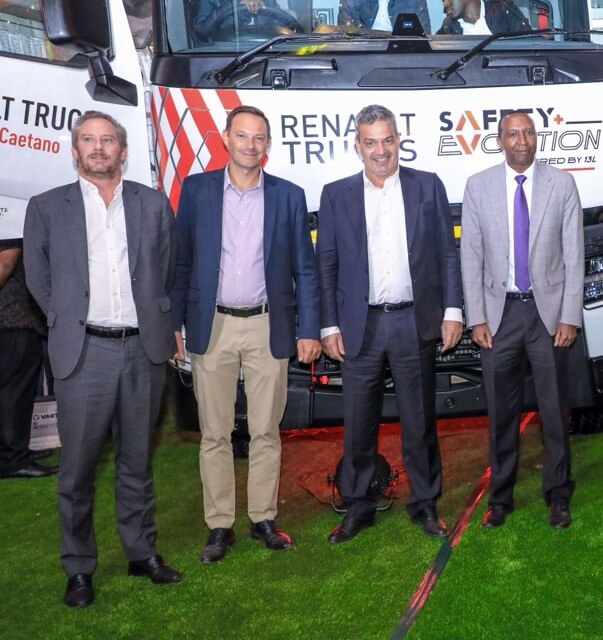 In a significant move set to bolster Kenya's heavy commercial vehicles industry and expand Renault Trucks' footprint in the region, Caetano Kenya has been unveiled as the official distributor of Renault Trucks in Kenya. The announcement was made today during an unveiling event held at Caetano Kenya's showroom. The partnership marks a pivotal moment for the transportation sector in Kenya, bringing together two industry leaders in a bid to enhance the efficiency, safety, and adaptability of heavy commercial vehicles in the country.
Caetano Kenya serves as the sole local distributor of Ford, Hyundai, Renault, and Kia passenger vehicles in the Kenyan market. It is part of the Salvador Caetano Group (SCG), boasting over 75 years of history dedicated to the automotive sector. Headquartered in Portugal, the company has a strong presence in more than 100 companies across Europe and Africa, operating in 37 countries on three continents, and annually selling over 100,000 vehicles with a workforce of over 7,000 employees.
One of the key highlights of the partnership was the introduction of the all-new 13L engine truck by Renault Trucks. These trucks are poised to enhance the existing running fleet portfolio in Kenya with their more powerful engine brake, which significantly improves safety on the roads. Additionally, the broader maximum torque range will enhance the trucks' hill start performance, making them ideal for the diverse terrains in Kenya.
Speaking at the event, Mr. Pedro Campos, the Managing Director of Caetano Kenya, expressed the company's commitment to providing top-notch service to customers. He stated that Caetano Kenya has made substantial investments to support the Renault Trucks franchise, including acquiring new stock, building a dedicated Renault Trucks workshop on Mombasa Road, and establishing a robust aftersales division focused on delivering high-quality and efficient services. Campos emphasized their focus on preventive maintenance plans tailored to each type of truck to minimize downtime for customers and ensure the durability and profitability of their fleets.
The partnership received enthusiastic support from the Roads and Transport Cabinet Secretary, Kipchumba Murkomen, who emphasised the transformative potential of the collaboration. He said, in a speech by Engineer James Kung'u, "This partnership will undoubtedly revolutionise the transport and logistics sector in Kenya, aligning perfectly with our vision for a more efficient and sustainable transportation network."
Renault Trucks Vice President for Africa and LAPAC, Mr. Cyril Barrile, expressed optimism about the impact of Renault Trucks in the Kenyan transport industry. He highlighted the company's commitment to offering a wide range of new and used trucks suitable for various applications, from distribution and logistics to heavy construction and long-distance transport. Renault Trucks' trucks are specially designed to handle various cargo and terrains efficiently.
Renault Trucks brings advanced safety features to the Kenyan market, including an advanced emergency braking system with anti-collision warning, a lane departure warning system, electronic stability control, and a drowsiness alert system. Additionally, the trucks are equipped with Optifleet, an online fleet management system that optimizes fuel efficiency, improves driver performance, and streamlines daily operations.
One of the distinguishing factors of Renault Trucks is the use of original parts, guaranteeing quality service and extending the usability of their trucks. This commitment to quality ensures that the original and resale value of Renault Trucks remains high, with all trucks having a maintenance history in line with the manufacturer's standards.