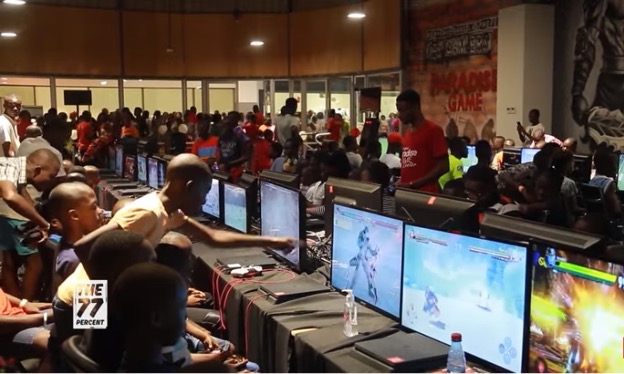 The live-streaming phenomenon is much to "blame" for how quickly the African gaming market is developing. Live streaming has taken over as the main environment for gamers looking to interact with their audience and showcase their prowess, including both hobbyist and professional eSports players.
The gaming sector in Africa has changed dramatically during the last five years. In order to play games, players no longer need to squeeze into congested Internet cafés with antiquated machines and slow connections; 95% of gamers on the continent can now play from the confines of their own dwellings because of the advent of smartphones, stronger penetration of the Internet, and quick acceptance of technology. However, this is only the very beginning. The African gaming market is set to explode like never before because of the seismic transition to live streaming, offering limitless prospects for both players and creators of video games.
The Prospects of African Gaming Lie in Live Streaming
Thanks to the fascinating world of live streaming, the gaming business in Africa is improving! It is understandable why gamers are swarming to websites like Twitch and YouTube given the growth of mobile gaming, the popularity of eSports, and technological and Internet accessibility developments. Not only that, but the use of social media has also rendered it simpler for content producers to interact with their viewers and broadcast their experiences to a global audience.
The total quantity of professional gamers has increased as a result, and players are now recognized for their abilities and engaged in international competition. Additionally, there has never been such an appropriate time to join in on the action with new eSports contests and events springing up left and right. African gamers are leading the way by showcasing their talent in games like League of Legends, FIFA, and Fortnite.
Only in South Africa, in 2023, the game content streaming market is anticipated to generate US$2.71 million in revenue. By 2027, a market volume of US$4.60m is anticipated, with revenue forecast to expand at a 14.14% annual rate (CAGR 2023-2027).
The Number of Gamers in Sub-Saharan Africa Increased Dramatically in Just 5 Years
According to a survey by Newzoo, to which all the top news outlets covering the global video game business in the continent made reference, the number of gamers in Sub-Saharan Africa increased dramatically from 77 million in 2015 to 186 million in 2021. This is mostly due to the growth of social media, digital technology, and Internet connectivity, as well as the COVID-19 pandemic's consequences. After a prosperous 2022 for the Sub-Saharan African games business, the region is on the verge of something big, according to Pocket Gamer: by the end of 2023, it is anticipated that the gaming business in Africa will be worth more than $1 billion, owing in large part to the mobile gaming industry.
According to Statista, the market for live-streamed games is expected to generate US$346.00 million in revenue in 2023 and have 166.00 million users at that time. But it is not just about the numbers; Africa is also becoming known in the international eSports scene. As an illustration, consider Kenyan eSports athlete Sylvia Gathoni, a.k.a. QueenArrow, who just made the Forbes Africa 30 Under 30 list, becoming the first-ever eSports athlete to accomplish so in Africa. She also took home the prize for best female gamer at the Guadeloupe-hosted CANOC eSports Series. Not to be overlooked is South African streamer Grant Hinds, who has collaborated with companies like Xbox and Red Bull and has over 35k YouTube subscribers and over 14k Twitch followers. He has held listeners' attention over continental airwaves for more than 13 years and made a lasting mark on South African viewers.
The African gaming market is obviously currently in its infancy and we are excited to watch where it goes from here. However, live broadcasting has an effect on the African gaming business that goes beyond professional athletes or eSports in general. Additionally, it has given broadcasters, content producers, and event planners new career prospects. In fact, according to a survey by WeeTracker, which covers the startup scene on the continent, the gaming sector in Africa might generate as many as one million new employment by 2025. It also has an impact on the rise of sports betting in the continent. Sport live streaming is now available, e.g. in Kenya with Betwinner, which is ranked first among the best Kenyan betting sites in 2023 at Bookmaker-expert.com/country/kenya/. From the moment you create an account there and ensure a working Internet connection, you can watch some of the major eSports competitions and matches live. Such functionality also arrived in South Africa, led by Sportingbet and Betway, who give punters the opportunity (by having an account and good online connectivity) to take a peek into CS: GO ESL Pro League, ESportsBattle Dota 2, and many more tournaments.
The Issues Involved
On the other side, as the gaming sector expands, it also faces a special set of problems, including a lack of infrastructure and resources, unstable Internet connections in certain parts of the region (the coverage is only 13% in West Africa), unstable electrical supplies, a lack of finance, and a lack of training, to name a few. Despite these obstacles, the African gaming market is still expanding as more individuals get into playing video games. As we already mentioned Sub-Saharan Africa is to become one of the world's fastest-growing areas for a market value for mobile gaming by 2023. The chance to profit from this fast-growing sector is enormous for investors and game producers.
The next wave of African eSports players is now being empowered. Recent years have seen an increase in the number of game companies adopting the concept of ownership, allowing players to own and exchange in-game characters while also developing games that honor African cultural history. One such instance is Qene Games, a trailblazing game production from Ethiopia that hopes to revolutionize the gaming industry in Africa with hit games like Gebeta and Kukulu. Gebeta earned the renowned Best App of the Year award in 2020, while Kukulu got the Best Media & Entertainment App award from AppsAfrica two years prior to that.
African gamers face special difficulties, which Qene Games is committed to assisting in removing. For this reason, they unveiled Kinet Live, a tool that may completely alter the way players make money. They are establishing an environment of equal opportunity where everyone is given the chance to achieve something gaming-wise with it. Anyone who has an affinity for live streaming is now able to take full advantage of Kinet Live and generate money by broadcasting their games, so it is not only available to professional gamers.
For some time now, people from all around the world have been paying attention to the African live-streaming gaming scene. The best video gamers from Africa are participating at the most prestigious levels in practically all international competitions. In addition to Grant Hinds, who has previously been mentioned, other notable African gamers include:
David "Dangerous Dave" Kozlowski (South Africa)
Undoubtedly one of the most well-known African streamers is Dangerous Dave. He streams weekly on Twitch, is active on Facebook, and runs the Super2bit YouTube channel where he plays games. Star Wars Battlefront, DOFWWII, and PUBG are among Dangerous Dave's specialties.
Dangerous Dave mixes his broadcasts by playing both new and obscure titles in addition to well-known, older fan favorites. Dangerous Dave, whose name is derived from the 1988 video game of the same name, is a very amusing character who delivers witty, interesting commentary while he plays the game.
Eilidh "AliasV" Lonie (South Africa)
In the gaming world, there are not many African female broadcasters, yet AliasV is one of the finest streamers, but also one of the finest gamers, regardless of gender. She is a Complexity Gaming member who focuses during her streams on card games based on intellect like Magic The Gathering: Arena and Gwent: The Witcher Card Game.
She is also knowledgeable with well-known video games like Last of Us, Destiny 2, and Horizon Zero Dawn. Twitch is where AliasV broadcasts.
Brett "UF Disciple" Stelmaszek (South Africa)
South African YouTube streamer UF Disciple is the largest tech pundit in Africa. Over 766,000 people subscribed to his YT channel UFD Tech, mostly due to his capacity as a computer hardware commentator but also more and more due to his skills as a player.
The American who relocated to RSA is most known for joining in on games alongside other local streamers, though he also produces his own broadcasts. He interacts with other African broadcasters and plays a range of games on his own streams, which have gained him recognition. Thanks to his engaging introduction of fresh titles and involvement in streamer meetings, UFD's popularity is rising.
Conclusion
The expansion of the live-streaming African gaming community is evidence of how inventive and resourceful African gamers are. They may now contest on a global platform and show off their abilities to a larger audience thanks to the influence of live streaming.
In the years to come, we may anticipate seeing a greater deal of creativity and development in the African gaming sector as the appeal of live streaming keeps rising.