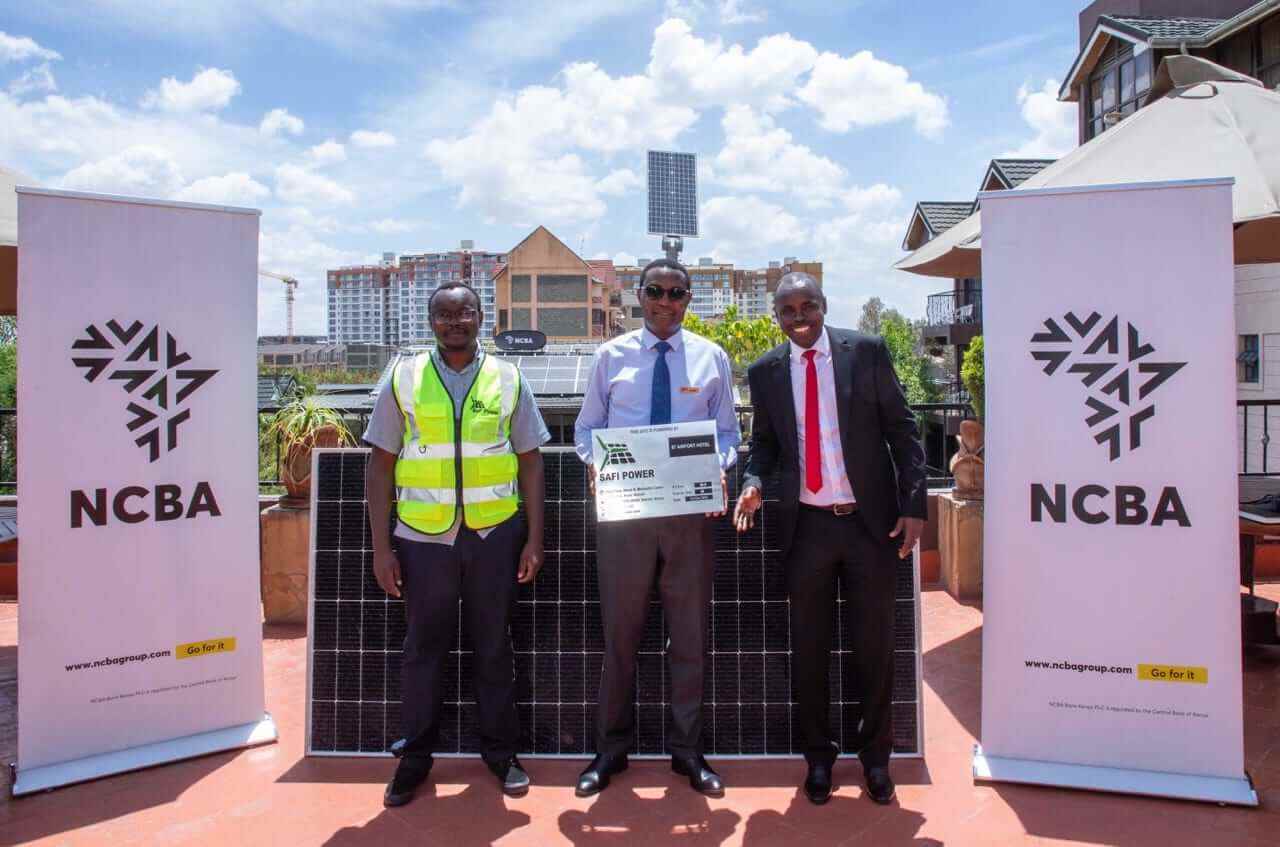 NCBA Leasing LLP has boldly committed KES 500 million to solar projects, heralding a new era of green financing and environmental conservation. This forward-thinking initiative is set to revolutionise the energy sector, offering businesses an affordable and reliable gateway to adopting solar power systems. The Solar Financing Product, meticulously crafted to dismantle the financial hurdles tied to solar adoption, stands as a beacon of innovation, illuminating the path toward sustainable energy solutions.
During the festive commissioning of solar panels at 67 Airport Hotel, a proud lessee of NCBA's solar solutions, Robert Marete, NCBA Deputy Director of Leasing, emphasised the transformative potential of this novel financing option. "The Solar Financing Product is a true game-changer in green financing and environmental stewardship. In a world where operational costs are surging, it's paramount for businesses to pivot toward alternative power solutions that marry financial savvy with eco-consciousness," asserted Mr. Marete.
NCBA's clientele are set to reap the benefits of this groundbreaking product, gaining access to tailored solutions, expert guidance, and flexible financing options that effortlessly align with their global operations and financial preferences. This strategic move ensures a seamless transition to solar energy, heralding a future where clean energy and financial prosperity coalesce.
David Kibanya, General Manager at 67 Airport Hotel, expressed his delight and enthusiasm during the commissioning event, highlighting the strategic advantage this adoption brings to the hospitality industry. "Adopting this Leasing facility is undoubtedly the pinnacle of financial solutions for green energy. Our partnership with NCBA is a proud declaration of our commitment to reducing our environmental footprint and championing a sustainable future," stated Mr. Kibanya.
Earlier in August, NCBA etched its name in the annals of history as the first Kenyan bank to install EV charging stations at its premises, complementing this feat with a strategic partnership with d.light Ltd. This collaboration aims to acquire a fleet of 60 electric mini-vans and 145 motorcycles, marking a significant milestone in NCBA's sustainability journey, encapsulated in their "NCBA Change the Story" ESG framework.
NCBA Leasing LLP's unwavering dedication to clean energy solutions is evident in their relentless pursuit of innovative products and partnerships. The Solar Financing Product stands as a testament to their commitment, a pledge to foster a greener, cleaner, and more sustainable future for all.