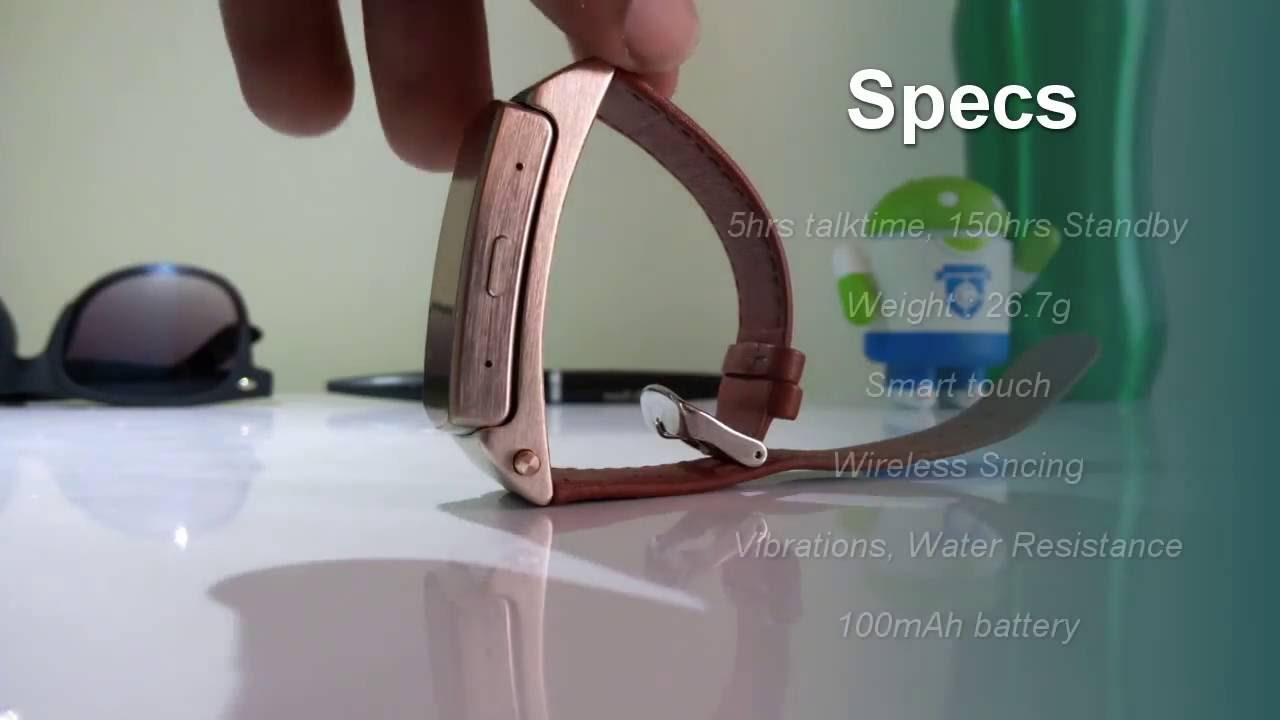 I have had the Infinix X-Band for quite some time now. About 3 weeks. I kind of really like it. And all through I have been thinking of how to do a review.
How does one review a smartwatch?
I have decided to do it however I can, but still make sure you get to know everything there is to know about the watch. So in this post you'll find a couple of things:
Photos
Walkthrough of the watch
A video
And I hope from it, you'll be able to see whether or not you'll love owning this device. It is classy, and grabs attention everywhere especially from its design. I don't know how to describe the design. A friend called it "futuristic". Though I can't say that myself. I imagine futuristic to be really, really cool.
I had no prior knowledge on the watch, how to set it up, and how to use it. And it was fun slowly finding out everything about it through the weeks.
Let's start with photos:
If you love the design and are done looking at the watch we can now walk through what the watch actually does.
Pairing:
To use the X-band, you need to pair it with your phone through an app. The app is called X-Band and is available on Google Play Store.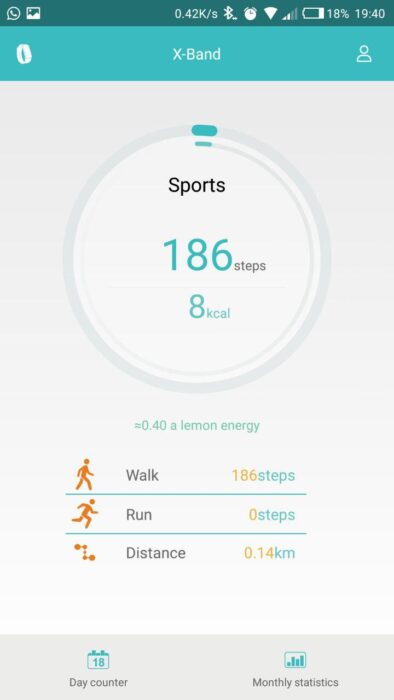 From the App is where you set everything:
It automatically sets the time – this confused me
You set the device brightness
You can set Flip screen to turn on, alarms (hasn't worked for me), date and time format and notifications
The app will show you the watch's battery capacity, the steps you've walked, distance covered and the energy you've used.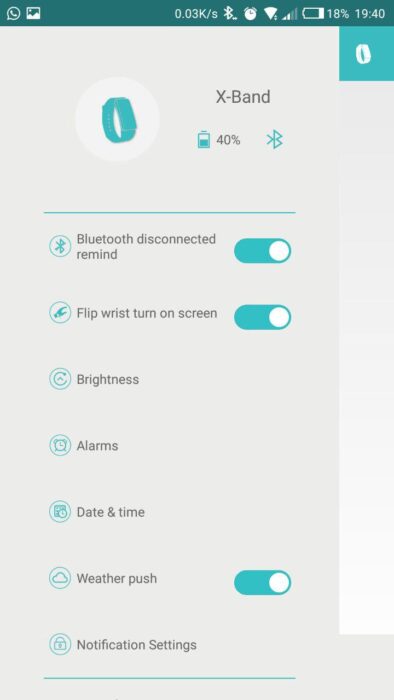 I tried comparing its data to Google Fit app, and the discrepancies are minor in steps/distance covered, but major in calories burned/energy spent.
Another thing to note is that the watch cannot very well differentiate between a step, swinging of arms, and running.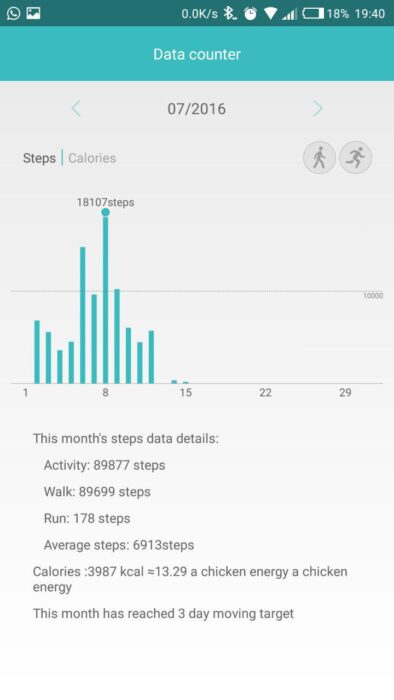 The app is also buggy, and stressing at times. Plus you have to have an internet connection, and your phone needs to be paired to the watch for you to view the day's statistics.
Functionality:
The X-Band is a two-in-one device:
A watch
A bluetooth earpiece
Separating the two functionalities from each other is close to impossible. Well for example you receive a call, the watch starts to vibrate on your hand. You could receive the call from your phone and talk to whoever's calling or you could detach the watch from the wrist, insert the earpiece into your ear and the call will be received and you can talk to the caller.
Notifications:
The watch only pushes notifications to you. You'll feel it vibrate to notifications like messages, Facebook comments, Twitter mentions. It will vibrate continuously in case of calls.
But the watch doesn't let you actually view the text, or text back, or call a person, or do anything for that matter. It is meant as an accessory to your phone, and it doesn't overstep.
So if you get a notification, you have to go to the phone to view what it is about. The only time you don't have to go to the phone is when someone calls as you can detach the earpiece from the wristband.
Touchscreen:
You interact with the X-band through the touchscreen, that really doesn't look like a touchscreen but rather like a piece of metal. Yeah.
The main thing you can do with the touchscreen is swipe through to see:
Time,
Steps walked
Stopwatch
Calories burned
Watch the video above to see how that works.
Buttons:
Power Button
This is actually the only button on the device. It is used for a couple of thing:
Powering on/off the X-band – here you have to hold it down for a few seconds
Pairing the X-band with a phone using bluetooth
Tracking your phone when you don't know where it is
Going back to the watch from whichever screen you might be on.
It is clicky, easy to find without needing to look at, and a good way for one to actually interact with the watch.
Eject Buttons:
These are two buttons on either sides of the wrist strap. You click on both and the watch (now bluetooth earpiece) is ejected from the strap.
They blend in well with the watch. And being that no one walked me through the device when I first interacted with it, I was really curious to see what they do. So you can imagine my reaction when they clicked and the watch sprung up.
Wrist Leather Band:
I have the brown leather one. But they are easily interchangeable. At the back they have these tiny snaps where you can detach the current ones and attach others you'd love more. Meaning you can have different bands for official, sports etc use. Which is a welcome idea. However I wonder whether or not Infinix will have the different bands.
Battery:
The 100mAh battery has actually impressed me. If you use it solely as a watch on your arm, you could have it for days on end without charging. However if you alternate between using it as a watch and as an earpiece, you'll have to be charging it every night.
Charging it is not as easy as I would have loved it to be. You have to detach it from the wristband and then plug it in with a micro USB cable to a charger.
Finally
The watch can be used by anyone as long as they have an Android phone. I have paired mine to the TECNO Camon C9, it worked fine. I tried it on the Infinix Note 2, Infinix Hot 3, Wiko K-Kool and the Galaxy J7 and everything was okay as all you need is a bluetooth connection, and the app.
It delivers on its promises, this watch. However the app needs a refresh. Whenever you open it, it shows you the intros as if it is opening for the first time. And I would have loved it, if the stats could sync seamlessly to the app without me having to pull down to refresh every time.
That's it.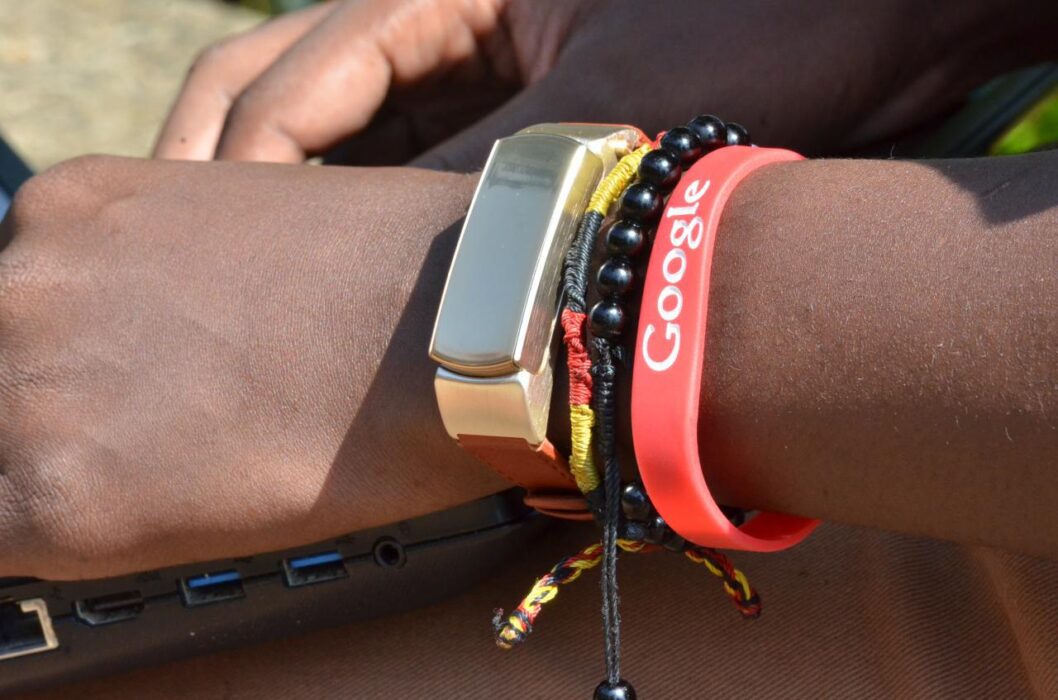 ---
You'll love the look, and amazement on people's faces every time they try to interact with your watch.
Let's have a conversation in the comments' sections below. Ask anything you want to know.