In an exclusive partnership with Infinix, Kilimall will be the one stop online site to buy the new Infinix Note 4 Pro, and the Infinix Hot 5 and Hot 5 Lite. Kilimall is also the exclusive site to get the new TECNO Spark. All good news for Kilimall.
I have ordered things from Kilimall. Bought a Cubot phone in 2016, bought some speakers, some bluetooth headphones, and other things. And I have never had any issues as I have always been able to receive the devices, or have the person I sent them to receive them in time and good condition. But like any e-commerce site, there have been times, I have felt like I am gambling when placing an order.
28th August is two days ago. That's when the exclusive partnership with Infinix for their three new devices went live. But seems some Kenyans have already ordered from the site, received their units and shared feedback to Kilimall (on the same day).
Here's 100% Good ratings for the Infinix Note 4 Pro from 5 customers who ordered and already received:
Here's 100% Good ratings for the TECNO Spark. They all ordered and received their units on 26th: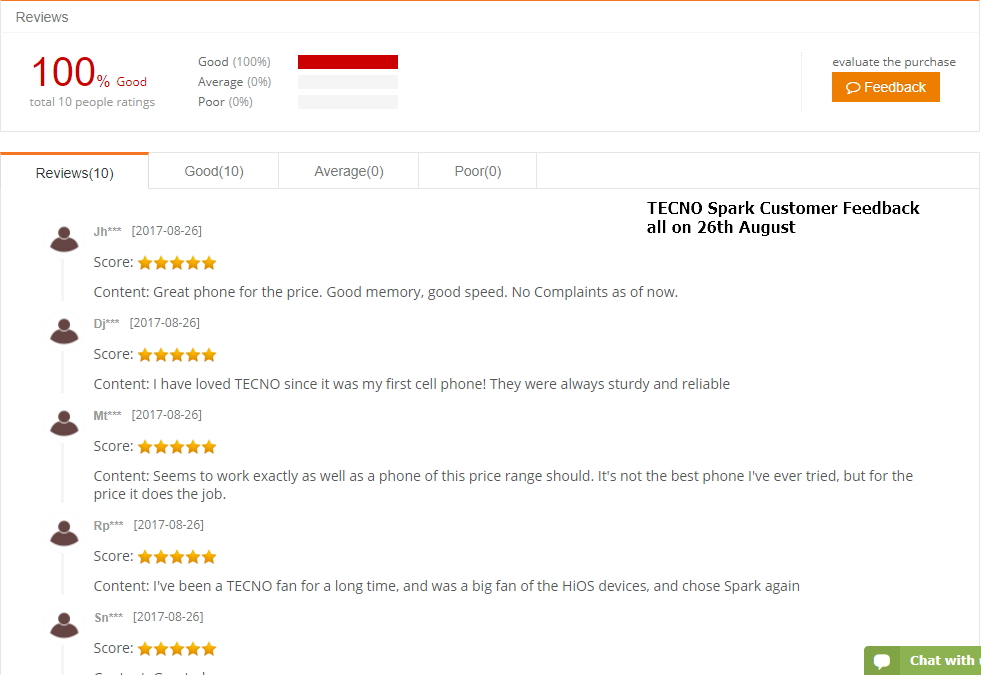 Which begs the question: Are these fake reviews by Kilimall? Or how fast and efficient is the delivery? For those of us who rely on customer feedback, can Kilimall be trusted for real reviews? Or maybe this is a way to encourage more people to share their feedback?