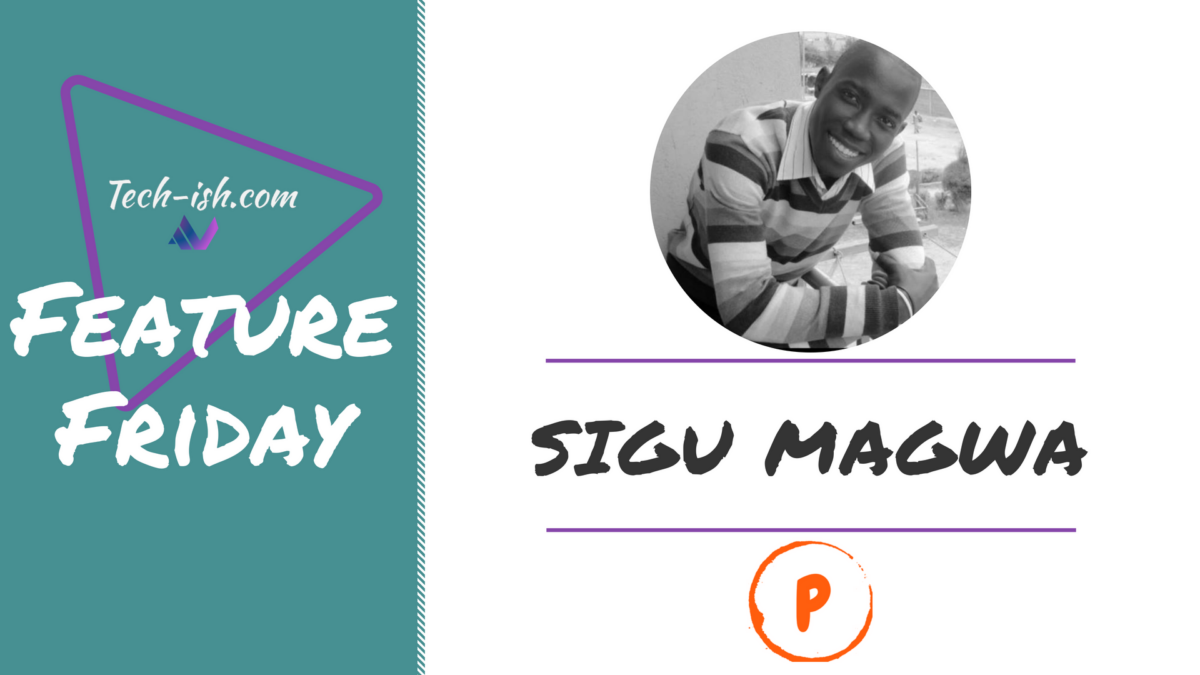 Feature Friday is a weekly column highlighting people making a difference in different fields. This week we have Sigu Magwa from Podii
---
Who is Sigu Magwa?
I am a passionate software developer who truly believes in humanity and in the tech community. I have been an active member of many different tech communities across the world, for a couple of years now, from the time I learned how to code. I started a Bootcamp in Kisumu called Code9ty (which has now been rebranded). After that I joined a team of other passionate members and we started Podii, podiihq.com.
Describe shift from what you studied in University to what you do right now:
I studied Electronics and Computer Science at Jomo Kenyatta University of Agriculture and Technology, JKUAT. Don't be fooled by the name by the way. It is more of electronics, nothing to do with usual computer science that you would expect.
After school, I tried working in a bank for two weeks but I could not handle it. So I quit, and was jobless for a year as I looked for a 'real job'. A year later, I got to be an Assistant Electrical Engineer at a private Building, Construction, Electrical and Mechanical Company. This quickly got repetitive for me, so I quit and started learning programming. For the first time in my life, I wrote real code :-)
What is Podii?
Brief
Podii is a big group of passionate, self-driven developers who deal with Web and Mobile Applications development. We are actually big unlike our office-cum-coworking-space. We teach ourselves, and we build incredible solutions for different problems around Mobile and Web. We have an in-house team who are dedicated fully to Podii's activities.
Community
Apart from the work of developing mobile and web apps, we empower and support the tech community by having regular weekly, and bi-weekly meetups on a wide range of topics.
In these meetups, interested parties come together and listen to speakers introducing them to topics, teaching them, stirring their interest and walking them through anything they would want to know on the topic of the meetup.
From such meetups we've had people taken through general basics of programming, had their burning questions answered, and woken up in them a passionate interest in programming, giving them a stepping stone to live their dreams.
Recently, we started a new group in our community, Nile Devs, that will focus its full attention to female developers within the larger Podii network, and within Kisumu. We are doing this in the footsteps of successful female focused groups like Rails Girls Nairobi and Rails Girls Mombasa. We hope this will bring a major impact in Kisumu, by not just bringing in more girls into the tech community, but also making them world class developers.
Coding school.
We have a school, yes. We started it a while ago when we decided to get a limited number of very interested and passionate students for an intensive three-month training, teaching them different languages, at a fee. After the intensive three months, we offer them internships with different companies, and assure them of a job afterwards based on their success during their internship.
Our curriculum focuses on understanding, which we base on project completion and the quality of the project.
We don't just pick anyone for the school. You have to be interviewed first. Then you'll need to pass our "aptitude test" (it isn't an aptitude test) that is covered while at home before coming on-board. For now, we are only taking 5 students per cohort.
Program:
3 months training.

1 month internship

Employment guaranteed within 6 months after the four month journey. How cool?
Tech Events
We also organise hackathons and also send out our team members to other hackathons we may not be directly involved in to give talks and trainings.
What are Podii's goals?
Have the best tech company started from a non-capital-city town

To have 90% successful student to job placement

Be an international software development consultancy firm

Revolutionise the tech community: starting with Kisumu being our home town.

Having a product people recognise with Podii

Extending our involvement in the tech community by participating in international tech Conferences and giving Kenya a better technological image.
Why is now the right time for Podii to exist?
Technology growth is rapid and with that, the lack of an active, well-organised, inclusive community in Kisumu was really getting into our nerves. So this is a step into solving that. Hopefully, making Kisumu, and by extension anyone else interested, not only keep up with the rapid growth, but also make a livelihood from software development, and be worthy worldwide as a developer.
The Podii team
Check us out at https://podiihq.com/team.html
Give a Parting Shot
Never find yourself in a situation where you are forced, or forcing yourself to do things that aren't in your line of interest. Find what you love and let it make you cash. There's no greater thrill than working out of interest and passion, with all the zeal. Only ensure you are persistent and consistent. That's the key to everything.
Also, always work to make a difference as opposed to working to make a living. If you come to think about it. Never forget this: Movement != Progress.