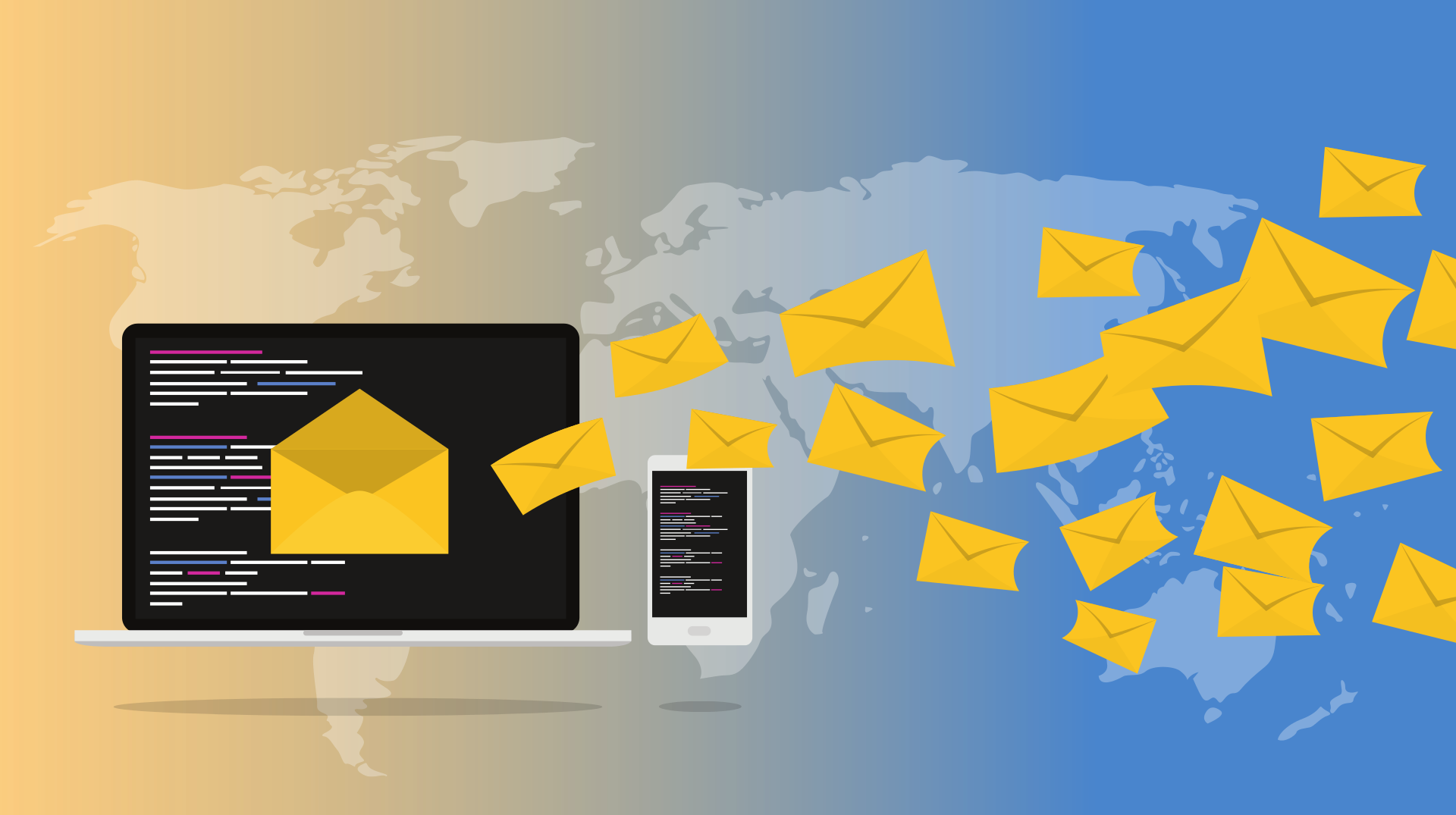 Google Fax Free has mentioned that CocoFax is providing Fax to PDF services, read this comprehensive article to know how you can use it. The latest technology is combining precious tools and services so that we can easily switch from obsolete tools to the latest utilities with any extra effort.
Fax has been used to transfer sensitive information from one place to another. It has been providing secured services to people who deal with secret data now and then. They rely on using fax to exchange important pieces of information. However, people are also tired of dealing with bulky fax machines.
Therefore, CocoFax is providing users an easy solution to transfer faxes all over the world. It is not new to the race of best fax services providers as 1 million users are already using CocoFax for fax transfer. It has won the hearts of users by providing them wireless fax transfer utility with encryption.
Transfer Digital documents as a Fax
Google fax-free is now providing users the guide to know about modern faxing. Click here to go on Google Fax Free. Gone are the days when there was a difference of miles between digital and analogue technology. Modern utilities are designed to cover this gap for the ease of users.
Whether you are a technical user or a non-technical person with basic computer knowledge, now you can get your hands on CocoFax effortlessly. It is designed to assist users in sending and receiving PDF documents as a fax file without even buying a fax machine.
Get rid of your heavy and expensive fax machines which are required maintained every month. There is no need to buy more papers and get new toners for your fax machine to send and receive faxes. Now you can transfer PDF documents as fax and receive faxes just as a digital document using CocoFax.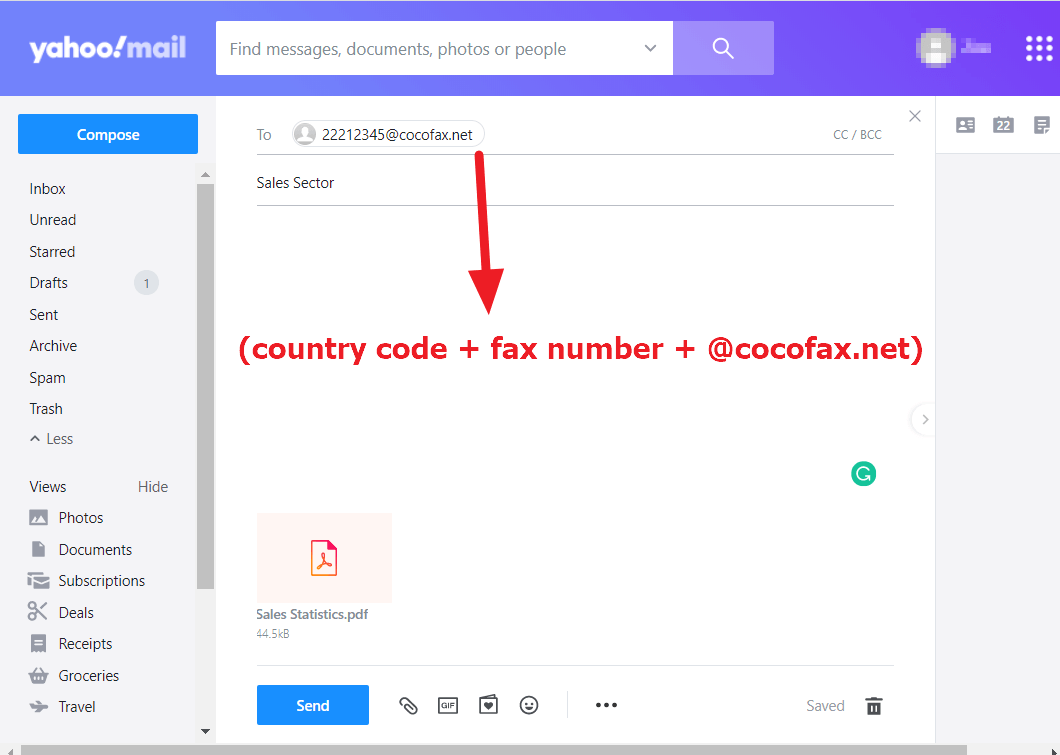 Prerequisites to fax PDF online
You do not have to invest in a fax machine and get a new landline phone to acquire a fax number. CocoFax relieves you from the hassles of contacting the phone company now and then to get a fax number. To send PDF as fax with CocoFax, all you need is:
A PC or a smartphone connected to an uninterrupted internet connection
Create a CocoFax account to send faxes over the internet
Get toll-free or vanity fax numbers from CocoFax free of cost
The intuitive interface of CocoFax is understandable by all kinds of users. Moreover, you would never be asked to install any plug-ins or any third party services to make your devices compatible with CocoFax. It is designed to run on all kinds of web browsers for your ease.
How to send a PDF as Fax with CocoFax?
The procedure of sending faxes with CocoFax is not as difficult as it seems to be. You will find this way of fax transfer easier, faster, and simpler as compared to the traditional faxing procedures. Whether you are a seasoned computer user or deal with faxes once in a year, you will find this convenient.
The cherry on the cake is that CocoFax does not require its users to wait until the downloading process is completed. There is no need to delete other applications from your laptop or computer as CocoFax is a web-based application that does not require installation. Follow these steps to get started:
Step 1: Signup to register your email address by clicking the signup button on the official webpage of CocoFax. Make sure that you register with a valid email address. CocoFax provides a 30 days free trial to the users. You can purchase any subscription package when the trail ends.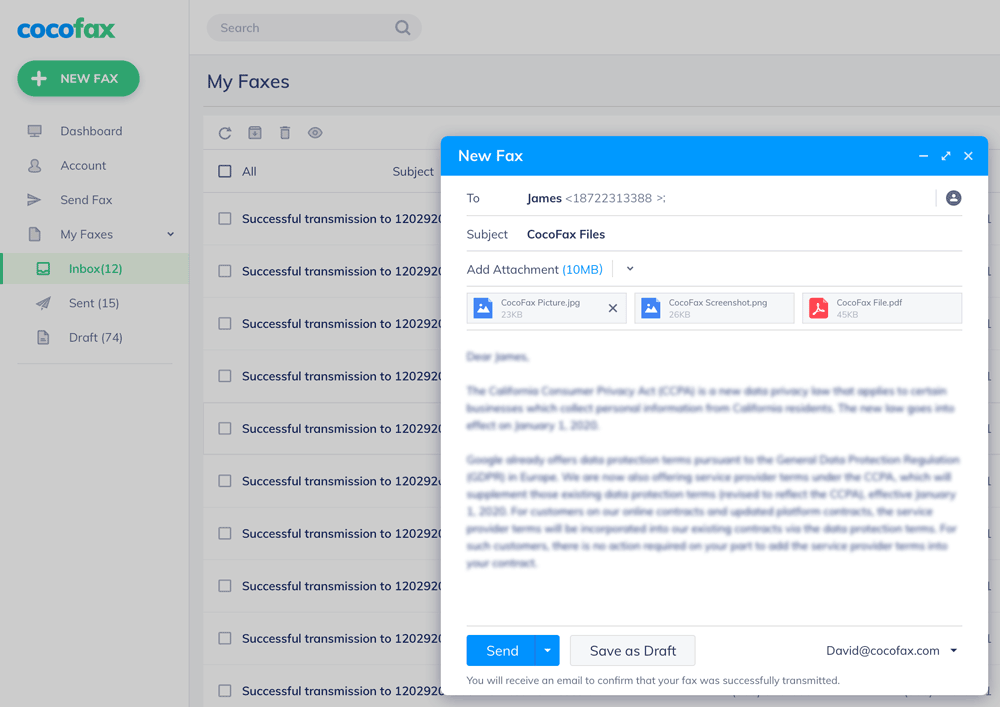 Step 2: Open the CocoFax dashboard and hit the New Fax button. Enter the recipient fax number in the 'To' field and cover page information in the body area. You can also provide a title to the fax by entering the title information in the Subject field of the new fax wizard. These details appear as one fax document.
Upload the PDF files as an attachment you want to send as a fax file. You can upload multiple files and send them concurrently to multiple users rather than wasting time on one-to-one faxes. CocoFax converts these documents into a Tiff file automatically to save your effort and time.
Step 3: Click the Send button after rechecking the details to avoid any bugs in the sending process. CocoFax will notify you with the transmission log and status of the sent files so that you can check for any efforts in the unsuccessful files and send them again by correcting the errors.
CocoFax has got recognition form multiple international media forums due to its advanced security algorithms. BuzzFeed, CNET, Tom's Guide, Android Authority, and New York Times are some of the international media outlets which recognized the fully-functional services of CocoFax.
Receiving Fax to PDF documents via CocoFax
Receiving faxes just like a PDF document is not possible with the help of using CocoFax. You can use your email account on the CocoFax dashboard to receive faxes and download them as a PDF attachment. CocoFax converts all the receiving faxes into a PDF document automatically.
Navigate to the inbox folder and all the received faxes will be listed there. Faxes are attached as a PDF document along with the sender details and transmission logs so that you can check it anywhere, anytime. You can download the files and print them out whether you are using a smartphone or a laptop.
To Wrap up
Sending and receiving PDF files as fax is not a difficult task when using the right tool. CocoFax provides its users with the convenience of transferring PDF documents as a fax file without using a fax machine. You can get the security of a fax machine without using fax machines with the help of CocoFax.
All the faxes received using CocoFax are encrypted so that your sensitive data is protected from unauthorized users. CocoFax uses a secure transmission medium so that your documents are sent and received safely.