Google and Safaricom can't bear the blame for the 'Amazon Web Worker' scandal. However, depending on who you ask, it is quite complicated since Google hosted the app on the Play Store, and Safaricom's M-Pesa was used to recharge and withdraw.
---
The first time I heard about Amazon Web Worker was on the day I published this article that an app by that name had disappeared from the Play Store, and Kenyans who had "invested" with it had lost money. Prior to that, I had no idea such an app existed, and it is only now while writing this article have I watched a YouTube video explaining how the app worked.
Since publishing that news article, I've encountered lots of comments from Twitter, to Facebook of people trying to push the blame on Google and Safaricom for allowing scammers to take advantage of innocent citizens.
From the above YouTube video, here are 10 things I've learnt about Amazon Web Worker:
The app may have first appeared on Google Play in early April 2021
The app was listed on the Entertainment section of the Google Play Store
The App developer's name from the Google Play Listing is Haut Thornton
There was also a website awwafrica.com from which users could download an APK and install the app on their phones. It isn't clear which – between the website, and the Google Play Listing – came first. (This is information from another YouTube video)
Users would sign up with their Safaricom Numbers
Users would top up their accounts via M-Pesa through an STK Push – this means all these users have details on the receiver of these payments
Users would withdraw their "earnings" via M-Pesa but only at specified periods of time
There were different ways of "making money" including clicks, fixed deposits, and referrals. These were all dependent on the amount of money you put in. So the more you recharge, the more you stand to make.
The app offered crazy interest rates! Some up to 600%.
There was a withdrawal charge of 8%
The app even had a customer care section with a mobile phone number, a WhatsApp account, and an email address.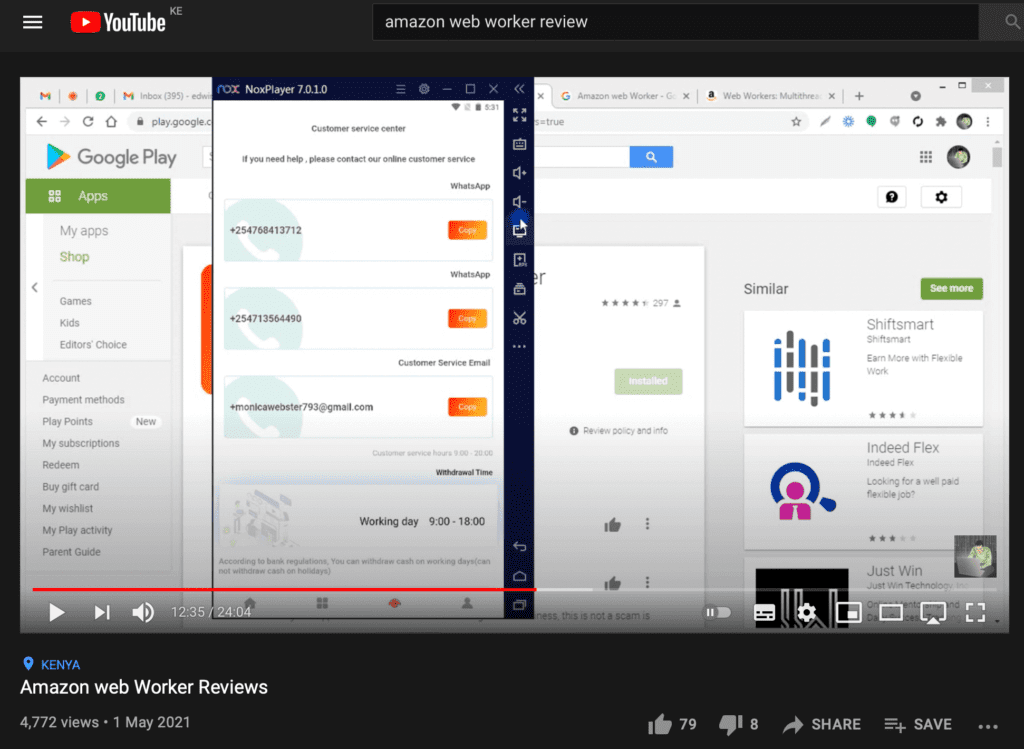 Of course, there are many fishy things about the app from just how it looks (check the video above), the weird logo, the stupidly simple ways to make money, the unbelievably high-interest rates, and much more. For many, these are red flags that would make them rethink using such an app.
However, for many Kenyans, the fact that it was listed on the Google Play Store – Android's official store – and the fact that it worked with M-Pesa, together with the allure for making money quick blinded them from seeing it was a hoax.
So should Google be blamed?
According to data from February 2021, around 3,000 to 3,700 apps get added to the Play Store every single day. Provided you can make an app, and pay the $25 registration fee for a Developer Account, you can thereafter publish your apps on the Google Play Store.
The Amazon Web Worker app was published under the Entertainment section. That made it less subject to any mechanisms Google may have set up to track any potential financial scammers. As far as Google was concerned, this was another Entertainment app on an App Store with over 5 Million apps.
However, when signing up for a Developer account, according to the terms listed here, Google may collect the user's valid government ID, credit card information, plus legal name. So perhaps to everyone who's been affected, pursuing this info from Google is the right way to go?
Should Safaricom be blamed?
As with Google above, Safaricom doesn't necessarily have the details on how a Lipa na M-Pesa Number is being used. Yes, they have the data on what's being sent – from which number, and to which number, and at what times. But they don't have the reasons why the money is being sent. If someone sends you 10,000 shillings, Safaricom knows you've received the money. However, they don't know the reason you've received the money.
They couldn't have possibly known that some app somewhere had signed up for their Lipa an M-Pesa platform and was running a weird app on Google Play Store, could they? This is a platform with over 200,000 businesses. This is a service with over 28.3 Million monthly active users, and thousands of transactions every second.
However, as with Google, the makers of the 'Amazon Web Worker' app must have left certain crucial data that would help point out who they really are. This is because the app used the Daraja API by Safaricom so as to have that STK Push for M-Pesa payments. This means they needed a couple of things including a Safaricom phone number, an M-Pesa pay bill number, an M-Pesa G2 Portal account, among other things.
Both can't be blamed:
Both Safaricom and Google can't be blamed for the Amazon Web App issue. However, both can help find and point out the exact people involved in the scam. They have information on the Google Play account that published the app, and the M-Pesa account that received the money. For everyone affected, that would be a place to start depending on both Google's and Safaricom's policies on what sort of information they can divulge to the public.
Anyways… scammers won't stop. Especially with tech getting better, they'll keep finding new ways of running their schemes. The sad thing is people don't learn. People are so gullible! Whenever there's a quick way to riches, people throw caution to the wind and end up losing their hard-earned money to smart criminals. TechSpaceKe has been covering different Ponzi schemes, so make sure to find out about any new app or service you suspect from them.