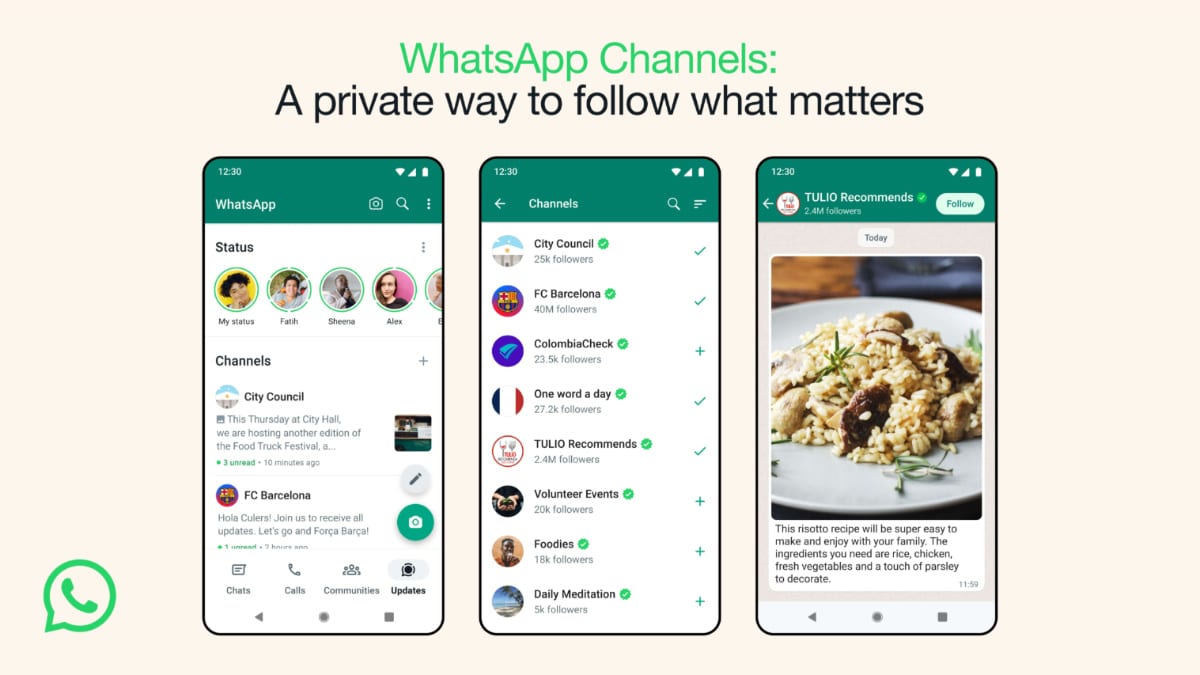 WhatsApp is unveiling an exciting new feature: WhatsApp Channels. As part of the Meta family, WhatsApp is continuing its drive towards creating more conversational spaces for its 2 billion users. But what are Channels and why should users be excited about this new addition?
What are WhatsApp Channels?
WhatsApp Channels are a novel broadcasting tool that allows administrators to send a variety of content including text, photos, videos, stickers, and even polls. These Channels are designed to function as one-way communication streams, similar to a radio broadcast, where admins communicate and followers listen, without the option for followers to reply. This is a departure from the standard two-way communication we're used to on WhatsApp, as well as from Channels on Instagram, where interactions are through direct messages.
Channels will appear in a new tab on WhatsApp called 'Updates', separate from your personal and group chats. This ensures a clutter-free space for users to follow updates from their chosen Channels, which could range from updates from local officials to hobbies and sports teams. The Channels you decide to follow are solely your choice, and this information remains private.
To simplify the discovery of Channels, WhatsApp is developing a searchable directory. Users can also join Channels through invite links sent via chats, email, or posted online. Furthermore, admins will have the power to control the visibility of their Channel, deciding whether it is discoverable in the directory or not.
Privacy and Data Retention
WhatsApp is staking its claim to build the most private broadcast service available. For example, as a channel admin, your phone number and profile photo will not be visible to followers. Similarly, following a Channel will not reveal your phone number to the admin or other followers.
In addition, WhatsApp has introduced a unique approach to data retention for Channels. Unlike regular messages, Channel updates will not stick around indefinitely. They will only be stored on WhatsApp's servers for up to 30 days. Admins will also have the flexibility to make their updates disappear even faster from followers' devices and will have the option to block screenshots and forwards from their Channel.
WhatsApp Channels and End-to-End Encryption
While WhatsApp's hallmark feature is end-to-end encryption, Channels by default will not be end-to-end encrypted in order to reach a wider audience. However, WhatsApp is considering introducing end-to-end encryption for certain cases where a limited audience is involved, such as for non-profits or health organizations.
Why Should Users Care?
The introduction of Channels on WhatsApp is set to transform the way users receive updates from people, organizations, and institutions they care about. It provides a simple, reliable, and private way to follow real-time updates without having to leave the app.
Users in Colombia and Singapore will be the first to experience this new feature, with plans to roll it out to more countries in the coming months. Early adopters include the Singapore Heart Foundation, fact-checker Colombia Check, the International Rescue Committee (IRC), the World Health Organization (WHO), and renowned sports teams such as FC Barcelona and Manchester City.
In the future, any WhatsApp user will be able to create their own Channel, presenting endless possibilities for individuals and organizations to connect with their audience. Moreover, Meta is exploring avenues for monetization, including integrating payment services for businesses and promoting Channels in the directory.
WhatsApp Channels is another step towards enhancing large-group conversations following the launch of Communities last year. While private messaging among friends, family, and communities remains the core of WhatsApp, Channels provide a new platform for organizations and authorities to issue updates and alerts to users. This feature is not only an exciting expansion of WhatsApp's functionality, but it also represents a new way for users to stay informed and connected in our increasingly digital world.