Infinix, a leading name in the world of smartphones, has unveiled its latest addition to the Infinix ZERO Smartphone series, the Infinix ZERO 30 5G, at a prestigious event held during the 80th Venice International Film Festival. This remarkable smartphone, along with the flagship ZERO BOOK laptop, was launched in the scenic backdrop of Venice. In a bid to celebrate and explore the advancements in smartphone camera technology and the democratization of filmmaking, Infinix also organized a panel session titled "New Image, New Lifestyle. Cinema in the New Media, Capture Your Own Story," which brought together world-leading vloggers and media representatives.
The Italian Pavilion in Venice played host to the event on the 1st of September, where global press and media giants congregated. This gathering of tech, lifestyle, photography, and cinematography enthusiasts aimed to celebrate a new era where mid-tier smartphones like the Infinix ZERO 30 5G offer top-notch Ultra HD (4K/60FPS) front camera video recording capabilities.
The highlight of the event was the launch of the Mobile Vlog Awards of Infinix (MVA) with the theme "Capture Your Own Story." This competition encourages vloggers from all corners of the world to contribute to the evolution of mobile imaging by crafting short film videos that reflect their individuality. Attendees were treated to exclusive fan documentaries showcasing the potential of Infinix smartphones for professional, cinematic-style filmmaking.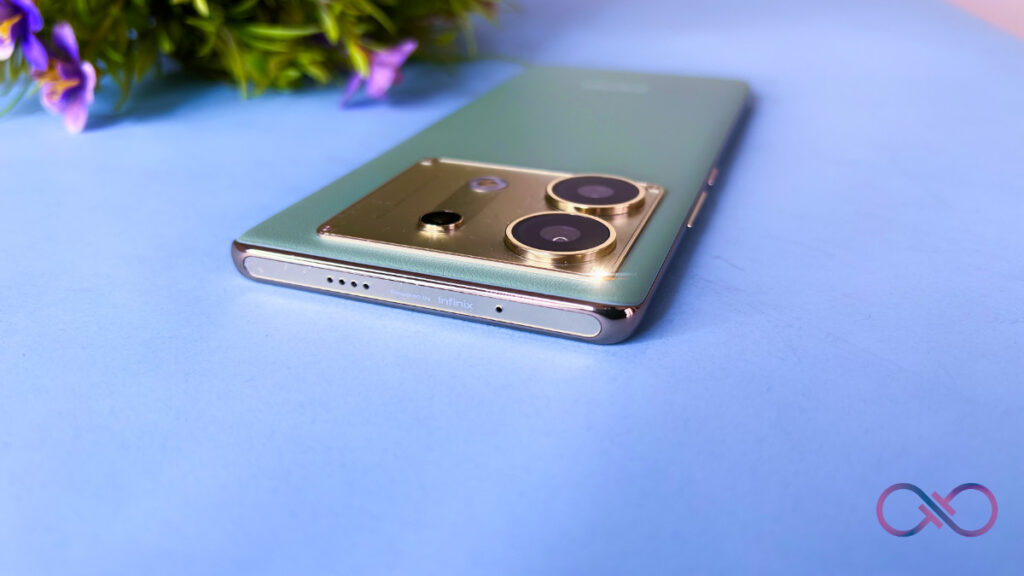 Infinix Zero 30 5G Flagship Competitive Specs:
Cameras:
The Infinix ZERO 30 5G, designed for professional-grade vlog videos, redefines the mid-range smartphone category. It boasts a front camera that supports 4K/60FPS video recording, along with a suite of comprehensive photography tools and filters, all wrapped up in an aesthetically pleasing design. Notably, Infinix has pioneered a groundbreaking technology called "Explorer Satellite Communication Technology," based on a Long-Range Wide Area Network (LoRaWAN) satellite system, promising a revolution in communication technology.
Display and Design:
The Infinix ZERO 30 5G is not just about power; it's also about style. With a narrow frame and a stunning curved display featuring a 60° Golden Curve, it provides an elegant and comfortable grip. The display is protected by Corning® Gorilla® Glass, ensuring durability. Available in Golden Hour, Rome Green, and Fantasy Purple color options, it is sure to turn heads.
The smartphone features a fast 144Hz refresh rate for smooth screen and OS navigation, while the DCI-P3 rated 10-bit-color, high contrast ratio, and 950 nits peak brightness guarantee exceptional visual quality. The dual-speaker audio system with DTS support ensures a sensory-rich experience, and an eye-care mode with TÜV Rheinland Certification protects users' eyes during extended screen time.
Storage and Performance:
The Infinix ZERO 30 5G is equipped with a MediaTek Dimensity 8020 octa-core processor for seamless multitasking and high-quality video recording. It boasts a remarkable 21GB of Extended memory (12GB plus 9GB using memory fusion technology) to handle the demands of 4K video recording. To store these large videos, the device offers a substantial 256GB storage ROM, allowing users to record hours of extended, Ultra HD quality video content without worry.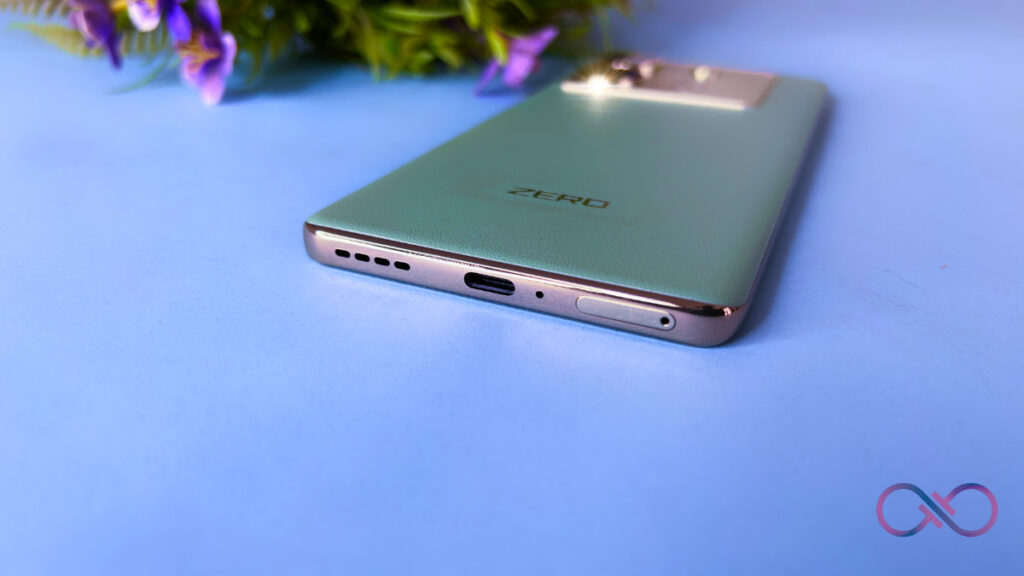 Battery, Security and More:
The smartphone packs a 5,000 mAh battery with 68W Super Charging, ensuring a rapid recharge and keeping users powered up throughout the day. Running on XOS 13, a customized version of Android 13, it offers a range of features, including an updated Folax voice assistant with integration of ChatGPT. The 234ms fingerprint unlocking provides absolute security and convenience. It also features multi-functional NFC connectivity, enabling cashless transactions, and boasts IP53 water and dust resistance along with vacuum chamber liquid cooling to ensure performance even during prolonged recording sessions.
Table of Infinix Zero 30 5G Specifications:
| Specification | Details |
| --- | --- |
| Display | 6.7-inch AMOLED display |
| Resolution | 1080 x 2400 pixels (Full HD+) |
| Refresh Rate | 144Hz |
| Processor | MediaTek Dimensity 8020 octa-core |
| Camera (Front) | 4K/60FPS video recording |
| Memory (RAM) | Up to 21GB Extended memory (12GB + 9GB) |
| Storage | 256GB ROM |
| Battery | 5,000 mAh with 68W Super Charging |
| Operating System | XOS 13 (Customized Android 13) |
| Fingerprint Unlocking | 234ms response time |
| NFC Connectivity | Yes (Multi-functional) |
| Water and Dust Resistance | IP53 rating |
| Cooling System | Vacuum chamber liquid cooling |
| Audio | Dual-speaker system with DTS support |
| Display Protection | Corning Gorilla Glass |
| Colour Options | Golden Hour, Rome Green, Fantasy Purple |
| Price | Approximately $339 USD (may vary by region) |
Pricing and Availability
The Infinix ZERO 30 5G will be priced at approximately $339 USD and will be available in three captivating color options: Golden Hour, Rome Green, and Fantasy Purple. Pricing and availability may vary based on region.
Infinix ZERO 30 5G represents a significant step forward in the world of smartphones, particularly for vloggers and filmmakers, by offering top-tier video recording and photography capabilities at an accessible price point. This device empowers users to unleash their creativity and capture their unique stories in stunning detail and clarity.