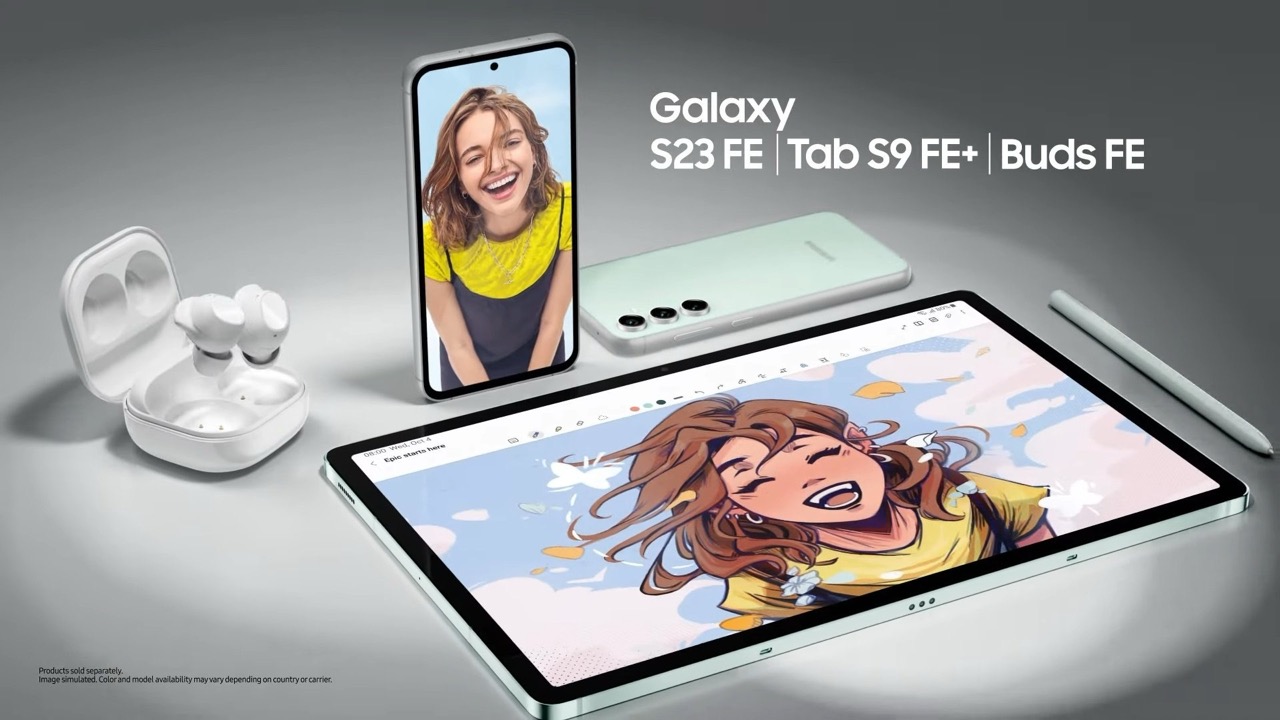 In a bid to cater to budget-conscious consumers, Samsung has unveiled the Galaxy S23 FE (Fan Edition), a more affordable counterpart to its flagship devices. This move mirrors Apple's strategy with its SE (Special Edition) series, though in both cases, the SE and FE labels signify cheaper variants of the premium models.
Priced at $599, the new S23 FE is a notch cheaper than its predecessor, the S21 FE, which retailed at $699. For Kenyan buyers, this translates to approximately KES 95,000, a price deemed steep for mid-range smartphones due to taxes compounded by a weaker shilling. However, the S23 FE is a bargain compared to the standard S23 Series whose prices soared as high as KES 209,999 for the Samsung Galaxy S23 Ultra 512GB variant at launch.
Alongside the S23 FE, Samsung has also launched the Galaxy Tab S9 FE and Galaxy Buds FE priced at $449 and $99 respectively. The Galaxy Tab S9 FE, with its robust water and dust resistance features, presents a more budget-friendly option compared to the standard S9 priced at $799, albeit with a compromise on the display quality—offering an LCD panel instead of OLED. The Galaxy Buds FE, on the other hand, provide active noise cancellation at a fraction of the cost, ensuring an immersive auditory experience.
The S23 FE boasts a 6.4-inch 120Hz OLED display, IP68 rating for water and dust resistance, and a choice of attractive colors including mint, cream, graphite, and purple, with exclusive indigo and tangerine shades available on Samsung's website. Under the hood, it houses 8GB of RAM and an Exynos 2200 (worldwide) or Snapdragon 8 Gen 1 (North America) chipset, hinting at possible compromises in battery efficiency. Nevertheless, the wireless charging feature and an impressive camera setup – a 50-megapixel main, a 12-megapixel ultrawide, and an 8-megapixel telephoto camera – make it a compelling buy.
The Galaxy Buds FE, available in graphite and white, promise up to six hours of playback with active noise cancellation, bearing an IPX2 rating similar to the standard Galaxy Buds 2.
On the tablet front, the Tab S9 FE and S9 FE Plus sport 10.9-inch and 12.4-inch LCD screens respectively, diverging from the OLED panels and Qualcomm processors of their pricier counterparts. Instead, they come with Exynos 1380 chipsets but retain the S Pen stylus and IP68 ratings, making them a decent proposition for those seeking functionality without splurging.
The Galaxy S23 FE will be available in certain markets from October 26th. In Kenya, we may or may not see the devices. If they do launch here, availability may take some time.