I have a lot of positive things to say about the Infinix Zero 30 5G (Watch the review on YouTube). The phone is available in the country for KES 53,999. I am stating this at the very onset of this review so as to invite you to see my point of view, despite of whatever thoughts and biases you may harbour. It's always funny to hear people say they would never buy an Infinix phone, yet they've never used their latest very well-built and incredibly looking devices. I think such arguments stem from bias, and lack of knowledge. A little interaction here and there would probably change such people's minds. 
The Infinix Zero 30 5G is what I believe to be Infinix's best device to date. It is not only their flagship device for this year, but also – I am willing to say confidently – a true flagship killer in a time when most devices offer almost the same experience, guarantee, and build quality.
This is a phone that ticks all the boxes for me on what should make a phone really good. On what should be a daily driver. And its just four simple things:
The phone should look and feel great
The phone should have a great display
The phone should have very good performance for the things I do: which for me include social media, shooting of photos and videos, web browsing, and entertainment in the form of music, and videos mostly from YouTube.
The phone should have great battery life, and decent fast charging.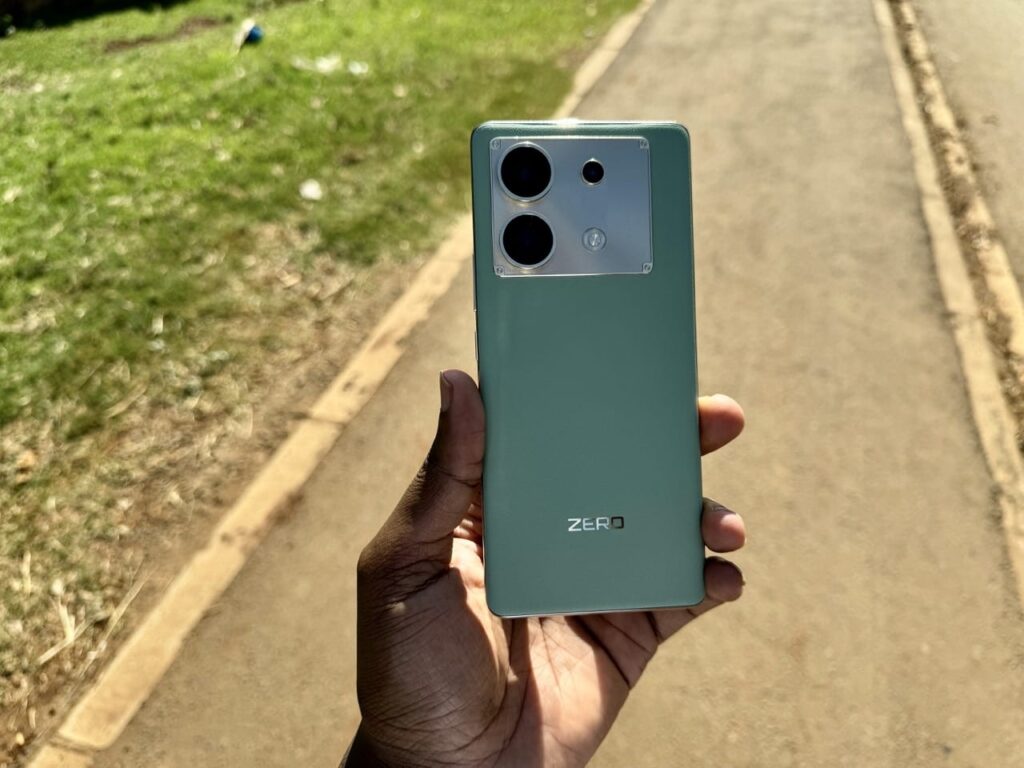 Value
I think we are at a point in time where very little separates slab midrangers and flagship slab phones. We've reached a point where you can clearly see more value from an affordable device rather than a $1000 flagship, especially if you're trying to save as much as possible. And I believe in that conversation of what should be a good alternative to expensive high end phones, Infinix has carved out for themselves a slot. They're demanding to be seen, and talked of, and appreciated. And they deserve it.
Performance
The Infinix Zero 30 ticks my four boxes above.. And I'm sure you can see that even without using the device. Just from the specs. You can tell from the processor, the fast RAM and fast Storage combination that you will be able to run pretty much any apps smoothly. Perhaps only very heavy games will have stutters here and there, but for everyone else like myself who never bother with games, you will be more than fine.
Design
Not only will you be more than fine, you will also pretty much want to flaunt and show off this device. It looks good. It feels good. It stands out with its curved display. With its very slim profile. With its amazing leather-like green finish at the back that resists dust and fingerprints. I've not used a case on this phone even once, and I don't think if you're careful enough, there's a need to hide this amazing build.
Infinix has also this time around made XOS, their skin on top of Android, much lighter, a little more intuitive, and quite good looking. I am glad we are moving away from those days when XOS was hideous. I hope we get to a clean look someday. There's still significant bloatware though. For some people stuff like an Assistant with ChatGPT features sounds amazing, but for me, it should be optional and not baked into the system.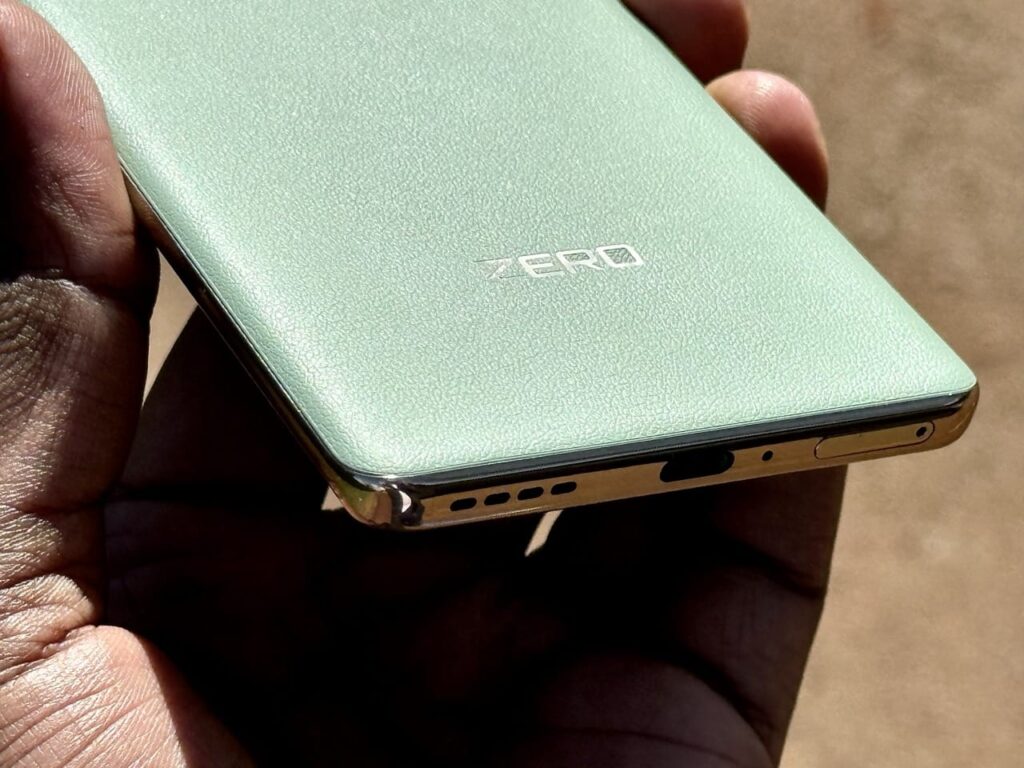 Display
I also don't think there's a way to protect that amazing display, since applying glass protectors to curved displays must be quite the task. Thankfully, Infinix has made the glass quite scratch resistant. This isn't to say it won't crack though. Just handle your phone very carefully.
In both outdoors and indoors scenarios you will be able to view content without any issues as the screen gets both plenty bright and plenty dim. The light sensor has been pretty accurate for me, and there's no time I've felt like it became too bright when I needed it dimmer, or too dim when I needed it brighter. Watching content on the device has been a joy. And this for me, this display, is a major reason to want to keep using this phone. I just love how this feels compared to slab, rectangular, and sharp cornered devices.
Battery
Most expensive flagships have those sharp corners and boring designs. They also never bother to ensure you can quickly top up your phone. Honestly, this is a conversation I hope more customers raise. In 2023, battery tech has gotten to a level where you can be guaranteed over 1600 cycles without significant degradation of the battery. And this is through fast charging. So there's no excuse not to support decent, or even crazy fast charging. And I am glad Infinix isn't about that life. This phone charges fast, and as usual the charger is included in the box. Oh how I wish it supported wireless charging like on the NOTE 30 Series which even included a wireless charger for free. How many companies can one boast of offering such inclusions?
With moderate to heavy use, I believe you will get around a full day of use.
Cameras:
Like I said in my first impressions short video, this phone features a brilliant camera setup. It is the first Infinix phone I've used that shoots 4K 60FPS with both the front and the back camera. Though from my experience, as impressive as that is, you will most likely be shooting at 1080P if you want your footage super steady and super easy to work with.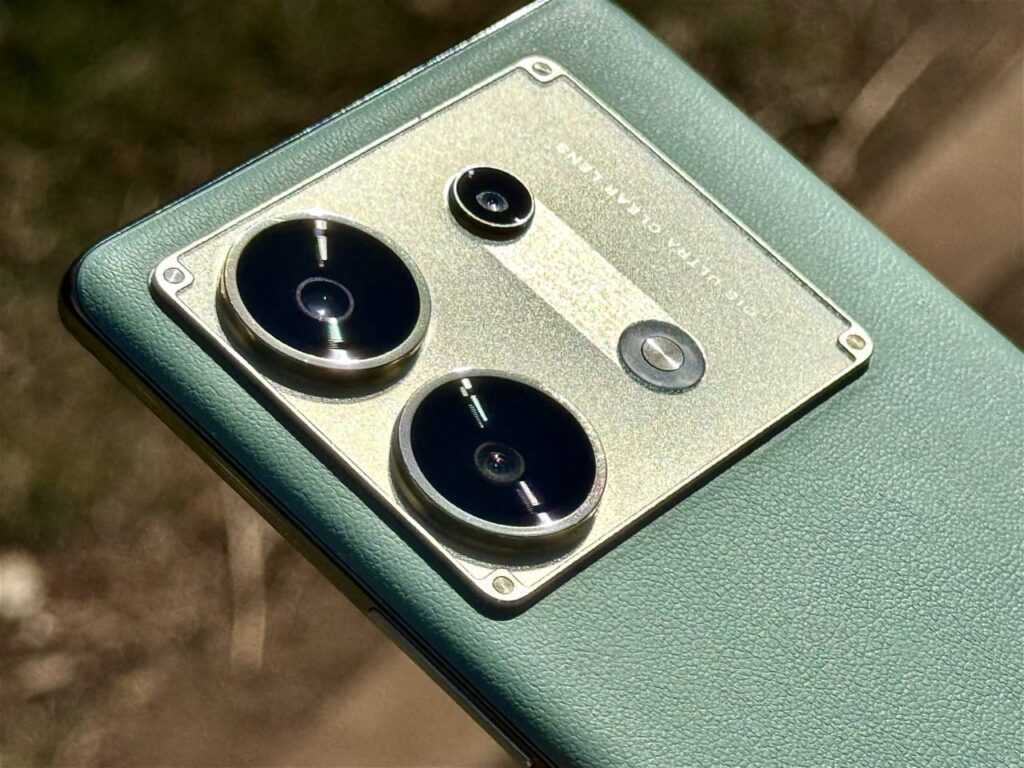 The phone takes pretty good photos, and for the first time on an Infinix device, I am convinced to try out portrait mode on a device that's not a Samsung or an iPhone.
Infinix's colour science is true to life, and the processing understands different lighting conditions pretty well to ensure it captures wide dynamic range. This allows harsh light to still look good, while not killing the shadows. You can comment down below on what you think of the videos and pictures I've shared in this video.
Finally:
There are a couple of things I think Infinix should work on:
Continue to reduce on the bloatware. Allow more of these apps to be uninstallable.
Give users the choice of things like the shelf on the homepage, the floating shortcuts and more. Let people choose during setup to have or not to have them.
Make more noise about their devices. From pricing, to features, to even financing options available. Infinix even runs promotions where people can pick up devices with zero percent deposits. People need to know about this!
Conclusion:
This is a great phone. If you can get it. If you cannot, find someone or somewhere where it is available, and test it out. Let me know your thoughts down below.
Overview
Cameras - 7.6
Design - 8.6
Value for Money - 8.5
Performance - 7.4
Battery - 8
8
TOTAL
Infinix Zero 30 5G excels in design, performance, and value, challenging costly flagships despite minor system bloatware.