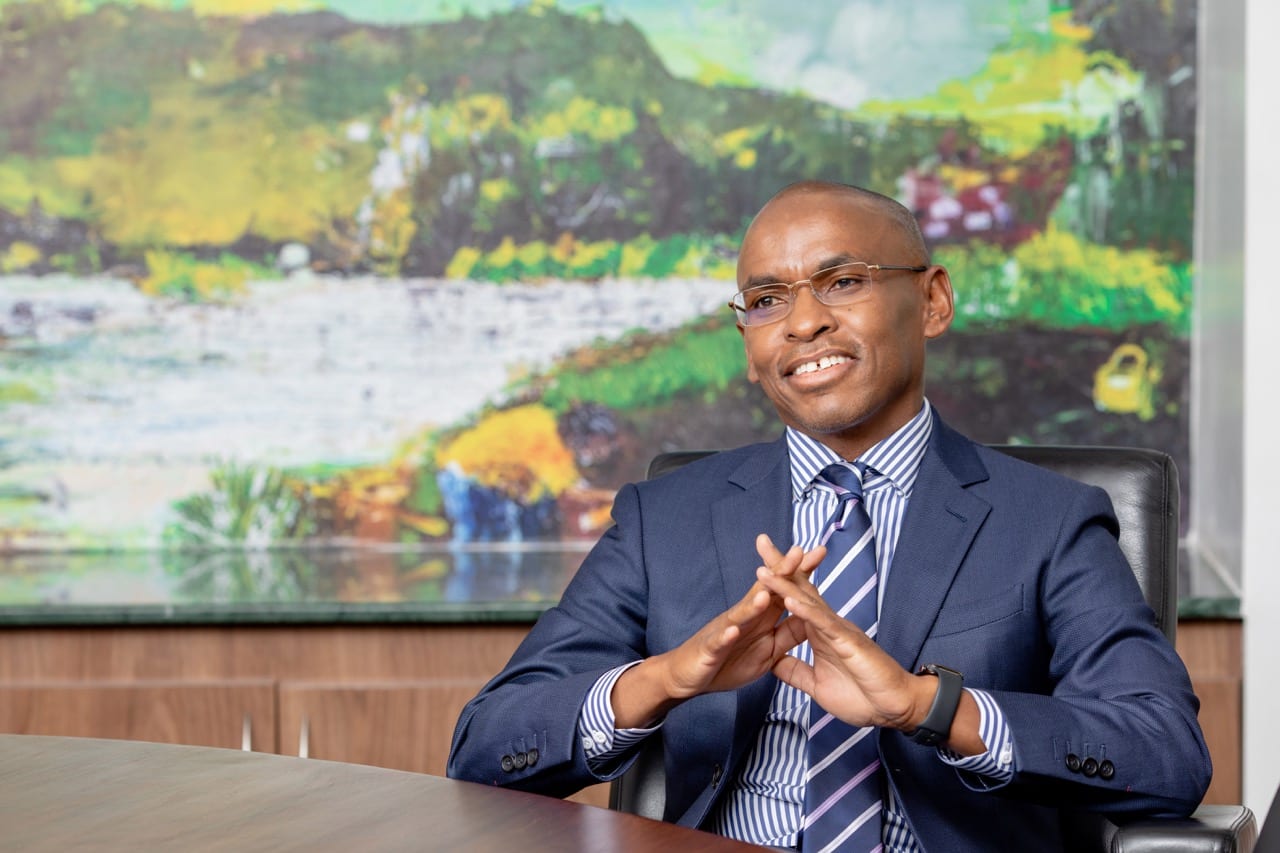 Safaricom has today released its half-year results for the period ending September 2023, showcasing a period marked by strategic pricing decisions and robust customer engagement. Despite economic pressures, the company reported an 8.5% increase in service revenue in Kenya and a commendable start in the Ethiopian market. "This performance reflects the resilience of our business and the success of our customer-centric approach, even in the face of significant macroeconomic challenges," said Peter Ndegwa, CEO of Safaricom PLC.
The CEO highlighted the company's strategic initiatives and their impact on the strong performance. "We have navigated through the economic headwinds with a sharp focus on innovation, operational efficiency, and sustained investment in our network," Ndegwa stated. He also emphasized the company's role in digital transformation and financial inclusion, remarking on the recent achievements in Ethiopia: "The launch of M-PESA in Ethiopia marks a significant milestone in our journey towards deepening financial inclusion in the region." The strong financial performance, particularly in the mobile financial services segment, underscores the effectiveness of Safaricom's expansion and diversification strategy.
This article will go into the full details from the Report.
5G, Smartphones, and Mobile Data Usage:
Half a million Safaricom 5G users:
From Safaricom's half-year 2024 results, we can deduce that advancements and customer uptake in 5G technology have been notable. The report highlights a significant leap in the adoption of 5G-enabled devices, with a year-over-year growth of 123.5% to reach 509,740 users. This growth is indicative of the expanding accessibility and improving network infrastructure that is capable of supporting the latest mobile technologies.
Alongside the increase in 5G device usage, Safaricom also reported an 11.4% growth in the number of smartphones on their network, totaling 21.37 million. The data underscores the growing trend of consumers migrating to more advanced and data-heavy devices, aligning with global shifts toward faster and more reliable mobile internet connections.
More demand for mobile data:
The report further illustrates that 4G device usage experienced an 18.8% year-over-year increase, with more than half of these devices (51.2%) being utilized by customers consuming over 1GB of data. This points to a broader trend in the telecommunications industry, where data consumption is rapidly increasing as customers seek richer content and more immersive digital experiences that 5G networks are well-equipped to provide.
Mobile data revenue, which now constitutes 18.8% of Safaricom's Service Revenue, is an area that the company is likely to focus on, given the expanded capabilities that 5G networks offer. From the report, Safaricom is implying strategic emphasis on enhancing customer experience through the deployment of 5G technology.
Ethiopian Expansion: A Story of Rapid Growth
Safaricom Telecommunications Ethiopia showcased a promising start in its operations according to the half-year results ending September 2023. The Ethiopian venture marked its presence with service revenue totaling KShs 1,975.5 million. Notably, mobile data revenue emerged as the highest earner for Safaricom Ethiopia with KShs 1,364.4 million, indicating a strong demand for data services in the region.
Voice services also contributed a substantial portion of the revenue with KShs 424.0 million. Even though the M-PESA platform had just been launched in the Ethiopian market, it already started generating revenue, bringing in KShs 7.2 million. Messaging services added KShs 19.1 million to the revenue streams.
The customer base growth was remarkable; Safaricom Ethiopia reported total gross adds (new customers) of 7.0 million, with 4.1 million of these being active over a three-month period. This metric is significant as it provides insight into the customer retention and the active use of services provided by Safaricom in Ethiopia.
The financial overview of Safaricom Ethiopia provided in the half year 2024 presentation indicates direct and operating costs as well, with notable expenses such as M-PESA commissions, airtime commissions, license fees, interconnect and roaming costs, handset costs, customer acquisition and retention, and other direct costs amounting to KShs 3,156.9 million. Financing costs, which include interest and forex & hedge costs, were reported at KShs 2,866.9 million.
These figures reflect the strategic importance of Safaricom Ethiopia to the Safaricom Group, showing the potential for growth in the Ethiopian telecom market and Safaricom's commitment to capturing this emerging market.
Safaricom's CEO Peter Ndegwa's remarks on the Half Year Results presentation hint at a focused strategy to establish a sustainable business and a purpose-led technology company by the end of 2025, leveraging the opportunities in both Kenya and Ethiopia to solve customer and societal issues while deepening digital and financial inclusion.
M-PESA: What is going on with Safaricom's biggest product?
M-PESA continues to be a cornerstone of Safaricom's financial offerings, and its performance in the first half of the year 2024 has been robust. In a clear sign of the platform's growth, the revenue from M-PESA increased by 16.5% year-over-year to KShs 66.2 billion, now representing 42.1% of the service revenue, a significant increase from the previous year.
The total value of M-PESA transactions saw a slight uptick of 1.1% year-over-year, reaching KShs 18.28 trillion. The volume of M-PESA transactions witnessed a more pronounced growth, with a 34.7% year-over-year increase. This growth can be attributed to the platform's convenience and the broad range of financial solutions it offers, including payments, lending, and savings, as well as international remittances.
In the period, M-Shwari contributed KShs 4.9 billion to the lending revenue, while KCB M-PESA added KShs 0.2 billion. Fuliza's contribution to the lending revenue was substantial, amounting to KShs 3.9 billion. International money transfer services, branded as M-PESA Global, also saw a significant year-over-year increase in value by 24% to KShs 254.58 billion, with volume growing by 11.8%.
M-Pesa Super App:
The M-PESA Super App for the consumers has been particularly popular, with 1.6 million active revenue-generating customers and 8.5 million downloads reported. The value transacted through the app reached an impressive KShs 897 billion, with the volume of transactions totaling 902.9 million. The app has also generated revenue of KShs 5.2 billion, which indicates its substantial contribution to the overall financial ecosystem of Safaricom.
In addition to the consumer-focused app, Safaricom also has the M-PESA Business App, which has garnered 1.3 million downloads and has 142.1 thousand active customers. The M-PESA Business App, complementing the consumer app, enhances the business aspect of transactions, giving merchants a more visual and user-friendly interface to handle their financial activities. It supports the Lipa Na M-PESA service, which facilitates payments collection from customers.
Conclusion:
In conclusion, Safaricom PLC's half-year results for the period ending September 2023 have demonstrated resilience and growth amid economic challenges. The company has reported a service revenue increase year-over-year, with M-PESA revenues showing a notable rise of 16.5%. This growth has been supported by the continuous adoption of digital financial services and the expansion of Safaricom's 5G network, which now serves over half a million users.
The company's foray into the Ethiopian market through Safaricom Telecommunications Ethiopia has also started to yield financial results, with service revenue totaling KShs 1,975.5 million. As Safaricom navigates the evolving telecommunications landscape, it continues to focus on innovation, operational efficiency, and strategic partnerships to enhance its service offerings. The firm's commitment to digital and financial inclusion remains steadfast, with a clear direction towards cementing its position in both the Kenyan and Ethiopian markets. Safaricom's performance in the first half of the year sets a foundation for its activities in the coming months, as the company adjusts its strategies to meet its end-of-year targets and long-term objectives.