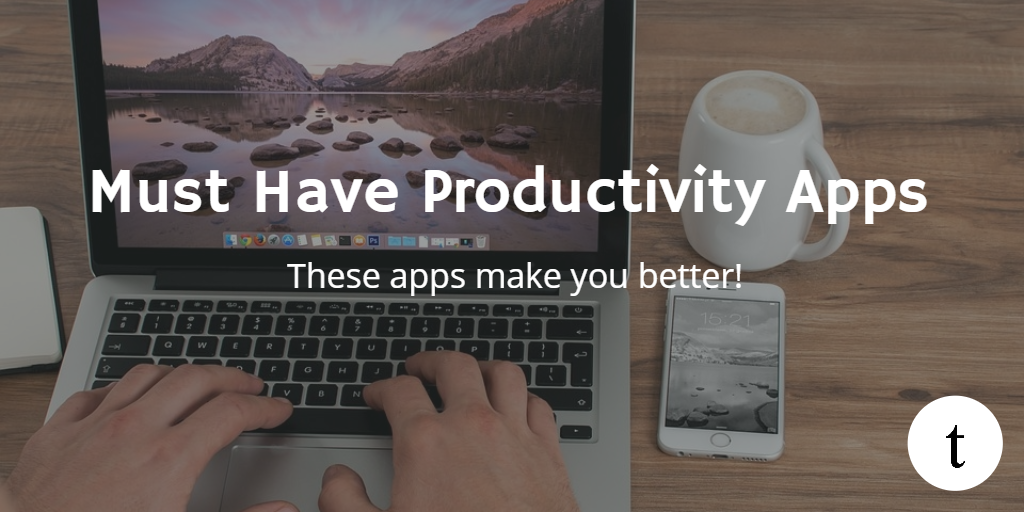 I will start 2016 talking about Productivity apps. I hadn't planned this. I was just lazing around trying to read every article I had saved over the past two weeks and the idea for this post came up. I know there are those of you who hate listicles, but I have to do this because in 2015 these apps really changed the way I do things.
[bctt tweet="Apps that will change the way you do things!"]
Getting myself to do something can be really hard. I procrastinate everything. But WaitButWhy.com's posts on procrastination last year awoke something in me and made me try hard to change. It is hard though and I sometimes still tell myself "I'll do that some other time". However there are a couple of apps that help me a lot. These are must have 'apps' for anyone who wants to be more productive and kill that monkey. They are all available on Android, iOS and on the Web. I have only linked to Android because I use Android.
---
Pocket has to be number 1 on my list. I love this app. And I particularly love the transition it has made from being just a place where I save what I'd want to read later, but to becoming a hub for recommending good articles to friends and spreading the knowledge. You can now follow people and see their Pocket recommendations.
With Pocket you can read articles later even when offline. You can use it as a library of different topics according to the tags you create when saving. You can share quotes from articles, recommend to friends etc. It helps you become better by making you read and read and read.
If there's something you'd want to read later, Pocket is the best. If there's something you'd want to check out in future, this is the app. If you want to make sure nothing good online misses you, you're covered.
Some argue that this app helps you procrastinate reading by saving for later on. No. It makes you read a lot more. It makes you enjoy reading. Check it out.
---
Keep is second on my list because this blog you are reading basically runs on Google Keep. LOL. Every single article posted here is on my Google Keep as a list or as an idea or as a simple note. I think of something and I write it down quickly on Keep. I have hundreds of notes. Some shared with friends, some with reminders, some with photos, some handwritten/drawn. I have links, quotes, photos, to-do lists, to-write lists, to-check out lists, to-visit places etc.
My Keep is mostly something like this: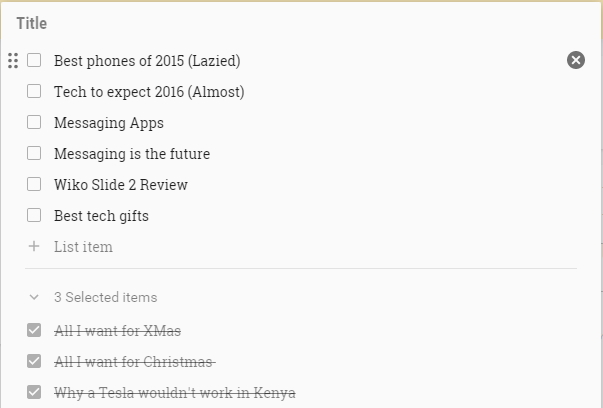 Keep has helped me a lot with my blogging as you can see. There are cases where I hate myself for listing so many things and failing to do them.
But at the end of every week I go to Keep and make sure I complete everything I had planned to do that week. That way I accomplish more goals and become better. Check it out.
---
This is simply a must have app. I use it whenever I have a question and I need a first-hand experienced person to answer me. I hope I put that out well. Quora is a community where people like you and me ask questions and get answers from other people. It makes you understand every area of life from the right and clear perspective. It makes you clever.
[bctt tweet="You're doing life wrong if you've never heard of Quora."]
Instead of saying "I'm bored", or scrolling through my phone left and right with no plan, I open Quora and read answers to serious questions.
Quora is:
A place to get answers
A place to share what you know
A place read
A place to think
---
You must surely have heard of TED Talks.
Now what can I say on TED. TED has talks on everything in life. These are 'ideas worth spreading'. These are people talking about stuff that changes the world.
You can watch as many talks as you want free. You can download the talks, comment, read the small articles that accompany some, listen to the audios… This app makes you feel like you'll explode with ideas and possibilities. That's a little exaggerated. But I must say the tablet app is perfect!
Whenever I am somewhere with good WiFi, I download interesting TED Talk topics for later on. Check it out.
---
Do you keep a journal? I try to. And this is the best app for it.
It arranges things perfectly. It makes you want to keep on writing. It makes you enjoy your journal!
You can attach photos. You can tag your locations. You can view the timeline of your journal on a calendar. You can lock the app with your key. It syncs across all your devices. And you can export your entries as PDF, Word etc. Check it out.
---
The same company that made Journey made this app. I loved it immediately I downloaded it.
It is an app for writers. It makes you write. Simple.
If you have a book you're writing, or long articles, or you run a secret widely-read blog that needs constant updating, this is the best app for you.
And like Journey you can export your entries. Check it out.
---
I was totally excited when I met Medium. That must have been in 2014. Then last year the Android App launched and I couldn't stop reading.
On Medium you can follow publications, follow writers, write your own posts, read other posts…
I love Medium. And I don't know how best to recommend it to you. Check it out.
---
There are some other apps I use on my phone that I love and they deserve to be on this list. They are however not available on all platforms i.e. Android, iOS and Web. They include:
UB Reader – this is the app I use for all books. It is perfect with epubs and also does justice to PDF novels. You feel like you are reading a real book with this one. Bookmarks, Highlights, Backlight, Orientation… Check it out.
BBC Android App – You'll read and watch and waste your time constructively. Here.
TechCrunch Android App – I no longer read TechCrunch on a browser. This app is perfect. Plus you can sync articles and read them later on with no connection. Here.
I hope these apps make you better like they have me.
Check them out and tell me what you think. If there's an app I haven't mentioned that you feel deserves to be on the list, share it with me.
Here's to a productive 2016! Stop procrastinating! Do it!