Infinix have a new phone coming soon. Many websites have been talking about it. It will be called the Infinix Hot S. At first I didn't believe it, and didn't want to write anything about it because I didn't want a post based on rumors. But it is true. The Infinix Hot S X521 is coming soon.
Whoever named the device 'Hot S' should come and explain to us what the S stands for. Is this a whole new series we'll be seeing from Infinix? Or does the S stand for some special edition?
Fingerprint & Virtual Reality Kit:
This will be the first Infinix phone to come with a fingerprint scanner. And obviously the Infinix Note 3 will follow suit (this is confirmed by me :-) ).
The fingerprint scanner is located at the back. I will be waiting to see how fast it unlocks the phone and the other things one could do with it.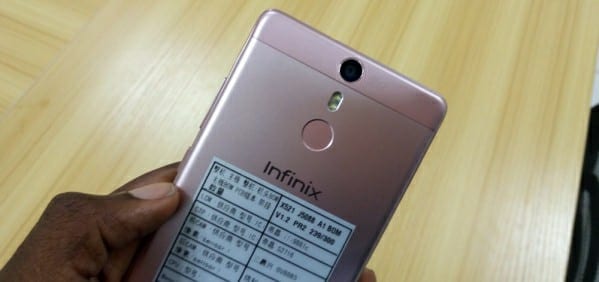 A VR kit will be included! Whoa! Since the phone will have a 5.2 inch Full HD screen, I really want to see how the VR will look like and work. VR has been tipped as the next big thing and big OEMs have been doing a lot of work in the sector. Infinix is kind of in the mix and I really hope the kit doesn't disappoint. I'm sure people's minds, especially people who've never heard VR technology, will be blown away.
Two versions
The phone will come in two versions. Because that should be the new trend even in mid and low range phones
2GB RAM with 16GB internal storage or
3GB RAM with 32GB internal storage
Which makes me wonder whether or not the storage is expandable with an external Micro-SD card. I hope it is.
Design:
It will be a fully metallic phone, with a design kind of borrowing a lot from iPhones. I guess the iPhone design actually did revolutionise smartphone designs.
I just really hope there's an Micro-SD card slot.
Confirmed Specifications:
The phone which will probably launch early August will feature the following:
5.2 inches full HD display with about 425 pixels per inch
1.5GHz Octa Core Processor
2GB RAM with 16GB internal /3GB RAM with 32GB internal
13MP back camera with double LED flash.
8MP selfie camera with LED flash
3000mAh battery capacity.
Metallic Unibody
A fingerprint scanner
Android 6.0 Marshmallow with Infinix's new XOS.
There you go. Let's wait for the phone. I don't know how much it will cost, but I believe it will range between Ksh. 18,000 and Ksh. 21,000.
What do you think? Let's discuss all developments in the comments' sections below.